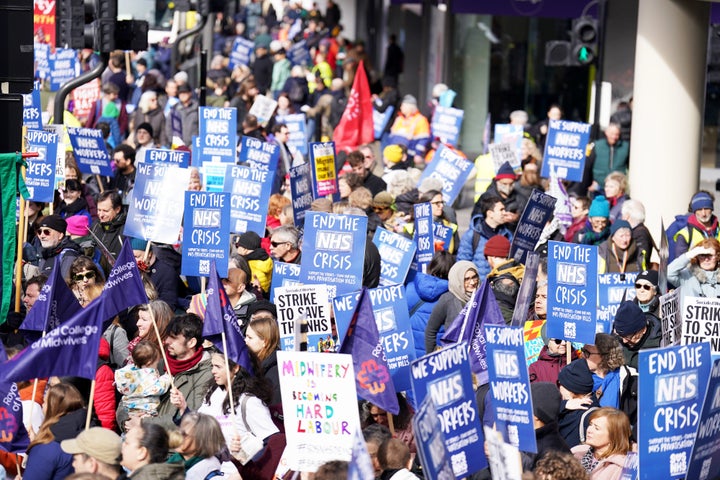 A planned strike by nurses on Tuesday has been ruled unlawful by a High Court judge, cutting short the industrial action.
Thousands members of the Royal College of Nursing (RCN) had planned to walk out as part of a long-running dispute over pay.
Nurses working in the NHS in England at workplaces with a strike mandate are preparing to take 48-hour industrial action from 8pm or the start of the night shift on April 30.
But health secretary Steve Barclay argued the RCN did not have a mandate for the last day of the industrial action as its strike mandate runs out on May 1.
In his ruling, Mr Justice Linden concluded that a six-month period in which industrial action can be taken following the RCN balloting members last year expires at midnight on Monday.
RCN general secretary Pat Cullen said: "The full weight of government gave ministers this victory over nursing staff. It is the darkest day of this dispute so far - the government taking its own nurses through the courts in bitterness at their simple expectation of a better pay deal.
"Nursing staff will be angered but not crushed by today's interim order. It may even make them more determined to vote in next month's re-ballot for a further six months of action. Nobody wants strikes until Christmas - we should be in the negotiating room, not the courtroom today."
She added: "The government has won their legal battle today. But what this has led to is they have lost nursing and they've lost the public. They've taken the most trusted profession through the courts, by the least trusted people."
Barclay said he welcomed the court's decision.
He said: "I firmly support the right to take industrial action within the law – but the government could not stand by and let plainly unlawful strike action go ahead.
"Both the NHS and my team tried to resolve this without resorting to legal action, but unfortunately, following a request from NHS Employers, we took this step with regret to protect nurses by ensuring they are not asked to take part in an unlawful strike."
Downing Street said it had been "regrettable" that the government had to take legal action against the RCN.
"The government never wanted to take this to court. We did indeed try every possible way to avoid a court case," the prime minister's spokesperson said.
"The NHS presented the RCN with clear legal evidence that their planned strike for May 2 was unlawful. We asked them to call it off.
"The RCN refused. That's why the NHS asked the government to intervene and seek the view of the court."