A parish council has been condemned for putting money over health after insisting on charging for a weekly fun run.
Dame Kelly Holmes, Paula Radcliffe and Ben Fogle are among those who have slammed Stoke Gifford Parish Council for introducing a charge for the Little Stoke Park parkrun.
More than 300 people take part in the timed 5k race at Little Stoke Park in Stoke Gifford, south Gloucestershire, each Saturday at 9am.
Stoke Gifford Parish Council has recently paid £55,000 to resurface the car park, while the path will soon need to be replaced at a cost of £60,000, the Press Association reported.
It says the fun run, which has been taking place each week for three years, has led to "increased wear" and complaints from local residents.
But more than 20,000 people have signed a Change.org petition against the council's decision to charge parkrun to use the grounds.
A number of high profile figures in the sports world slammed the council for creating a "barrier to entry" for people trying to improve their health...
Sports minister Tracey Crouch also added her voice to the criticism.
Speaking to the BBC, council chairman Ernest Brown said: "The football club pay £60 to hire the pitch.
"We're not proposing to charge £60, no way, but at the same time, as an organisation they should contribute towards the upkeep.
"That's the reason - it is not to charge people for running. People can come to this park and we welcome it - they can run any time they like.
"They can run on Saturday morning at 9 o'clock but not as a group parkrun because that is an organisation and any organisation using the facilities will be charged."
Parkrun has been given until May 28 to to apply for a grant, which the council has offered to fill out for them, Brown added.
"If they apply for a grant, which would mean zero cost to each runner, then we would welcome for them to stay on as they are," he said.
The council has asked parkrun, which it describes as an organised group with paid directors and staff, to contribute towards the upkeep of Little Stoke Park.
It said there are no limitations on runners taking part in the weekly event, with many from outside the parish coming each Saturday and using toilets and washing facilities.
Complaints involving incidents with runners have been received from local residents relating to parking, as well as from other park users and hall hirers.
"The parish council has only recently paid out £55,000 from public funds for resurfacing the car park and with the additional 300-plus runners per week, will shortly need to replace/repair the path at an estimated cost of £60,000, so as parkrun are significant users of the path on a regular basis they should contribute towards the upkeep," the council said.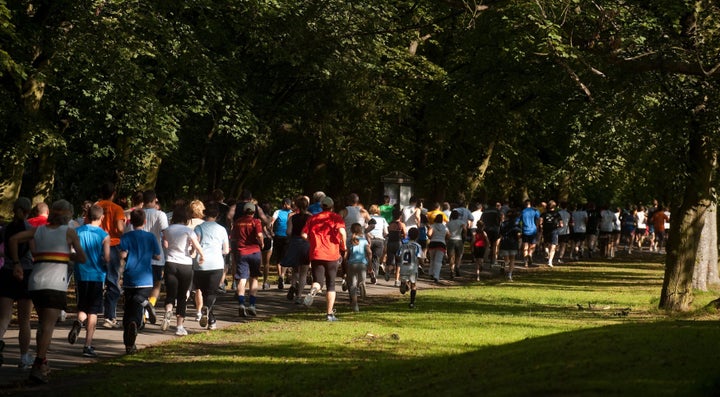 It claimed tax would probably increase if it continued to support free-of-charge groups, resulting in residents funding maintenance and repairs for issues caused by runners.
"The parish council cannot and will not stop people from using the parks for exercise and running but when it comes to an organisation with paid directors, fundraisers and sponsors, it would be unfair to expect the residents to pay," it added.
In a statement issued after the council voted to charge for the event, parkrun said the decision threatened the future of the not-for-profit organisation.
Chief operating officer Tom Williams said: "Parkrun has had unprecedented success in engaging the least active and encouraging them to exercise regularly.
"Providing free weekly access has been fundamental to this and we are disappointed that this opportunity is to be removed for the residents of Little Stoke.
"Our aim is to break down barriers to participation in, and delivery of, physical activity and this is consistent across 850 parkruns worldwide, which are all delivered by volunteers and are free to take part in.
"Imposing a charge at one event is something that contradicts our founding principles and would set a precedent that threatens our future."
Little Stoke parkrun said the charge meant the parish council was "withdrawing permission for parkrun to use the park".
"All we were asking the council for was shared use of the park for a short period early on Saturday and Sunday mornings," it said.
"The council's decision will inevitably increase numbers at other parkruns in the area and we will work to secure an alternative venue and establish new parkrun events to cater for the growing number of people who are opting to get fit by running regularly."
Many on Twitter also criticised the decision...
The event said it had received hundreds of messages following the decision, including many stories of how parkrun "is changing lives".