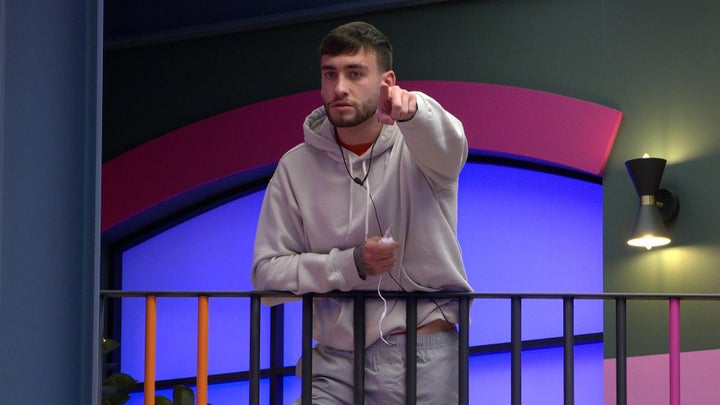 Big Brother evictee Paul Blackburn has spoken out about claims he was told by producers to "wind up" other housemates.
The Liverpudlian security officer and boxer became the fifth housemate to leave the Big Brother house in a double eviction alongside Dylan Tennant on Friday.
The row in question came about while half of the house were being treated to a party hosted by Yinrun Huang, while the remaining contestants watched on from a balcony, during which Paul was seen throwing objects at the party-goers and threatening to pour away their alcohol.
After he and Noky Simbani exchanged words about his behaviour, Trish went on to call him a "bully", which we was questioned about during his chat with AJ and Will.
"Big Brother told us to wind everyone up," he revealed at the time.
However, he has now said that this was not quite the case as he sat down with BuzzFeed UK (who are the parent company of HuffPost UK).
He explained: "I went to the Diary Room with Olivia... Big Brother was like, 'what are your plans for the rest of the night?', so I said, 'I've cling-filmed the toilet and I'm going to wait and see what happens with that, and I'm planning on a bit of mischief for the rest of the night.' Big Brother said, 'We like that idea, Paul. Keep us updated.'
"I took that as, 'go for it, let's go, we're all for it,' so that's what I was getting at. But Big Brother did say to stay in the room – we had to be locked in the room. Me being the wild person that I am, I can't just sit down in a room watching a party that I wasn't in. So, I ended up going out with Olivia, throwing a few cling-film balls, stupid things happen and I was messing around with Jenkin.
"And even Jenkin ended up getting wound up even though he was my mate in there. That's when I realised I went too far and I went back upstairs to the room."
"But yeah, there was nothing crazy to that," he added.
Upon leaving the house, Paul was met with a chorus of boos from the live eviction crowd, which he has since claimed was "very, very hard to take".
Speaking on Sunday's Big Brother Late & Live, he added: "For the whole house I think, everyone deserves the respect because they're in there for a reason.
"Everyone's different and not everyone can be each other's cup of tea, but the amount of lovely conversations we had, it was amazing."
Big Brother airs Sunday to Friday at 9pm on ITV2 with Late & Live following immediately after.