Breaks at work are essential - especially when you're a female on your period and you need time to change your sanitary products.
Unfortunately, this doesn't always happen. Particularly in industries that are understaffed and overstretched.
One midwife from Sweden has shared a candid photo of her bloodied scrubs after she was unable to take a toilet break during a busy shift.
Petra Vinberg Linder, 40, posted the photo on Facebook to highlight the hectic nature of midwifery and nursing, especially due to service cuts.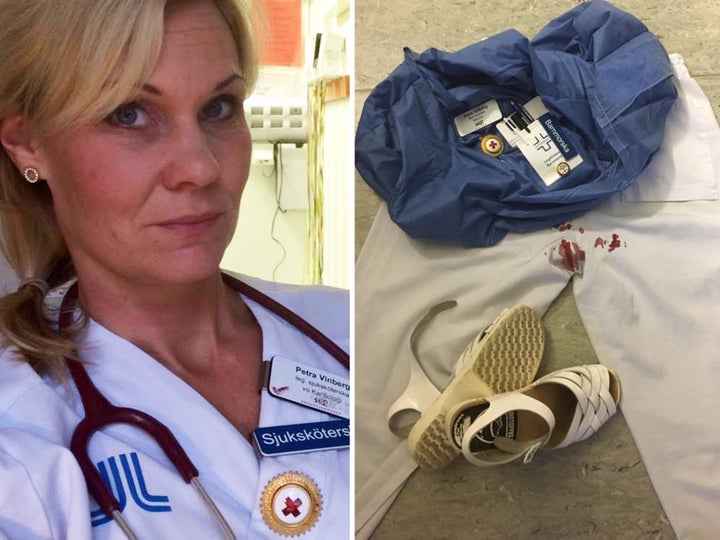 Vinberg Linder, who works at a hospital in Stockholm, had to help deliver three babies during one night shift and was so busy she couldn't even take time to go to the toilet and change.
The situation worsened when her period leaked onto her bright, white scrubs.
While she insists she loves her job, she said it can be particularly challenging as they are very stretched.
"We want and need more maternity staff. Now," she told HuffPost UK.
Vinberg Linder said the pressure to juggle deliveries is burning medical staff out.
"It's a very difficult field of work. I love my job, I chose it and I want to work in this field, but I wonder after a night like this how many years I'll manage," she told The Local.
"I'm 40, I'll work to 65 if I'm fit, but can you manage that? There are so many people in this country who want to work with childbirth, but don't because of the working conditions."
Vinberg Linder said she has only been in the job for a week. Before that, she was an assistant nurse at the same hospital, which was also incredibly high pressure.
"It's just getting worse and there has to be a change. We need another clinic in Stockholm, and there's a problem in the countryside too, where they closed the maternity ward in Sollefteå," she added.
The midwife told HuffPost UK that on the particular evening when she was unable to go to the toilet, "all hospitals in Stockholm were occupied and full".
"We had to refer women to other counties," she added. "We must have one more clinic. Midwives are tired."
According to the Nursing and Midwifery Council (NMC), the main reasons for leaving were working conditions, personal circumstances and disillusion with quality of care to patients.
Saffron Cordery, director of policy and strategy at NHS Providers, said more needs to be done to address the underlying issues driving retention problems, including pay and the "unsustainable workplace pressures".