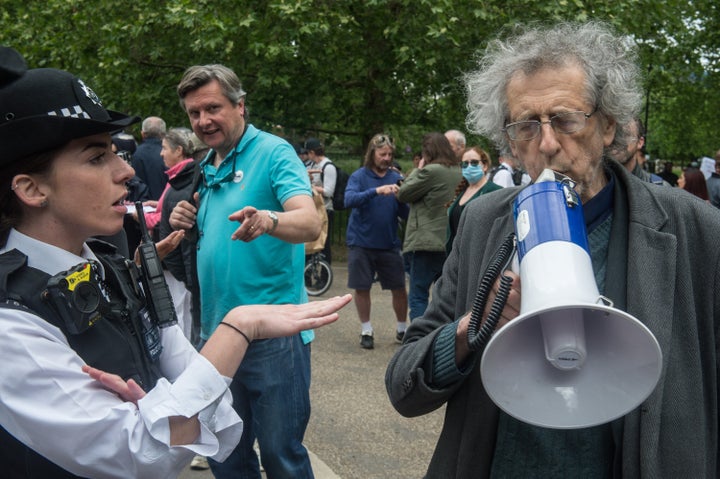 The brother of ex-Labour leader Jeremy Corbyn has been charged with two counts of breaching coronavirus regulations after attending anti-5G protests in London
Piers Corbyn, 73, was pictured at a demonstration in Hyde Park on May 16, while he has also been charged in relation to a protest on May 30.
He faces charges under the Health Protection (Coronavirus, Restrictions) Regulations 2020 and has been given two court dates, according to the Met.
Corbyn has pushed a bizarre and unfounded conspiracy theory that Bill Gates has somehow manufactured the coronavirus pandemic in order to depopulate the world with a vaccine that causes infertility.
He is said to be due before Westminster Magistrates' Court on July 24 and August 20 this year over the separate incidents.
Twelve others were arrested and charged under the Health Protection Act for allegedly taking part in the anti-lockdown protests of May 16, PA Media reports.
All are due to appear at Westminster Magistrates' Court.
Jeffery Wyatt, 56, of Milton Keynes, is due in court on July 10.
Dimitri Pensin, 34, of Pinner, north-west London, and Alexander Heaton, 37, of Bow, east London, are due in court on August 12.
Princess Rose Morgan, 56, of Lambeth, south London, is due in court on August 13.
Philip Hartley, 37, of Doncaster, Yorkshire; Fiona Hine, 35, of Wandsworth, south-west London; Jackub Andrzej, 27, of Ealing, west London; and Jaime Stewart, of Wood Green, north London, are all due in court on August 18.
Ian Jackson, 66, of Wandsworth, south-west London, is due in court on August 19.
Donnalee Andrews, 55, of Northampton; and Aleksandrs Rimicans, of Islington, north London, are all due in court on August 20.
CORRECTION: This article has been updated to accurately reflect the list of people arrested.