An undercover investigation into British pig farms certified by the food industry's Red Tractor assured standards scheme has revealed sows in cages so tiny they cannot turn around.
Animal rights activists have raised fresh concerns about the welfare of animals in UK farms, despite the government saying repeatedly that Britain has "some of the highest animal welfare standards in the world".
The Red Tractor logo on meat is promoted as being the mark of "quality food you can trust". Red Tractor certified farms are also meant to adhere to good animal welfare standards.
Investigators from Animal Equality secretly filmed inside four pig farms, all of which were Red Tractor certified.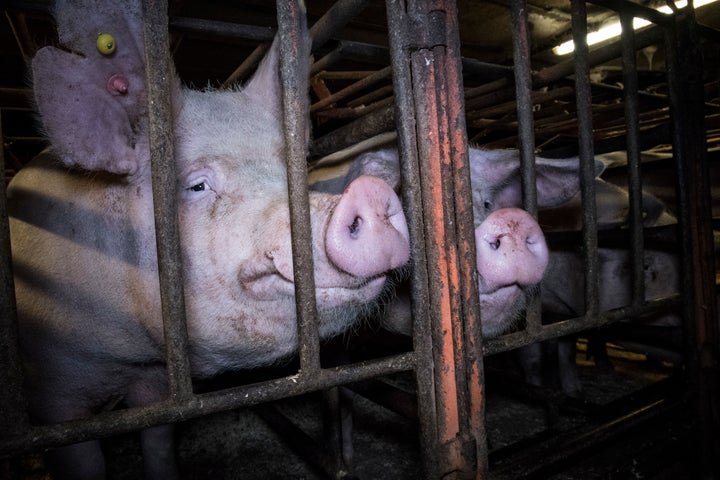 Campaigners raised a number of concerns about the animals' wellbeing, claiming the pigs at one facility were in the cages for more than five days.
At Hall Farm in Necton, Norfolk, female pigs were filmed in small cages, which activists said were "sow stalls".
Sow stalls, which are metal cages that severely limit the movement of pregnant pigs, were banned in the UK in 1999.
But the owner of Hall Farm, Edward Spratt, told HuffPost UK the crates captured on Animal Equality's footage were "free access stalls, not sow stalls".
He declined to go into further details, only adding: "I've been inspected by the bodies and I've been given the all clear from all the relevant bodies and they found nothing wrong."
Red Tractor said in a statement that Hall Farm was suspended "immediately" after the footage was brought to light and the premises inspected.
Red Tractor said that an on-site inspection found that sows were able to enter and leave "at will from the stalls".
Animal Equality said that one group of pigs were continuously confined for at least 127 hours, with sows biting the metal bars of the cage, which can signal that the animals are distressed.
Footage from the farm also shows a pig with a major abscess on its back and another with an infected leg wound, both of whom were in a pen with other pigs.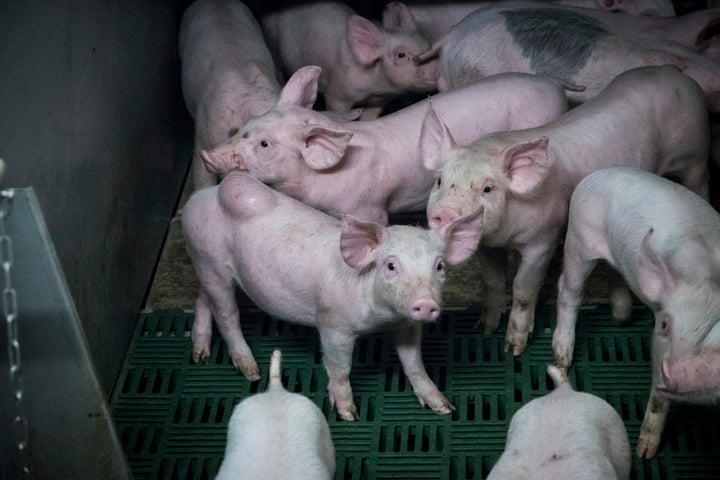 Animal Equality raised concerns about the "barren" pens pigs were kept in "that deny their natural behaviours" and the number of animals whose tails were docked.
Red Tractor said there were "no other major issues picked up in the inspection" and the farm's certification was reinstated.
Sow stalls are banned in the UK but other types of stalls where the animals can enter and leave are legal.
Animal Equality has sent a dossier of footage, photographs and written evidence to the Animal and Plant Health Agency (APHA), which is charged with investigating on-farm welfare violations.
The animal rights organisation is calling for "long overdue action on pig farms who fail even to adhere to the limited protections that the law demands".
A spokesperson from the APHA said the government was unable to comment on individual cases.
Anyone who commits an offence under the regulations can be given a maximum prison sentence of 51 weeks and/or a fine.
The RSPCA said it was "extremely concerned about the conditions in which it appears the pigs are being kept, including the length of time it is claimed the sows were confined, the untreated injuries and apparent lack of enrichment".
The RSPCA added in a statement: "The stalls in this footage appear to be those used for the purpose of artificial insemination and the RSPCA has definite welfare concerns relating to how long it is claimed these sows were kept in them.
"UK law restricts the amount of time a sow can be confined in one of these stalls because the inability to move around and perform normal behaviours such as rooting is likely to cause frustration to the sow. RSPCA standards are even more stringent."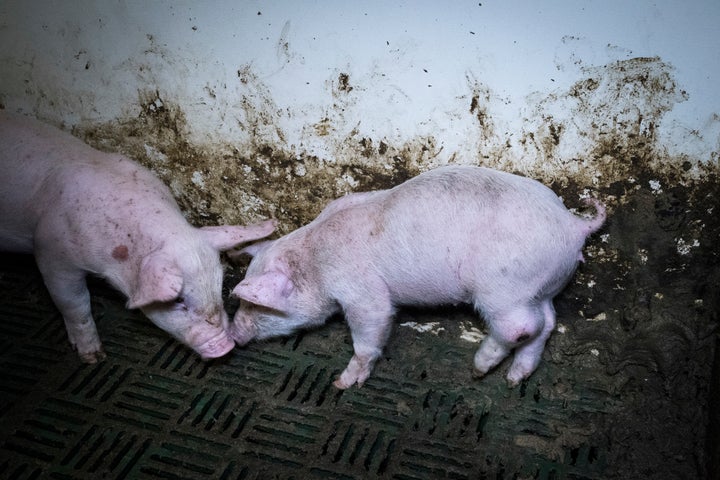 Activists also filmed at Poplar Farm in East Riding of Yorkshire, Cross Farm in Devon and Grange Farm in Lincolnshire.
At Poplar Farm, activists said they found pigs with bleeding wounds on their ears, a "severely lame pig left in a pen with other pigs" and several "heavily" scarred animals.
Dead pigs were also allegedly left in a yard.
Red Tractor inspected the farm after concerns were raised and said that an infection was the cause of the ear problem. Staff have also been told to undergo immediate re-training on the disposal of dead animals.
Animal Equality investigators also visited Cross Farm, owned by W J Watkins & Sons, who won the National Pig Award in 2016 and 2017.
Campaigners said they found pigs "living in leaking, dilapidated buildings covered in slurry and forced to lie in their own waste".
Pigs with large hernias were allegedly left in pens with other pigs and pregnant sows in concrete pens without any enrichment.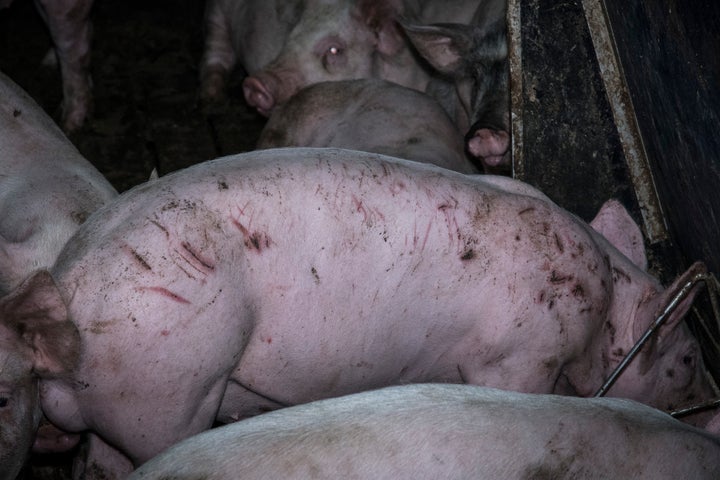 Animal Equality said they found a decomposing dead piglet in a pen with his mother and siblings at Grange Farm.
Activists said that pigs' tails were found to be docked at most of these farms.
Red Tractor said that one of the latter two farms was "found to have several non-conformances against our standards and as a result we suspended the farm last week".
A Red Tractor spokesman refused to identify which farm had been suspended from the scheme.
A manager at Cross Farm said to The Times: "We have no problem. We are a large commercial pig farm and [Animal Equality] is against commercial piggeries, so we expect this sort of trouble from time to time."
Poplar Farm and Grange farms did not respond to requests comment.
Dr Toni Shephard, UK Director of Animal Equality, said: "Consumers are constantly told to 'Buy British' for higher welfare, yet laws governing pig welfare - some nearly two decades old - are routinely ignored and neither the government, retailers nor Red Tractor are doing enough to enforce them."
Shephard added: "This flagrant cruelty cannot be allowed to continue. We are demanding immediate action from those responsible for protecting pigs from the most extreme practices of factory farming."