There have been fresh warnings that Brexit could lead to British farming and food standards being lowered if meat from the United States is allowed to flood UK supermarkets.
The claims, which have been backed by passionate animal welfare advocate and former Tory MEP Stanley Johnson, come amid a conference this week of international agriculture and livestock experts in London.
Experts have said that Brexit could see a race to the bottom for Britain's food quality in the interests of completing free trade deals with countries like the United States, and that food safety standards faced "serious risks" if the UK failed to adopt EU-style rules.
This follows previous warnings that rules around hormone-injected meat, chlorinated chicken, milk containing antibiotics and genetically modified vegetables could be weakened after the country severs ties with the European Union, which currently offers protections against such products.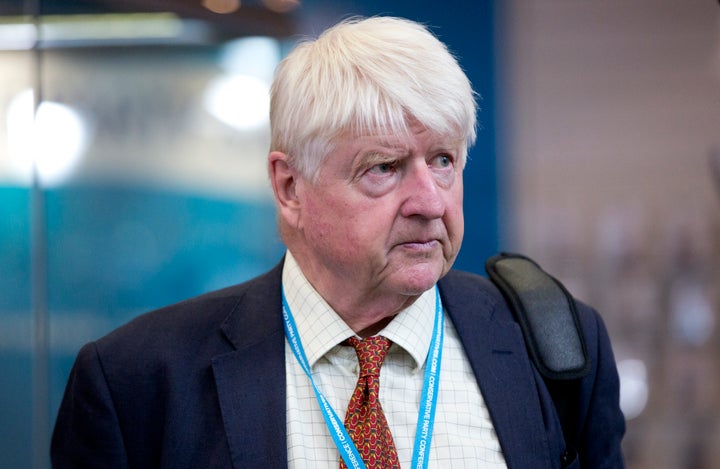 Johnson, who also revealed he now backs his son Boris on Brexit, told HuffPost UK it would be easy for Britain to go down the mass production route seen in the US.
"Just how animal friendly are some of these intensive rearing techniques... which result in cattle never getting out of the feed lot at all? I would be worried that, once we're out of the EU, people will say 'ok we can get American beef'.
"I'm worried about importing quantities of beef which we know for a fact come from establishments where these animals simply don't have a decent life, where you have got thousands and thousands of animals packed in," he told HuffPost UK.
"I'm worried about importing quantities of beef which we know for a fact come from establishments where these animals simply don't have a decent life"
Johnson added that cheap meat from the US could also lead to farmers in the UK being forced to compete with food giants across the Atlantic: "I would be very worried that, as a result of letting that happen we then have increasing pressure in this country, because of competition reasons, to say 'we must do that ourselves now, go down this mass production route'."
But there was outrage in Britain this summer after it was revealed that chlorine-washed chicken, which is legal in the US, could enter the UK food chain in order to facilitate a trade deal with Washington.
Fox slammed the media for being "obsessed" with the issue after he was challenged to eat chlorine-washed chicken to show he was comfortable with the product entering the UK food market.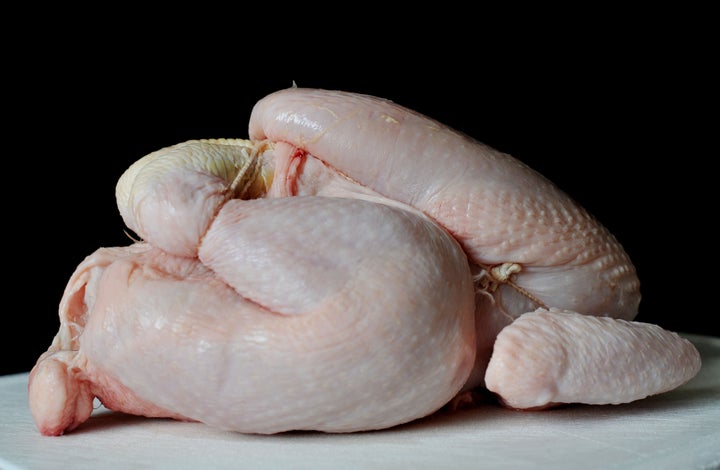 Under current EU regulations, poultry meat which is rinsed in chlorine is banned, but after the UK leaves the EU it will be up to the government whether a ban stays in place.
Tim Lang, professor of food policy at City University in London, has previously warned that Brexit could see a race to the bottom in terms of food quality.
He told the Compassion in World Farming's Extinction and Livestock international conference on Friday: "We in Britain are currently away with the fairies, because of Brexit we are throwing everything into the air like children throwing toys out of the pram.
"Beware, intellectually and in principle we might get improvements from it (Brexit), but the likelihood of that is very low, because at the moment the food culture in Britain is based around price. The schemes to go for ever cheaper food will triumph over higher values."
"Brexit campaigners did not inform consumers/voters that US agribusiness is salivating at the prospect of selling foods which have weaker standards"
In a University of Sussex report co-authored by Lang in July, experts warned there were "serious risks that standards for food safety will decline if the UK ceases to adopt EU safety rules and instead accepts free-trade agreements with countries with significantly weaker standards".
In addition to weaker standards in countries like China, the report also identified the US, warning: "Under the Trump administration US standards are likely to decline sharply."
It continues: "Brexit campaigners ignored the inbuilt reliance the UK has on pan-European institutions, to which we contribute. A vast array of institutions and scientific infrastructure keeps UK food fit to eat.
"Brexit campaigners did not inform consumers/voters that US agribusiness is salivating at the prospect of selling foods which have weaker standards, nor that foods derived on world markets use standards which are weaker than the EU's and those of the USA."
Examples of food practices used in the US, which are currently banned in the EU:

Hormones

Many beef producers in the US use implants of synthetic hormones under the skin of their beef cattle in order to promote growth, requiring the animals to need less food but still grow at a fast pace.

The US says meat from hormone-treated cattle is safe, but the EU disagrees, citing the posed risks to vulnerable groups, such as pregnant women and people with weak immune systems.

Bovine somatotropin in dairy cows

In the US, many dairy cows are injected regularly with a synthetic hormone called bovine growth hormone (BGH). In the UK and the EU the hormone is called recombinant bovine somatotropin (rBST).

The growth hormone is used to to increase milk yield but it can cause mastitis in cattle, which is an inflammation of the udder that derives from a bacterial infection. This can lead to more antibiotics being given to the cows.

The EU's Scientific Committee on Animal Health found that the practice led to "very significantly poorer welfare because of increased foot disorders, mastitis, reproductive disorders and other production related diseases".

GM crops and animals

More varieties of GM crops are allowed to be produced and sold in the US than in the EU.

GM foods are not currently grown commercially in the UK, but they can be imported.

In the EU, if a food contains or consists of genetically modified organisms (GMOs), or contains ingredients produced from GMOs, this must be indicated on the label.

In the US there is no mandatory labelling requirement.

Chlorinated chicken

Poultry dipped in chlorinated disinfectant hit the headlines in the UK this summer.

In the USA, in an attempt to combat problems of microbiological contamination of poultry meat, manufacturers are required to dip the meat in disinfectant, which most commonly is a chlorine-based product.

The practice is not lawful in the EU or the UK and in the US poultry meat is not labelled as having been dipped in disinfectant.
Speaking about factory farming, which can see tens of thousands of animals crammed into one warehouse, Johnson said: "I wouldn't want that to come back on the agenda merely because the Americans are able to sell their stuff over here".
He also warned about UK policies possibly being swayed by US food giants in the future.
"Never underestimate the political influence of the big agricultural business ... they will ... take whatever advantages they find they can take."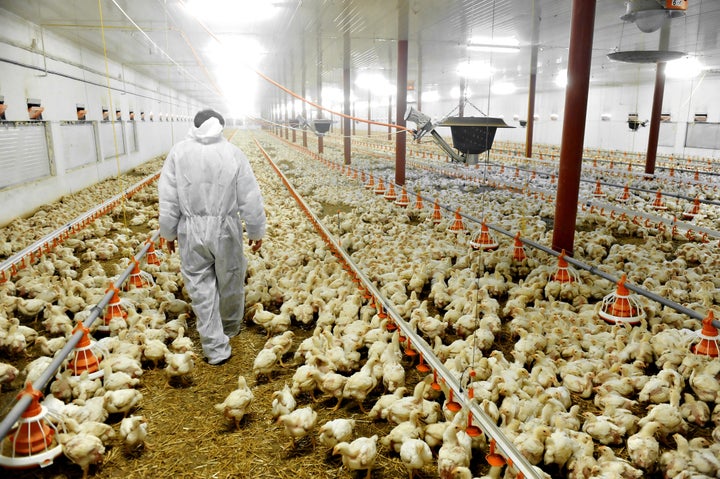 As part of the EU Withdrawal Bill, all existing EU legislation will be copied across into domestic UK law after March 2019.
This means there is unlikely to be an immediate impact on much of Britain's industries, including farming, straight after leaving the EU.
Karl Falkenberg, a former adviser to president of the European Commission Jean-Claude Juncker, served as deputy director general for trade in Brussels for five years before becoming director general for environment between 2009 and 2015.
He told HuffPost that the EU's extensive food product legislation has been heavily criticised by the US in the past: "In the United States GMOs (Genetically Modified Organisms) are common practice, hormone addition in producing meat is absolutely normal practice.
"We have decided that these are things that we don't want to have in the European Union and therefore we have legislation that protects this.
"But when you leave the European Union, again you become free to modify those conditions, if you so want."
"That isn't a level playing field, that isn't an equal opportunity, that is the economics of the madhouse that will lead to us simply sucking in foods from other parts of the world produced to different standards"
Guy Smith, vice president of the National Farmers Union, claimed last month that free trade was a "myth" as so many countries subsidise their agricultural sectors.
"That isn't a level playing field, that isn't an equal opportunity, that is the economics of the madhouse that will lead to us simply sucking in foods from other parts of the world produced to different standards.
"We don't think that's a very sensible scenario for anyone to just sign up to some ideological idea that free trade actually exists where I don't think it does."
If the UK's food safety standards do not meet the EU's requirements, then exports from the UK to the European bloc would also be affected.
However, if the UK increases its food standards to a point that exceeds European Union guidelines, then it would be up to the EU to meet those requirements if it wants to sell to the British market.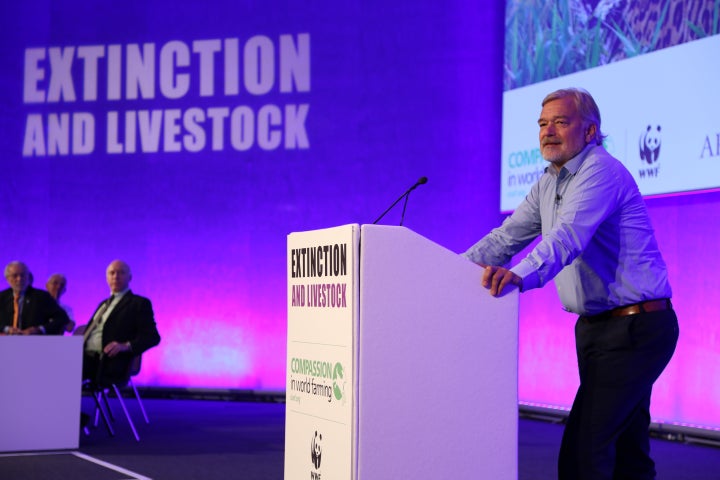 Yet both Falkenberg and Johnson admit that animal welfare and farming practices aren't always at the top of politicians' agendas.
Environment secretary Michael Gove told a party conference fringe meeting he was aware of concerns and was committed to ensuring animal welfare standards in the UK do not slip after Brexit.
The Tory minister said: "Outside the European Union's single market, we can improve animal welfare, supporting more humane methods of farming and restricting the live export of animals."
And while Johnson praised Gove's goal to restrict live animal exports, he said Theresa May's government isn't doing enough about sustainable farming.
The Government said that maintaining safety and public confidence in food available in the UK "is of the highest priority".
A spokesperson said in a statement to HuffPost UK: "Any future trade deal must work for UK farmers, businesses, and consumers.
"Any new products wishing to enter the UK market must comply with our rigorous legislation and standards – we will not compromise on animal welfare and food safety."
Unlike his son, who was one of the main driving forces behind the Leave campaign, the Johnson was a staunch Remain supporter.
In the run-up to the European Referendum last year, the 77-year-old founded and co-chaired Environmentalists for Europe.
He said: "My position in the run up to the referendum I said let's stay in.. because the gain is not only the gain in animal welfare in Britain but is the gain in terms of animal welfare throughout Europe as a whole.
"I think this whole question of chlorinate chicken, for example, was an issue… I mean certainly if you look at the way chickens are raised in the United States you do have to say to yourself, 'look, come on, are we really talking about humane treatment of animals?'."
In 2014, there were more than 23 billion chickens, turkeys, geese, ducks and guinea fowl on the planet – more than three per person, WWF's latest report Appetite for Destruction revealed this week.
Referencing this statistic, Johnson added: "It would certainly be jolly, jolly important, not to say 'okay, when we come out of Europe we can then import chicken from Thailand and from America where animal welfare standards are not being observed'."