A police force will record misogyny against women, including wolf whistling and other unwanted approaches in the street, as a hate crime in a national first.
Nottinghamshire Police will classify street harassment, "unwanted physical approaches" and "uninvited verbal contact and engagement" as hate crimes after hearing the testimony of victims.
The current national definition of hate crime does not refer to gender but the force worked with the Nottingham Women's Centre to create the new definition.
It defines hate crimes as "any incident, which may or may not be deemed as a criminal offence, which is perceived by the victim or any other person, as being motivated by prejudice or hatred".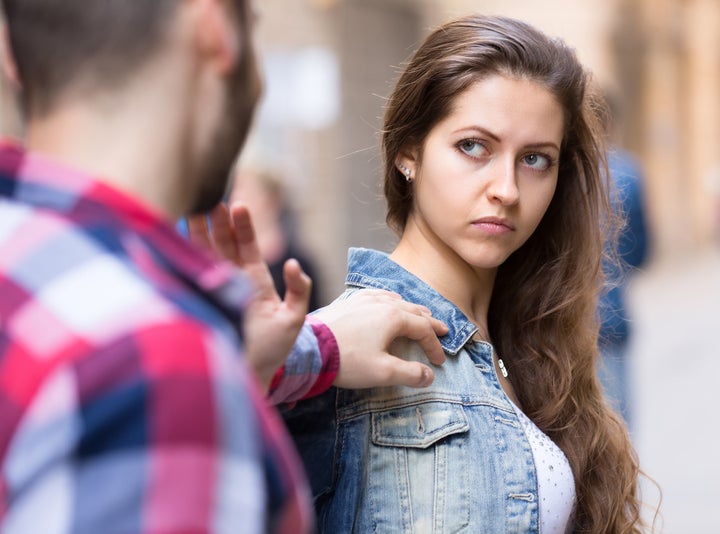 "We need to call out misogyny for what it is - a hate crime," Fawcett Society chief executive Sam Smethers told HuffPost UK in a statement.
"Women and girls face a tidal wave of abuse and harassment every day. Our law has to send a clear signal that this is not acceptable. It is a crime."
She added: "This is what the Fawcett Society has been calling for. Nottinghamshire Police's commitment to taking misogynistic hate crime seriously should be welcomed and rolled out nationwide."
The current national hate crime definition, agreed by prosecutors and police, says it is based on race, religion, sexuality, disability or transgender.
A spokesman for the National Police Chiefs' Council told HuffPost UK: "There are five nationally monitored strands of hate crime but police forces can record additional categories of hate crime based on local circumstances.
"At this stage, we are not planning to increase the number of nationally monitored strands but we always keep this under review."
Nottinghamshire Chief Constable Sue Fish said: "What women face, often on a daily basis, is absolutely unacceptable and can be extremely distressing... I'm delighted that we are leading the way towards tackling misogyny in all its forms.
"It's a very important aspect of the overall hate crime work being conducted and one that will make Nottinghamshire a safer place for all women.
The force has spent three months providing misogyny hate crime training to selected officers and staff.
It funded research and hosted last year a conference in keeping women safe, where victims of misogyny testified. The force drew up an action plan that set up the new policy.
Melanie Jeffs, Centre Manager at Nottingham Women's Centre said: "We're pleased to see Nottinghamshire Police recognise the breadth of violence and intimidation that women experience on a daily basis in our communities.
"Understanding this as a hate crime will help people to see the seriousness of these incidents and hopefully encourage more women to come forward and report offences."
The force listed examples of what could amount to misogynistic hate crime:
physical or verbal assault;

unwanted or uninvited physical or verbal contact or engagement;

use of mobile devices to send unwanted or uninvited messages or take photographs without consent or permission
Domestic abuse is not included within the new hate crime definition as it is separately.