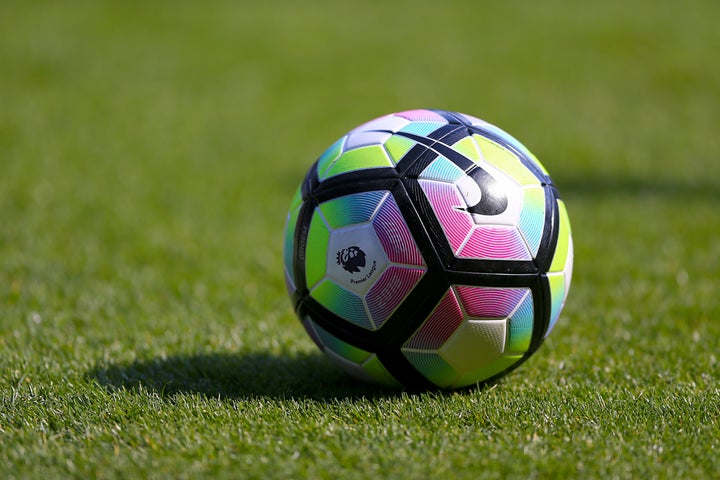 Politics and football have long been rooted in the same values.
But a shared sense of tribalism, revered and reviled figures and an audience of millions haven't historically put one hand in hand with the other - apart from in exceptional cases.
The 2016/17 season, however, has seen a rise in the number of political statements being made at football matches - and football itself becoming something of a, er, political football - with mixed reactions.
Here's five of the most high profile - and some experts' views on why the stands are becoming the place to take a stand.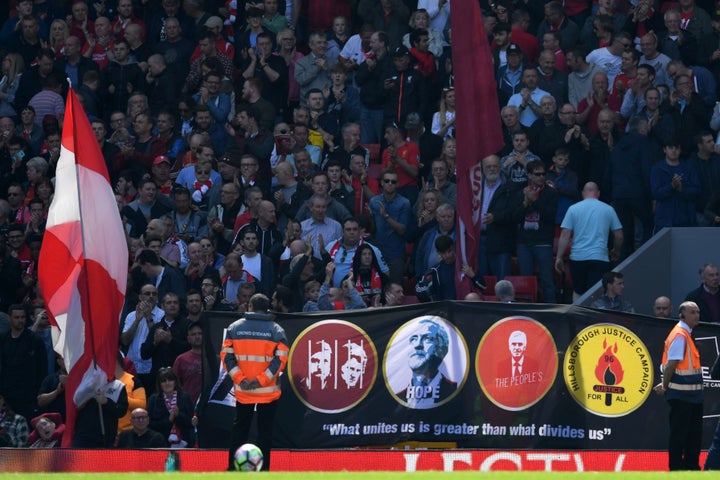 1. Jeremy Corbyn banners at Anfield
Liverpool fans unveiled a huge Corbyn banner on the Kop during one of the final home games of the season, against Southampton. The flag also featured Shadow Chancellor John McDonnell and the Hillsborough Justice, the Shrewsbury 24 and Orgreave Truth and Justice campaigns. Those behind it claimed it was a show of support for Labour's general election campaign, but many fans said they were uncomfortable with the display, saying politics should be kept out of football.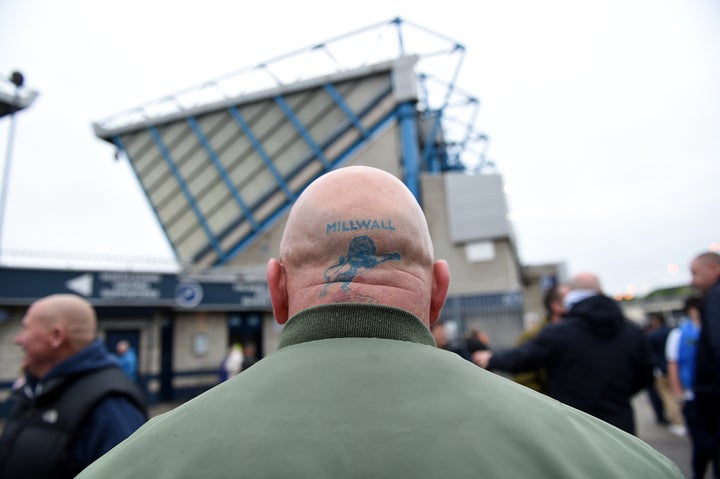 2. Millwall's Compulsory Purchase Order battle
The Den has hosted a number of protests this season as part of an ongoing battle between supporters and local politicians over plans to sell off land owned by the club's community trust. Although the proposals were abandoned and an independent review is underway, tensions remain high. And in an unprecedented move, Millwall AMS supporters group have put up their own election candidate in Lewisham East, who will run as an independent against Labour's Heidi Alexander.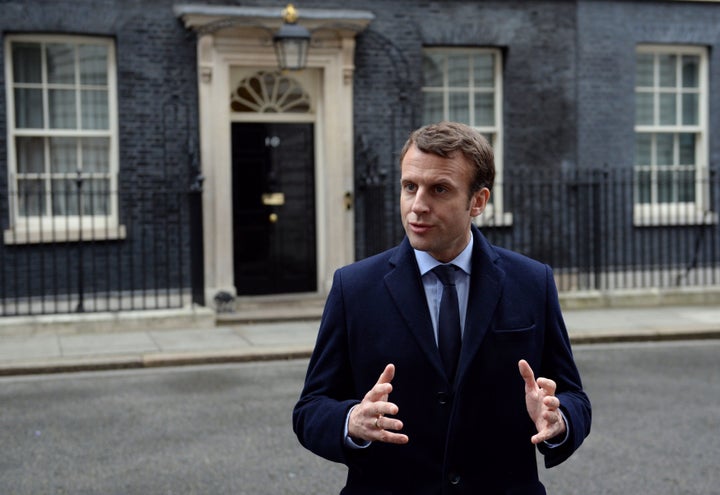 3. Arsene Wenger endorses Emmanuel Macron
The Arsenal manager was asked by the Independent who he would vote for in the French election back in April. A known liberal, Wenger had always made it clear he opposed Marine Le Pen's far right policies and described Macron as 'really impressive' without confirming outright that he would vote for the 39-year-old. It is believed Wenger visited the French embassy before both rounds of the presidential vote to make sure his wife was able to vote by proxy on his behalf, as his team faced Manchester City in the FA Cup semi-final and Manchester United in the Premier League.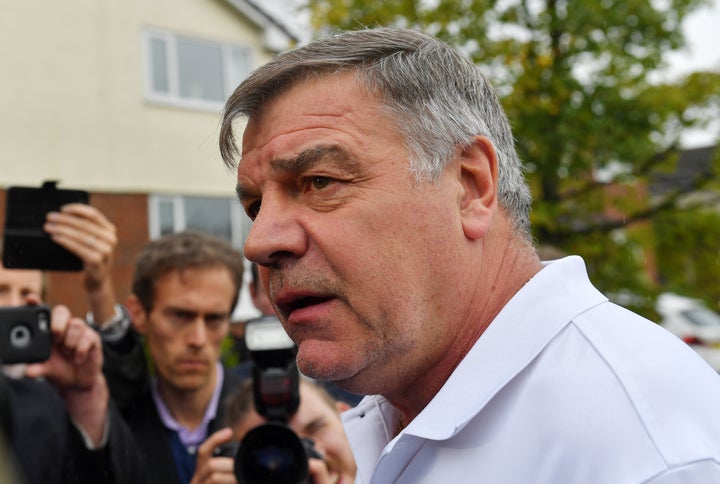 4. Select committee criticism of Sam Allardyce appointment
Although not strictly a pitch-side protect, the FA came under fire after Sam Allardyce controversially stepped down as England manager after just one match in charge following a newspaper sting. Damian Collins, acting chair of the culture, media and sport select committee at the time, said: "The FA appointed a manager who was a central figure in the biggest ever investigation initiated by football into improper payments and bungs. We know the FA didn't speak to Panorama, who made the programme that led to that investigation." He said it would be an 'institutional failure' if the FA had not asked the appropriate questions.
5. Premier League away ticket cost cap
The 2016/17 season was the first in which the Premier League agreed to cap away ticket prices at £30, following a high profile campaign by a number of supporters' groups. The Football Supporters' Federation (FSF) had long campaigned for cheaper tickets and wanted away tickets to cost no more than £20, but hailed the commitment to keep costs to £30 for the next three seasons as a 'step in the right direction'.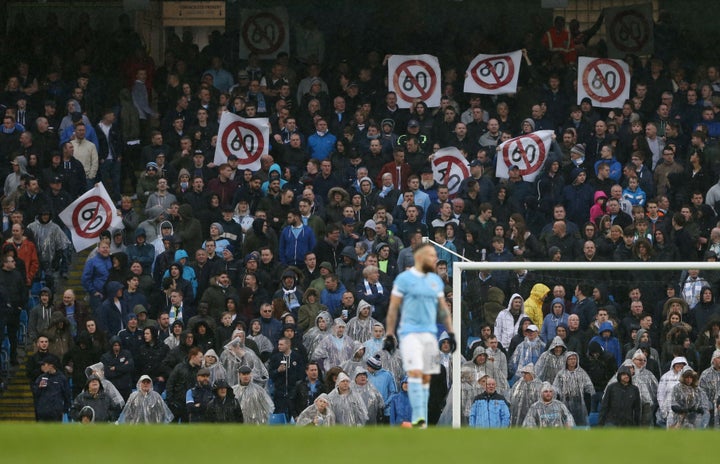 6. Jeremy Corbyn at Prenton Park
The Labour leader made a surprise appearance at Tranmere Rovers' ground on a campaign visit to Wirral last week. He pledged to get Premier League clubs to invest 5% of their income in grassroots football before leaving the stage to make way for the Libertines, who were headlining the Wirral Live music festival at the ground. He was greeted with a football-style chant of 'oh, Jeremy Corbyn' to the tune of the White Stripes' Seven Nation Army. Yes, really.
So what is behind the growing appetite for politics in football?
Jay McKenna, chair of the Spirit of Shankly Liverpool supporters' union, said the drive from many fans was borne out of problems with football governance.
"Football supporters were not getting the answers or assurances they needed from the football authorities," he told HuffPost UK.
"When people like Hicks and Gillett [former LFC owners], the Glazers [former Manchester United owners] or various different owners at somewhere like Portsmouth were taking over clubs and burdening them with debt or threatening their existence. So we turned to others who could give us voice and that was, in some cases, our politicians."
He praised the efforts of Merseyside politicians Alison McGovern and Steve Rotheram, who have spoken at Spirit of Shankly meetings and helped raise the profile of the issues important to fans.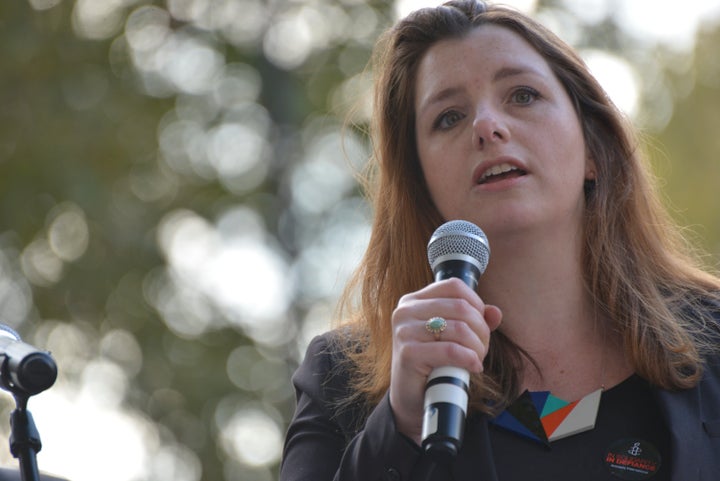 McKenna added: "From there, it's clearly been in our minds when talking about other issues that there are places we can apply pressure to get change; instead of going and asking the Premier League we could ask politicians. And this raised the profile.
"I think supporters for so long had been told or conditioned to think that football and being a supporter was some kind of 'other' and not actually part of real, everyday life affected by the same things – by politics with a small p.
"This realisation and understanding is a good thing - it has meant we've been able to develop a narrative and political view (small p) that the political world and parties are following – people like David Cameron talking about ticket prices and the Labour Party having manifesto commitments for supporters on the boards of clubs. We're influencing people and getting change."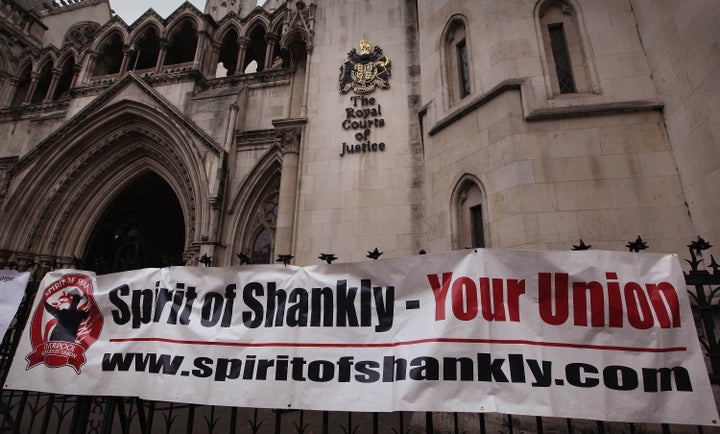 On the Jeremy Corbyn banner, McKenna said he was surprised to see some fans calling for their sport and club to be kept separate from politics, 'given the political nature of a city like Liverpool, a club like LFC with it's history and past managers, and the political decisions that are made which affect supporters'.
"I think it is a view shared by a growing number – that it is political and it has a place," he added.
"Some have even taken that further and there's been Jeremy Corbyn songs or Vote Labour banners, almost scoffing at the idea that it isn't political. Whether people agree or not it is an expression of their identity and that's what football is, in part."
Kevin Rye, an AFC Wimbledon fan and former head of policy at Supporters Direct - the umbrella body for football club supporters' trusts - said football as a political issue had only become 'mainstream' during the last two decades.
"Politicians now increasingly use football as a way of identifying with people - 'we are one of you'," he added.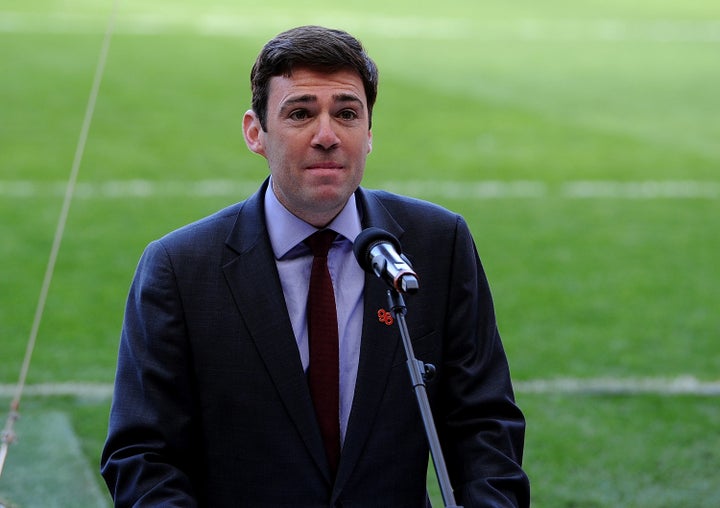 "Probably the biggest change that came from politicians being interested in football and supporters' issues was the measures implemented by the Labour government in 1997.
"Although they shied away from some issues, they made a massive difference in terms of how the game was run by tackling the distribution of broadcasting profit in Premier League clubs and people like Andy Burnham deserve huge credit for that.
"The second big change was the establishment of Supporters Direct, which propagated supporters' trusts across the country. It allowed us to take a strategic approach to many of the issues affecting fans, which was fantastic."