More than three quarters of Brits would accept refugees into their neighbourhood or home, research suggests, yet the UK has taken a tiny handful of people compared to other wealthy countries like Canada.
The UK came third after China and Germany in Amnesty International's ranking of how accepting countries are of refugees, which shows anti-refugee rhetoric and policies are wildly "out of step" with public opinion, the charity says.
The British effort pales in comparison to Canada, which just took in 25,000 people in just four months.
Amnesty's first Refugees Welcome Index, carried out by consultancy GlobeScan, questioned more than 27,000 people across 27 countries about their acceptance of refugees.
It found Russia, Indonesia and Thailand were the countries least welcoming, while Canada, Australia and Spain ranked highly, just behind the UK: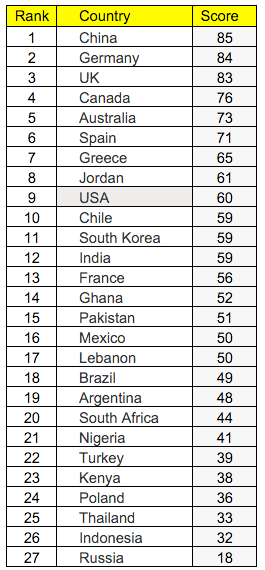 In comparison, the Canadian government has a website titled #WelcomeRefugees, letting citizens track incoming flights arriving with refugees on board, so they can help them settle in.
Welcoming refugees with "open hearts" is "the Canadian way" says the site, which advises businesses that they should help by "donating money, items and services, and hiring refugees."
The Canadian site has a counter showing how many Syrian refugees have arrived there (now over 27,190). It tracks asylum applications in progress and counts how many text messages have been sent to ask refugees if they are interested in coming to Canada, as well as how many Syrians have asked about moving to Canada at a UN centre.
"Resettling refugees is a proud and important part of Canada's humanitarian tradition," the Canandian refugee site says. Its resettlement programme was launched after Prime Minister Justin Trudeau took office in November 2015. It planned to take 25,000 people in two months, and managed it in four.
Maryam Monsef, Canada's Minister of Democratic Institutions said: "Welcoming 25,000 refugees in such a short period of time is a shining example of the welcoming spirit of Canadians.
"Throughout the country, we have seen communities – large and small – embrace newcomers as only Canadians could. This is making a tangible difference in the lives of so many."
Most Brits in the Amnesty research said they would gladly welcome refugees into their area, while 29% even said they would accept refugees into their own home.
And 70% of those surveyed think the UK government should do more to help people fleeing war and persecution.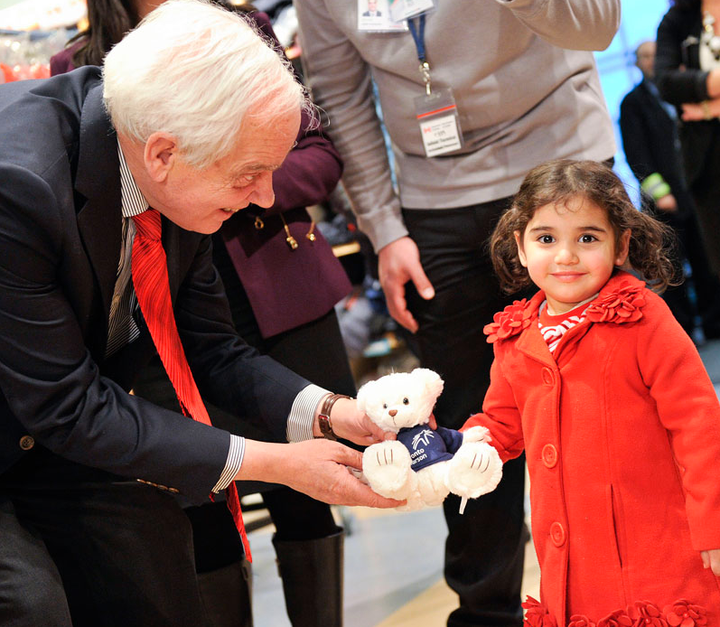 Kate Allen, Director of Amnesty International UK, said the findings showed the UK was "overwhelmingly supportive of refugees" and that the government was "out of step with reality".
"Local organisations are campaigning for their councils to take in refugee families, grassroots groups are collecting supplies for Calais or organising fundraising comedy or music nights and individuals have been heading as far as Greece to volunteer in refugee camps," she said.
"The survey reveals that anti-refugee political rhetoric is out of step with reality."
According to Oxfam, the UK and other wealthy nations have resettled less than 2% of Syrian refugees escaping the ongoing civil war.
In 2015 a UNHCR report showed that the poorest countries were caring for most of the world's refugees. Turkey has taken in more than any country, and is home to over 1.9 million Syrians fleeing violence and instability, while there are thought to be 1.5 million refugees in Lebanon - making one in four people in the country a refugee.
Israel is the only country sharing a border with Syria that has not taken in any refugees from the country, though it has given humanitarian aid and medical treatment to more than 1,000 people.
Pakistan has hosted the most refugees from any area for 22 of the last 36 years according to UNHCR data, but comes in second place to Turkey today. Most refugees in Pakistan are Afghans, who made up the largest proportion of the world's refugees until Syrian people overtook them in January 2015.
Globally, four out of five people in the survey sad they would welcome refugees into their country "with open arms".
Nearly a third (32%) said they would accept refugees in their neighbourhood while half (47%) would accept refugees in their city, town or village.
One in 10 would take refugees into their home, ranging from 46% in China down to 1% in Russia.
In 20 of the 27 countries, more than 75% of respondents said they would let refugees in their country. Just 17% said they would refuse refugees entry to their country.
Russia was the only country in which more than a third of people said they would deny refugees access (61%).
Amnesty is calling on leaders at the World Humanitarian Summit in Istanbul next week to commit to a permanent system for sharing the responsibility for refugees. The charity is asking governments to resettle 1.2 million refugees by the end of 2017 - far more than the 100,000 per year that are being taken annually.
Even that many would be less than a tenth of the 19.5 million refugees in the world today.
Allen from Amnesty International said the UK government could go to the World Humanitarian Summit a "confident that British citizens are ready and willing to welcome refugees, not only into the country, but also into their neighbourhoods and even their homes."