Private firms handed contracts to run the UK's hotels quarantine programme have links to the Conservative Party and have already benefited from a series of government deals during the coronavirus pandemic.
Mitie, Corporate Travel Management, G4S and Corps Security have been contracted to provide hotels and security by the Department of Health and Social Care (DHSC), it is understood.
The UK's Covid-19 quarantine hotels this week welcomed their first guests from 33 countries on the government's "red list", including Portugal, the United Arab Emirates, South America and southern Africa.
When HuffPost UK approached the DHSC for details about the contracts, we were only told a travel management company would oversee individual contracts with hospitality companies, and several security firms had also been handed contracts.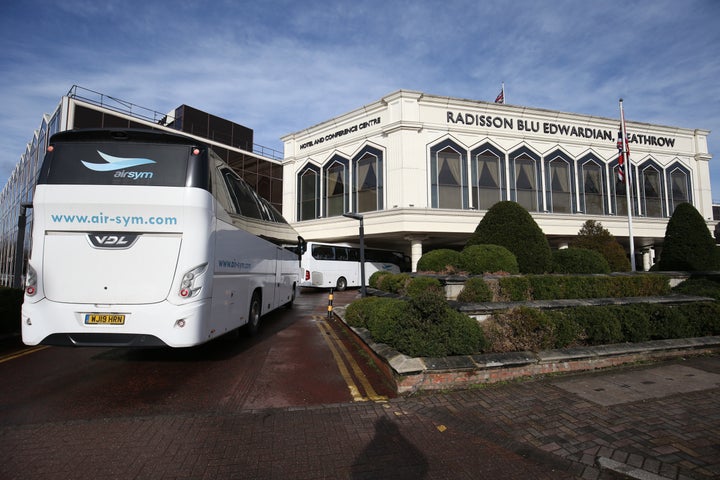 In November, the public spending watchdog concluded that, throughout the pandemic, the government had dispensed with normal standards of transparency and instead companies recommended by Tory MPs and peers were given priority when securing contracts to deal with the coronavirus crisis.
The Labour Party claims contracts awarded during the pandemic to firms with Tory links amount to almost £2bn.
Some of Mitie's workers at an Inverness test centre fell sick from Covid in January, leading to claims the site did not have enough safety measures. The firm said safety measures were in place, test and trace guidance was followed and the site was deep cleaned.
It also has strong political links. Tory peer Philippa Roe, or Baroness Couttie, sits on the company's board, and was given a seat in the House of Lords by David Cameron in 2017. A party whip in the upper chamber, she was Conservative leader of Westminster Council between 2012 and 2017.
Conservative peer Baroness McGregor-Smith, who is currently president of the British Chamber of Commerce and a non-executive board member of the Department for Education, was CEO of Mitie for almost a decade.
The firm told HuffPost UK: "Please can you contact the DHSC press office who are best placed to answer these questions? We do have a number of public sector contracts that were awarded pre- and post- Covid."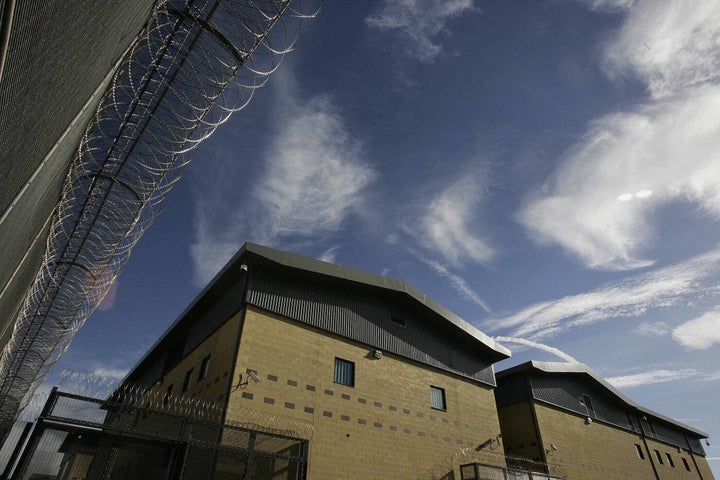 Travel agency Corporate Travel Management bills itself as "one of the world's most successful travel management companies", and was last year contracted by the Foreign and Commonwealth Office to repatriate British people stranded across the world. The company managed 188 charter flights for 38,000 travellers from 58 countries and territories.
In the New Year's honours announced last month, Michael Healy, CTM's general manager of northern England and Scotland, was awarded an OBE "for services to supporting British nationals overseas".
Asked by HuffPost UK how much the hotel quarantines contract was worth, whether it had gone through a tendering process to win the contract, what services it would be providing, and if the company had previous contracts with the government, CTM responded: "As this is a government and Covid matter, we kindly ask for all enquiries to be directed to the press office at the Department for Health and Social Care which looks after all matters Covid."
G4S is one of the best-known names in the outsourcing industry, and runs hundreds of Covid-19 testing centres for the government. Its annual revenue is around £7.5bn, and it has reportedly been handed £10m in government coronavirus support.
Its sprawling network of operations has long generated negative headlines. In July, G4S said it had agreed to pay £44.4m to the Serious Fraud Office to avert criminal charges after a long-running inquiry into electronic tagging contracts. The investigation centred on claims of tagging people who were either dead, in prison or had not been tagged. G4S said a subsidiary had taken responsibility for three allegations of improperly billing the government for contracts.
In 2013, the National Audit Office reported that G4S had paid no corporation tax the year before, despite logging billions of pounds in government contracts. G4S said it had paid no corporation tax as a result of several "exceptional losses". In 2017, G4S was chosen to run a new jail in Northamptonshire despite being stripped of the contract at HMP Birmingham seven years earlier.
In its response to HuffPost UK, it said: "G4S is one of the providers involved in supporting managed quarantine services. This contract was awarded following a bidding process, although any questions about commercially sensitive information, including contract value, should be directed to the DHSC."