If working out isn't hard enough, you've also got to know what kit to wear. Everyone wants to be decked out in the latest, most technical clobber – but do you really need to buy designer or are you just paying more for a logo?
I decide to try the latest high street offerings to find out, including gym wear from New Look, M&S, Primark and Asos – which are a fraction of the price compared to Nike and Sweaty Betty – to see how they perform.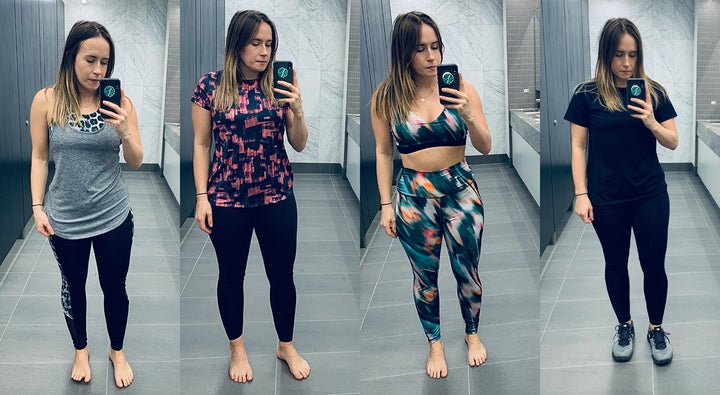 I put the kit through its paces. I wear each at least twice: both before and after washing (as someone who goes to the gym a lot I need a kit to last), and through a mix of cardio workouts, such as spinning or rebounding on a mini trampoline), and lower impact classes, including yoga and pilates.
Every pair of leggings also goes through the highly-scientific "Bum Test", which involves me bending over in front of a mirror to see whether the leggings are see-through – no one wants to subject their yoga class to a full moon during downward dog.
I told you I was thorough.
Marks & Spencer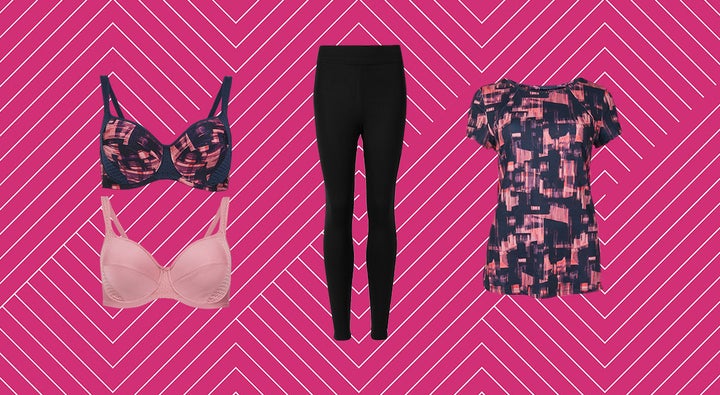 I tried:
Quick Dry Short Sleeve Sport Top, M&S, £12.50
Collection Contour Fit Leggings, M&S, £28
2 Pack High Impact Non-Padded Sports Bras A-F, M&S, £29.50
Total: £70 (£55.25 if you take into account that you get two bras)
First impressions
At first I'm a bit weirded out that I'm wearing an actual bra to work out in. I usually wear a crop top-style bra and, wearing this, I feel like a bit of a nana. The leggings feel high quality – they hold me in and are high-waisted, which is great. I like the print on the top, although it doesn't really look like a gym top. I don't know whether that's a good thing or not.
The verdict
You shouldn't judge a book by its cover, should you? While I had high hopes for these leggings, they fail the "Bum Test". You can literally see my pants. I don't think there's any excuse for this – you had one job M&S: make leggings that aren't see-through. And guess what? You failed.
Because I'm dedicated to the cause, I still try them out in gym classes: at a spin class, which is mostly in the dark, and to a barre class, where I hang out at the back.
Despite my initial, completely vain reservations, the bra is great. It holds everything in place during my workout and, being an actual bra size rather than clothing size, fits me better than a lot of my sports bras at home. There'll be no risk of black eyes with this on, that's for sure.
New Look
I tried:
Grey Marl Mesh Racerback Sports Vest, New Look, £7.99
Light Grey Leopard Print Panel Sports Leggings, New Look, £17.99
Light Grey Leopard Print Sports Bra, New Look, £12.99
First impressions
As a big leopard print fan, I adore this set. The cropped top is great for me as I often get too hot in a vest and end up working out in just my sports bra – so this is a happy medium. The leggings have a leopard print strip along the side, which I like, although I feel a bit matchy-matchy in my gym class and would probably wear these items separately.
The verdict
The leggings are 100% polyester and the sports bra is mostly polyester, with 8% elastane – without sounding like a snob, it shows. It feels cheap, is baggy in places, and after working up a sweat the kit feels damp, rather than moisture-wicking. The one redeeming item is the vest, which at £8 is great value, and does the job – grey can often be quite unforgiving once you've been sweating in the gym, but this one is great.
Another issue is sizing – the kit comes up quite big. As a size 12, I wear a medium, but it swamps me. I'd recommend going one size down or ordering two to find the right fit for you.
Primark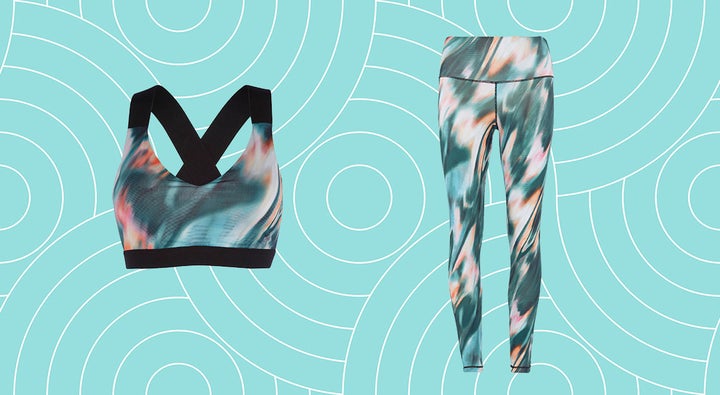 I tried:
Alice Liveing x Primark electric feather panel legging, Primark, £8 (in stores)
Alice Liveing x Primark electric feather crop top, Primark, £5 (in stores)
First impressions
I'm a big fan of loud prints, so I love this bra and leggings set from Primark's Alice Liveing collection. A bright gym kit puts me in a good mood in the morning when I'm heading to the gym – and I need all the help I can to get me out of bed.
The verdict
I find it quite annoying that Primark's fitness wear (and other items such as underwear) aren't in straight-forward sizes: instead of a 12, I have to pick between a 10/12 or 12/14. First world problems, I know, but I'm impatient and want shopping to be as painless as possible. In the end, I go for the size up as the small ones don't pass the "Bum Test", which is probably because they're too small.
I like that the leggings are high-waisted and the bra is full-fitting, but there is quite a lot of give in the material. As a result, I don't feel very supported in either when doing a HIIT class – this kit is best worn at a low impact class.
Asos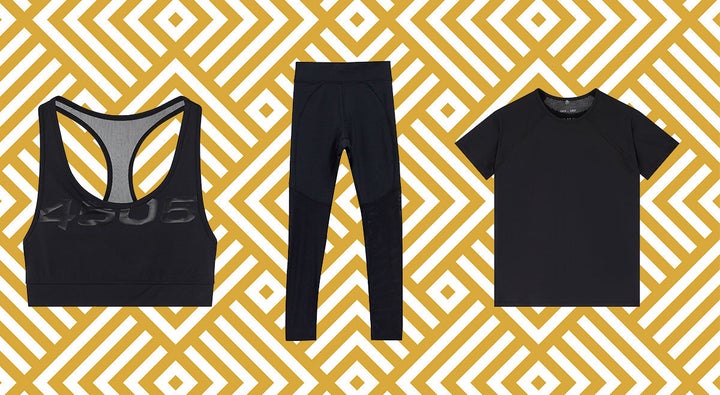 I tried:
4505 gym legging with bum sculpt seam detail, ASOS, £18
4505 short sleeve top with mesh back detail, ASOS, £12
4505 basic sports bra with 4505 logo, ASOS, £18
First impressions
This kit is all black, which is good for mixing and matching with other gym wear I have in my drawer. I like the quality, too – the leggings feel almost like a scuba material, and there's a mesh panel on the back of the sports bra and leggings, which is very in this season.
There isn't much selection on the website, which is why I opt for black. The sale items (which were from past seasons) were super bright – so here's hoping the new season releases will also be fun.
The verdict
This is my favourite of the bunch. It feels secure and stays in place, and it's flattering and moisture-wicking: exactly what I want from a gym kit. The second time I wear the kit, I notice the thread has come loose on the leggings and is dangling between my legs. I try to pull it in class (as it's annoying me), but it only pulls further. The jury's out on whether these will stand the test of time.
We all work hard to earn our money – so it shouldn't feel like hard work to spend it well. At HuffPost Finds we'll help you find the best stuff that deserves your cash, from the ultimate lipstick to a durable iron to replace the one that broke (RIP). All our choices are completely independent but we may earn a small commission if you click a link and make a purchase.