Less than 8% of animal abusers convicted under the Animal Welfare Act receive a prison sentence, the RSPCA has revealed.
Of the 744 defendants convicted in court in cases brought by the RSPCA last year, just 57 received an immediate jail term and 15 of those were towards the upper limit of six months.
A new report from the Centre for Crime Prevention also shows that those guilty of animal cruelty can often go on to commit further offences, including murder, rape and sexual assault.
Since 2005, 12 in every 13 people convicted or cautioned for cruelty to animals avoided prison, the report found.
The current maximum jail sentence for animal cruelty in England and Wales is six months, but the government is being urged to increase the limit to five years, in line with Northern Ireland and other countries.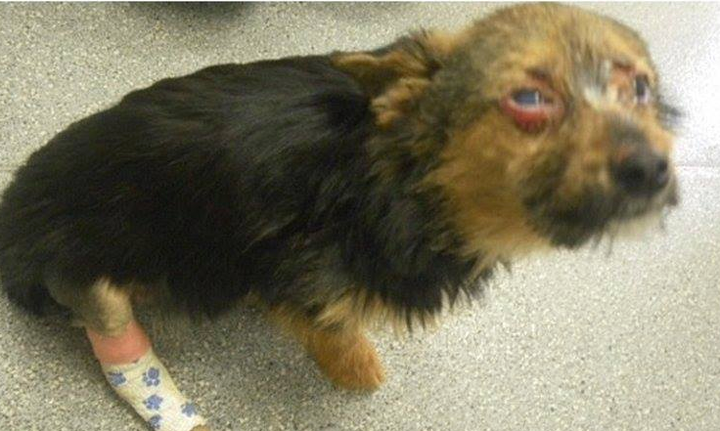 The UK's largest and oldest animal welfare charity is among those organisations calling for tougher sentences for animal cruelty.
The report from the Centre for Crime Prevention found that of the 13,862 people found guilty of animal cruelty in England and Wales between 2005 and 2015, just 1,063 received a prison sentence.
Not only is prison rare, but other punishments are getting more lenient, the centre found.
The number of prison sentences for animal cruelty that were fully suspended rose from 10 in 2005 to 160 in 2016.
A total of 24% of all animal cruelty cases were punished with just a fine, the size of which has dropped over the past decade. The average fine fell from £479 in 2005 to just £296 by 2016.
Examples of severe cruelty prosecutions which resulted in less than six months imprisonment include the sentencing of two men to four months in prison after they admitted to hammering a nail into a dog's head before burying him alive.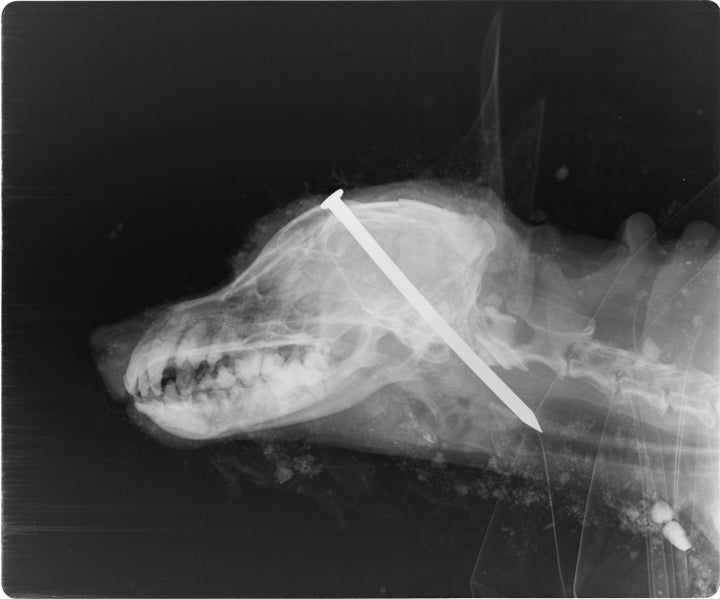 The two men were also banned from keeping animals. Sixteen-year-old terrier Scamp, was found buried with a nail sticking out between his eyes.
The court heard in March that the men thought they were putting Scamp out of his misery because the owner could not afford to pay a vet.
In another case, which concluded in April, a Crown Court judge handed down the longest sentence the RSPCA has ever seen: 33 months in prison.
But while the 38-year-old defendant faced eight animal welfare offences relating to the selling of dogs, it was the 13 fraud offences he pleaded guilty to which saw him handed such a long prison sentence.
The centre provided further examples of cases which resulted in a fine or suspended sentence rather than prison, including:
A Cheshire circus owner who was given a conditional discharge for chaining an elephant to the floor and letting her groom beat her

A Devon man who was fined for swallowing a live goldfish at a fair, filmed by laughing friends

A Lancashire man who was fined £270 for putting his wife's cat in a tumble dryer

A Shropshire woman who was given a suspended sentence for decapitating two pet snakes and trying to swallow their heads

A Richmond-upon-Thames man who was given a suspended sentence for luring a duck with food, snapping its neck and dumping its body in a bin in full view of passers by

A Cleveland man who was given a community sentence after killing his three pet rabbits, taking one of the bodies to bed with him

Four people in Kent who were banned from keeping animals five years after beating and drugging a puppy for hours, breaking its neck, setting him on fire, dumping him and leaving him for dead
"The maximum sentence for offences under the Animal Welfare Act 2006 is six months in prison and/or an unlimited fine," RSPCA interim chief executive, Michael Ward, said.
"But the reality is that this rarely happens and while the RSPCA is seeing unbelievably shocking and distressing cases go before the courts, only a tiny proportion of animal abusers actually receive an immediate custodial sentence.
"It's ironic that, in some puppy trade cases we've taken, the defendants get longer sentences for committing fraud than for the cruelty and suffering they have inflicted on the defenceless dogs."
Ward continued: "RSPCA officers have had to investigate horrendous cases in which dogs have been found buried alive with a nail hammered into their skull, puppies have been kept in damp, dark rooms laying in their own filth and sold to unsuspecting members of the public, horses have been dumped to die on the side of the road and hamsters have been force-fed drugs."
Battersea Dogs and Cats Home is also calling for tougher sentences for animal abuse.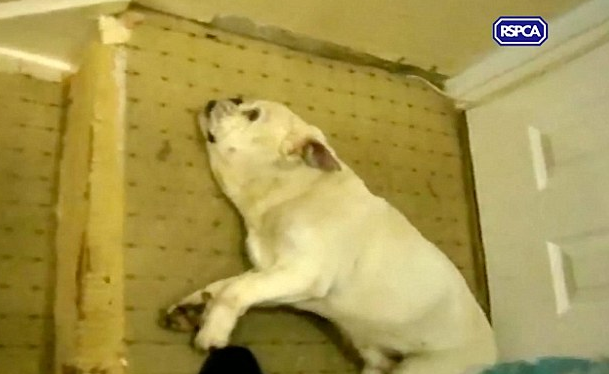 Michael Webb, from Battersea Dogs and Cats Home, said that serious animal cruelty offenders are a high risk to the public as well as to animals.
Polling by the RSPCA has shown that seven out of 10 people would like to see sentencing for animal welfare offences toughened up and longer jail terms imposed on offenders who commit the worst cruelty.
Ward added: "We believe it's important to try to work with owners to help them improve the welfare of their pets and prosecuting people is a last resort.
"While the RSPCA investigated almost 150,000 complaints of cruelty last year, less than 1% of these resulted in a prosecution. However, in some cases, if people refuse to work with us or if the animal's suffering is simply too severe or extreme, then prosecution is the only real option.
"And we believe the punishment should fit the crime, particularly when it comes to serious, organised animal cruelty such as animal fighting or puppy farming.
"We would like to see the maximum sentences under the Animal Welfare Act increased to five years - bringing us in line with Northern Ireland - so courts have more power and opportunity to impose a sentence they feel reflects the seriousness of the crime and acts as a deterrent to re-offenders or other animal abusers."