The Russian embassy in the UK has responded with a rambling but still chilling rhetoric following the Ukrainian president's trip to London on Wednesday.
Unsurprisingly, Russia was not happy that the UK had welcomed Zelenskyy, whom it dubbed "the ex-comedian in a green sweatshirt now on tour around Europe".
But, it has been an persistent ally to Ukraine throughout the war by sending equipment and money to its armed force over the last year.
In a lengthy statement released on Wednesday evening, the Russian embassy dubbed Zelenskyy's claims about fighting for freedom to be "overtly hypocritical".
It even alleged that Westminster was aware of "the repressive habits of the deeply corrupted Ukrainian elite", particularly with the Russian-speaking population.
The embassy also criticised the "hasty visit", mocking Zelenskyy as the "Ukrainian 'commander-in-chief'" and his "theatrical performance in Westminster".
It said Johnson told LBC radio that sending military supplies to Ukraine is a "massive down payment on future security" – and said this meant "Ukrainians are being sent en masse to die for other countries' strategic interests".
It claimed: "Meanwhile the pockets of their 'commanders' back in Kiev [Kyiv] – themselves far away from the trenches – are being lined with silver from prudent Western 'investors'."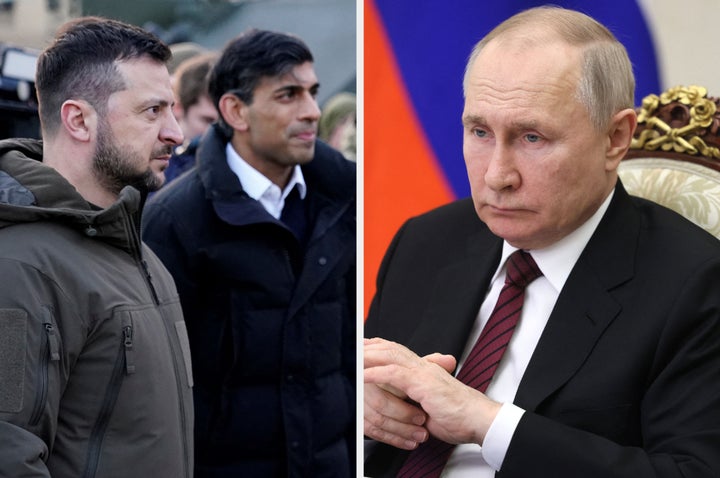 It claimed that Zelenskyy's whole visit was "obviously" meant to prepare the Western public for more of "Kiev" – notably using the Russian spelling for the Ukrainian capital of Kyiv – and its "regime's constant demands".
The Kremlin has maintained that Ukraine is run by neo-Nazis since invading the country last year, despite there being no evidence to suggest this is true.
It also lashed out at Kyiv for "begging" for more weapons which the Ukrainian government "has long ceased to pretend are merely 'defensive' in nature" through its latest request for Western fighter jets.
The embassy then speculated that such jets would be used in air raids against residential area of the Donetsk People's Republic, the Luhansk People's Republic, Kherson and Zaporizhzhia – the four Ukrainian regions Putin illegally annexed in September.
Ukraine has since promised to reclaim these areas.
The embassy then concluded its message with a chilling warning: "We would like to remind London: in the event of such a scenario, the death toll of yet another round of escalation, as well as its military-political consequences for the European continent and the whole world will be on the United Kingdom's hands.
"Russia will know how to respond to any unfriendly actions by the British side."