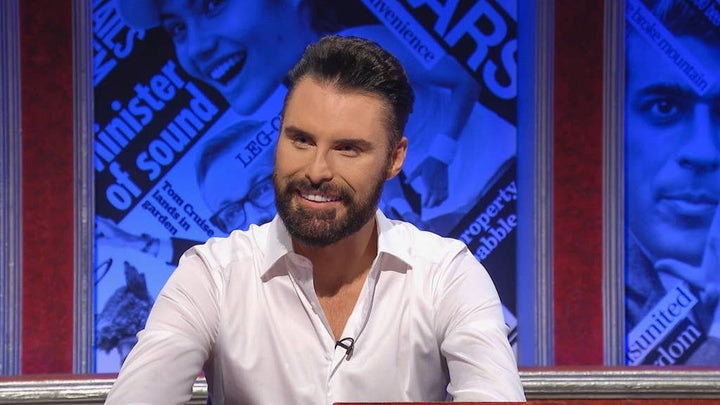 The It Takes Two presenter was praised online for his quick wit and jokes as he joined Ian Hislop's team on the BBC topical panel show.
Guest presenter Jo Brand introduced Rylan to the show as a "broadcaster who says there should be a law that forces government ministers to answer questions properly when being interviewed".
The political panel programme was discussing Wolverhampton's Immensa Health Clinic, which is being investigated over a potential error with 43,000 negative Covid-19 results.
Jo joked: "Rylan I think you went to Immensa in Ibiza, didn't you?" to which he replied, "I did, I was a gogo dancer there."
She continued the gag by questioning if it was near to Pacha, a well-known Ibiza superclub, and further queried: "What is Pacha?"
Rylan replied: "I'm going to change your life Jo Brand."
Jo asked the former X Factor contestant if he would stick to his offer and take her to Ibiza if she brought some Tena Lady, a female hygiene product for weak bladders.
He responded: "No need to bring the Tena Lady because I've already packed them, darling."
The political comedy show also discussed how the UK was facing a shortage of bouncers due to Covid-19 and national shortages because of a lack of lorry drivers.
Rylan said: "I don't think there's a shortage in Essex, everyone is a bouncer, (there's a) bouncer every three doors along."
"Can you have one in your own home?" Ian asked.
"How do you know I haven't?" he replied, adding: "And I saw you outside on the lawn the other morning."
On Twitter, praise was rolling in for Rylan's HIGNFY debut...
The Sun claimed it was suggested he took a year off work to focus on himself after appearing to have a breakdown while hosting his show.
Responding on Twitter, Rylan said: "Couple of news stories today. Be assured, I'm good. I wasn't but I am now x."
A BBC spokesperson also added: "Following some time away from his show, we're delighted Rylan is back on air."
Have I Got News For You airs on Fridays at 9pm on BBC One.