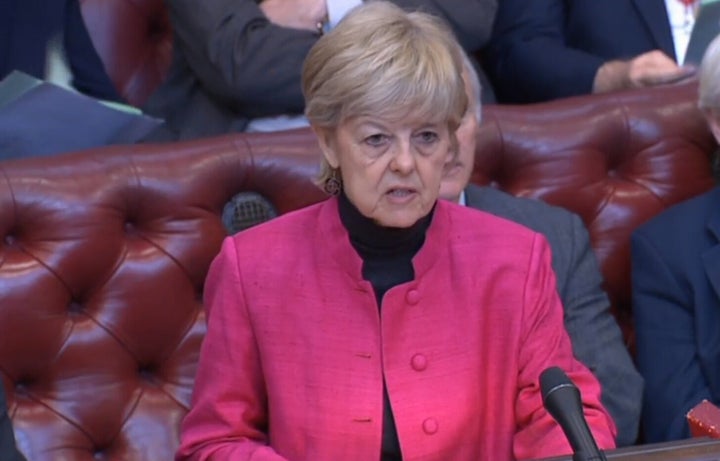 Labour peers are planning to vote on a motion of no-confidence in Jeremy Corbyn as the anti-Semitism crisis reignites internal party wars.
An extraordinary meeting of Labour lords has been called on Monday to discuss the move, with a vote likely to follow on Tuesday or Wednesday.
The news comes as fronthencher peer Dianne Hayter apologised for comparing Jeremy Corbyn's leadership to the "last days of Hitler".
"I did it on the spur of the moment, it was a silly example to give," she said, speaking to the BBC on Thursday.
She has said that neither Corbyn nor anyone from his office has yet contacted her to say that she has been sacked. The party's deputy leader in the Lords discovered via media reports.
"Ever since this, I haven't had a single phone call, text or email from them," she said.
She added: "If they had been in touch, I would have said sorry."
Hayter doubled down on her accusation that the leader's office had a "bunker mentality" which was refusing to listen to criticism over anti-Semitism and Brexit.
She said: "The thing about the bunker mentality, and I'm afraid it is a bunker mentality, is that you shoot the messenger who says things that you don't like, and then they have almost proved that by shooting me, if you like."
Her treatment has sparked anger among Labour peers and is thought to have sped up the move to call a confidence motion.
Asked if she could now back a no confidence move and if Corbyn had "failed the test of leadership", Hayter said: If his leadership is to sack his spokesperson on Brexit that has delivered some big votes, I would say that was probably not his best move ever."
It is understood the group is angry with the leader's handling of the anti-Semitism crisis in the wake of both an investigation by the Equality and Human Rights Commission and BBC Panorama.
It also follows peers taking out an advert in the Guardian over anti-Semitism, accusing Corbyn of letting a "toxic culture divide our movement".
The party called her comments "truly contemptible, and grossly insensitive to Jewish staff".
A Labour spokesman told HuffPost UK: "Diane Hayter has been sacked from the frontbench position with immediate effect for her deeply offensive remarks about Jeremy Corbyn and his office.
"To compare the Labour leader and the Labour Party staff working to elect a Labour government to the Nazi regime is truly contemptible, and grossly insensitive to Jewish staff in particular."
In a separate move, Labour staff members of the GMB union overwhelmingly passed a motion condemning the party's official response to the Panorama programme.
Staff voted by 124 to four in favour of a motion that supported the former employees who spoke out, highlighting the mental health and suicide issues raised.
The vote among staff in London, Newcastle and other regions was held on a secret ballot due to 'fear of reprisals' if there had been a show of hands, one source said.
One staffer who attended the meeting said: "There is a toxic culture in the Labour Party, of fear and bullying.
"Today, Labour staff said we won't stay quiet on antisemitism or tolerate this pernicious culture any more. Jeremy has to listen. To move forward there has to be strategic changes at the top of the Labour party and that starts in his team."
The GMB said it would now seek an urgent meeting with party leaders. A spokesman said: "Our members have today expressed a number of serious concerns that must be addressed by Labour party management."