Care workers and cleaners at a nursing home on the Covid front line have been "left with no choice but to strike" after decades of what they say are "poverty wages" and poor working conditions.
Staff at Sage Nursing Home in Golders Green in north London plan to begin their three-day industrial action on Friday, citing months of attempting to negotiate over issues of low pay, sick pay and union recognition.
They are asking to be paid a living wage of £12 per hour and told us they were struggling to pay bills and support their families even as they fear bringing home coronavirus each day.
But the trustees of the nursing home, which is run as a charity, say meeting the workers' demands would be "unrealistic" and could force it to close.
Jamaican-born Andrene Williams, 36, and her mother-in-law have worked as care assistants at Sage Nursing Home for 17 and 25 years respectively. Andrene is paid £9.60 an hour.
"The greatest thing for me is when I go in the morning, and I see a smile on one of their faces," she told HuffPost UK. "It's not just about washing and dressing these people, it's about the bond that you create between them and the families."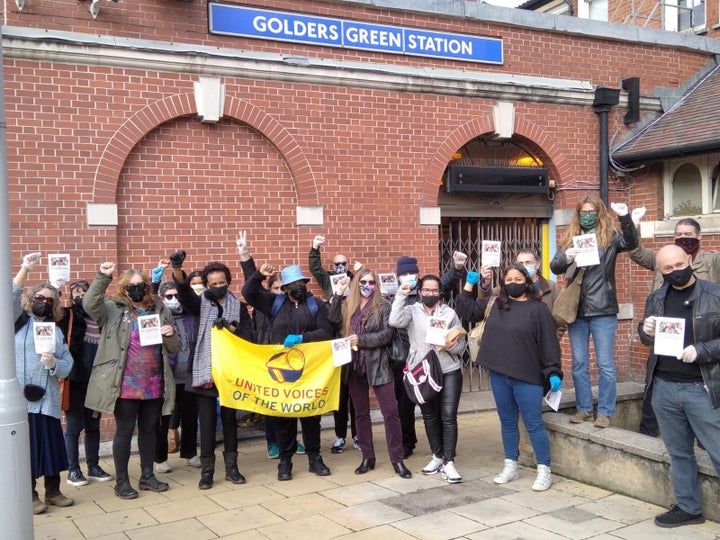 Then the pandemic hit. "It was rough," she said. "We saw 21 residents die." Williams was petrified she'd bring the virus that was killing her patients back to her home and her three children, one of who was born prematurely and has lung disease.
When the outbreak first arrived in London last year, she considered staying at home with her family. "I went and got the shielding letters and all of the paperwork I needed." But then she changed her mind. "I realised my colleagues needed me and the staff were depending on me for reassurance, so I had to weigh up the pros and cons. It was a hard decision."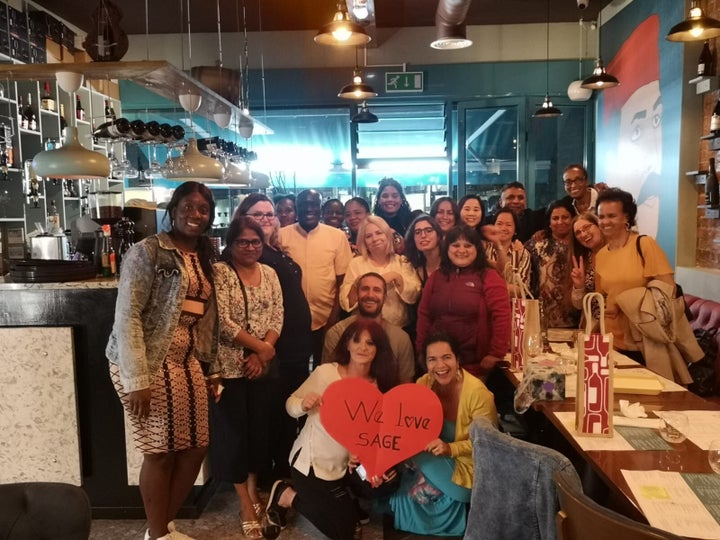 Williams decided she cared too much about her colleagues and the nursing home residents to stay at home. "When you're doing a job that you're passionate about and it's a job you've done for so many years, you can't just step away so easily."
Another senior care assistant, Billie Ahouzan, 43, originally from France, has worked at the nursing home since 2010. He describes the work, even before the pandemic, as "hard" – but his love for the residents is clear.
"We stay professional and offer compassion and respect, but of course you interact with them every single day, all day so you create bonds with them." Losing almost two dozen of them was "emotionally very difficult".
During the day, Williams would work tirelessly to bring joy and comfort to the care home residents, many of whom were frightened and lonely after being cut off from their families. In the evenings, she felt like she couldn't talk to any of her loved ones about the horrors of what she was witnessing and experiencing.
"I had to hide it because if I had told my family, they would have said: 'Don't go to work, it's too risky, it's too scary.' But I had to to go in."
Both Ahouzan and Williams earn £9.60 per hour, which is at the high end for staff at Sage Nursing Home; cleaners make £8.72 per hour and junior care assistants earn £9.10. For Ahouzan, "You're working for peanuts. It's like living in poverty when you need to look after your family and yourself on these wages."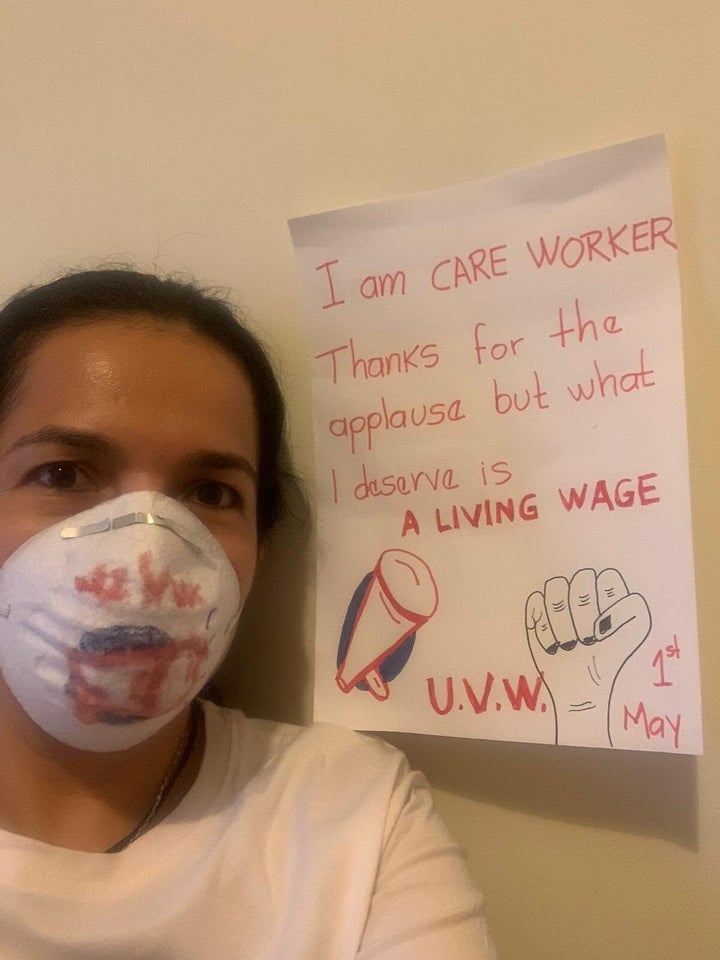 Williams agrees. "It's a struggle because at the end of every month you have to pick up a calculator and make a choice. You have to decide to pay this bill first and then wait a little bit to pay the next bill. You can't spend just £1 extra or you'll be short of something."
If they win and receive the £12 per hour as well as sick pay and annual leave, it will mean they can worry a little less. "It would take some of the pressure off, to know your bills are covered and your kids are OK, that you don't have to disappoint them."
Sadly, care work in England has become synonymous with bad pay and poor working conditions. But Ahouzan and Williams have decided to fight back and demand what they believe is the very bare minimum of what they deserve: an end to poverty wages, full sick pay and union recognition.
Represented by United Voices of the World (UVW), a grassroots trade union of low-paid, migrant and precarious workers, the staff at Sage Nursing Home have unanimously voted to strike beginning on Friday.
UVW organiser Molly de Dios Fisher says the management at the nursing home have been "incredibly hostile". As he describes the ongoing negotiations, Ahouzan breaks down into tears. "All we want is a simple thing: better working conditions, respect, and dignity. That's all we are fighting for."
Williams says joining UVW was "like a light bulb had switched on" but admits the process has at times left her feeling devalued and dehumanised. "It's heartbreaking when you've given so many years of service to a company, you've been so loyal. All we are asking them to do is to sit with us and give us something to work with, but we've been completely ignored and pushed to one side like we are nobody."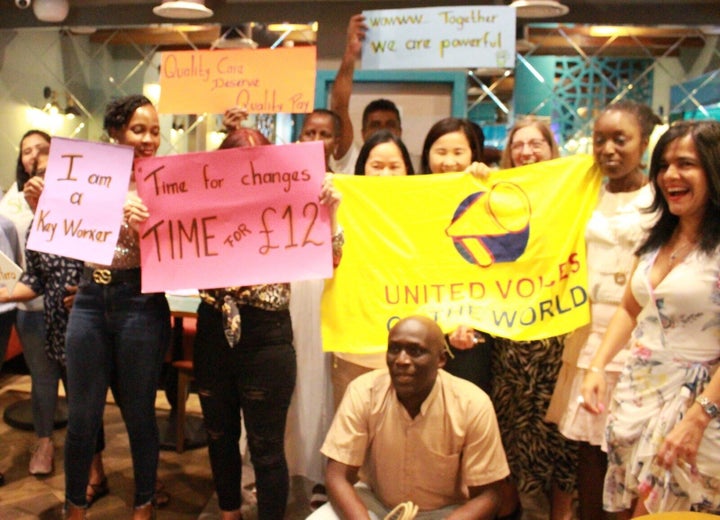 In response to the planned strike, the trustees of Sage nursing home said: "Sage runs a single care home which is not operated to generate a profit and it relies upon donations: it has the stated aim to make 60% of its accommodation available at all times to persons who cannot afford to pay the full fees charged.
"Given its charitable objectives it is disappointing that United Voices of the World has chosen to focus a campaign against a small Jewish charitable home and not the many other commercial care homes who pay similar rates as Sage.
"Sage benchmarks its rates of pay against the care home sector and believes it is in line with comparable care homes. The union is encouraging a series of unrealistic demands which the charity cannot afford and which could, if implemented, lead to the closure of the care home."
Williams says striking on Friday was "one of the hardest decisions I've ever made in my life" but that ultimately, she had no other choice. "I have to do it because if I don't, they'll continue to see us like we're nothing and no one.
"If we change something then maybe carers across the UK will feel like they too can stand up to their employers to say that they deserve better. If not now, when?"