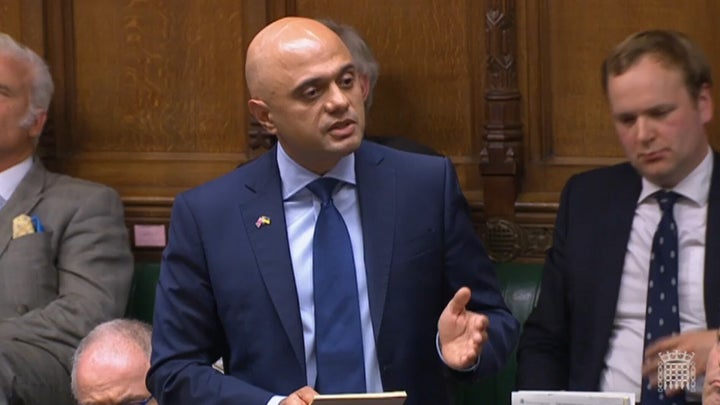 Sajid Javid has said he resigned after concluding that he had had "enough" of serving under Boris Johnson.
In a devastating speech that offered a bleak assessment of Johnson's operation, Javid said treading the "tightrope" between "loyalty and integrity" had become "impossible" in recent months following a series of scandals.
He told MPs: "I also believe a team is as good as its team captain and a captain is as good as his or her team. So, loyalty must go both ways.
"The events of recent months have made it increasingly difficult to be in that team.
"It's not fair on ministerial colleagues to go out every morning defending lines that don't stand up and don't hold up.
"It's not fair on my parliamentary colleagues, who bear the brunt of constituents' dismay in their inboxes and on the doorsteps in recent elections.
"And it's not fair on Conservative members and voters who rightly expect better standards from the party they supported."
Javid said he would "never lose his integrity" and that following the fallout of the sexual misconduct allegations against former deputy chief whip Chris Pincher, he had concluded "enough is enough".
"This week again, we have reason to question the truth and integrity of what we've all been told," he said.
"And at some point we have to conclude that enough is enough. I believe that point is now."
The tide appears to have turned against the prime minister following revelations that Johnson was briefed "in person" about allegations surrounding Pincher in 2019.
But Johnson's defence was blown apart by former foreign office permanent secretary Lord Simon McDonald, who said No.10 made "inaccurate claims" to the media when they said no official complaints against Pincher were ever made.
In a letter to the parliament's standards watchdog, McDonald said a group of officials at the foreign office had complained about Pincher's behaviour in the summer of 2019 while he was a minister in the department.
A subsequent investigation upheld the complaint and prompted an apology from Pincher.
Javid appeared to throw down the gauntlet to his Cabinet colleagues who had continued to remain in post despite the events of the past week, saying "not doing something is an active decision".
"Last month I gave the benefit of doubt one last time… I have concluded that the problem starts at the top, and I believe that is not going to change.
"That means that it is for those of us in a position who have responsibility to make that change.
"I wish my Cabinet colleagues well and I can see they have decided to remain in the Cabinet."
To laughter in the Chamber, he added: "They will have their own reasons."
Javid's resignation set the wheels in motion against Johnson on Tuesday night, when the prime minister suffered a string of ministerial resignations that have continued into today.
Rishi Sunak, the former chancellor, also quit, saying he did not believe the government was being "conducted properly, competently and seriously".
Later today the prime minster's fate could be decided at a meeting of the 1922 backbench committee of Tory MPs.
Despite the tsunami of resignations, Johnson told MPs: "The job of a prime minister in difficult circumstances when he has been handed a colossal mandate is to keep going and that's what I'm going to do."