A photograph, purportedly of a man sharing a meal with a woman assumed to be his wife in Saudi Arabia, has divided the internet.
The image – which reveals the abaya and niqab-clad woman and her companion sitting behind a frosted glass partition – drew attention as the man had also draped his headscarf (or shemagh) over the glass, thus shielding her silhouette from view completely.
Gulf News writes the picture had been remarked upon more than 100,000 times in a matter of days, with social media users branding the man both "overzealous" and conversely praising him for protecting his wife's privacy.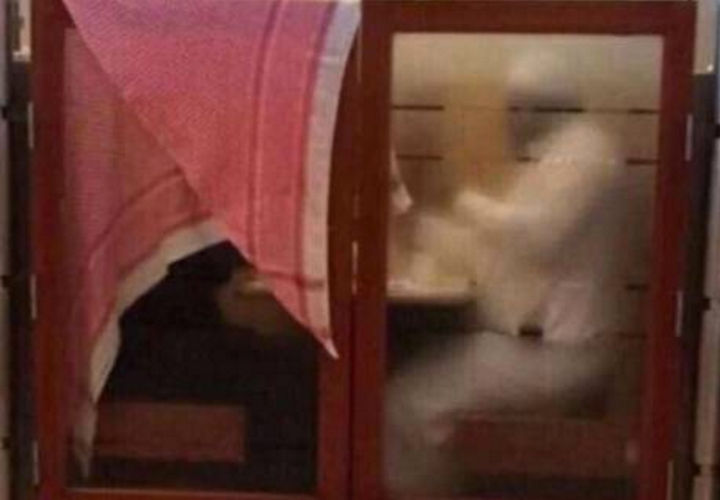 Responding to the trending hashtag #Husband-covers-his-wife-with-his-headscarf-in-restaurant, one user went as far to call the man "a devil."
But many expressed solidarity with his gesture.
Saleh Al-Mtrrafi tweeted: "He covered her because she's his queen and a diamond must protect her. Simply, this is the true Islam."
@Saudi_Bodyguard wrote: "#Saudi man sparks controversy by covering wife with headscarf while eating in restaurant - yet, is there anything in this if the #Saudi couple are comfortable in their privacy? Another side of the coin, so to speak?"
Meanwhile, @vip199o was one of several users who stated: "The reason why he did that is to make his wife comfortable while they are eating so she can take off her hejab, so what!"
"The husband might be jealous or had fears for the safety of family. He might also have been keen to preserve the privacy of his wife," she said.
Though she acknowledged some men suffer "sick jealousy", she added: "Such people do not usually take their wives with them to public places."
In an opinion piece for Al Arabiya English, Turki Al-Dakhil wrote: "Truth be told, it is the right of the husband and his wife to do whatever they deem fit as long as they don't violate a law, harm someone or trespass someone's freedoms or rights. Although many people considered the man's behavior blatantly wrong. I think it is his right to do what he thinks as appropriate."
Noting the image had gone viral, but describing it as a "trivial" affair, Al-Dakhil added: "If western Christian societies accept that Muslim women wear the niqab, or the headscarf, then why are we surprised that a man covered his wife with his shemagh especially that she has not complained about this to anyone who discussed the matter on Twitter?!"
The Gulf Kingdom of Saudi Arabia is governed by Sharia Law and is deeply conservative in its treatment of women.
It is illegal for Saudi women to travel abroad without male accompaniment. They may only do so if their guardian agrees by signing a document know as a 'yellow sheet' at an airport or border crossing.
In November 2012 it emerged women were being electronically monitored with authorities using SMS to track them and inform their husbands of their whereabouts.
It was only in 2011 that women were given the right to vote and run for office in municipal elections in 2015.