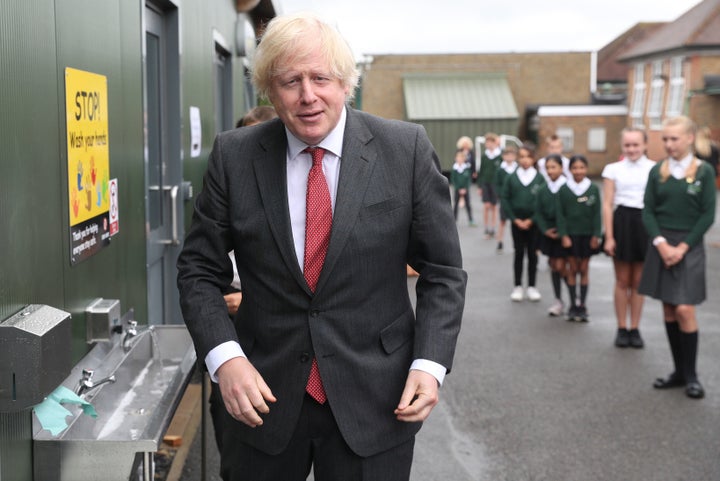 Coronavirus has changed everything. Make sense of it all with the Waugh Zone, our evening politics briefing. Sign up now.
Boris Johnson has said it is "absolutely" his intention that children of all ages should be able to return to school by the autumn on a five-day-a-week basis.
The prime minister also said people should "watch this space" when asked whether the existing two metre social distancing restrictions could be cut.
On Friday the government announced a £1bn fund to help pupils catch up with learning.
Speaking during a visit to a school in Hertfordshire on Friday, Johnson said "provided we can make classrooms safe" he wants "every child, every pupil, every student, back in September".
Pressed on whether he wanted every pupil to be able to go back five days a week and not one week on, one week off, Johnson said: "I do. I'm making no bones about it, I think that's the way forward for our country."
He said: "We have to start thinking of a world in which we are less apprehensive about this disease.
"Yes it has been a horrible shock for the country and for the world, and I think the British people have worked incredibly hard to drive it down.
"But we are starting to make some real progress with test and trace, with treatments for the disease, and I hope, as we go forward into the autumn, people will be much, much more confident."
Johnson has repeatedly hinted he wants to cut the current two metre social distancing rule.
"Of course, on the social distancing measures, as I've said: 'Watch this space'," he said.
"We will be putting in further changes as the science allows. I think that's what the public also wants to see, they want to see us working with the reality."
In a statement on Friday morning, the Joint Biosecurity Centre said it had concluded the Covid-19 epidemic was now in "general circulation" rather than "rising exponentially".