Almost half of school staff believe students under their tutelage have self-harmed and almost one in five were aware of youngsters attempting suicide, according to a new survey.
Of the more than 400 Association of Teachers and Lecturers (ATL) members answering a survey, 81 said they were aware of pupils attempting suicide in an effort to combat stress. Of those, 18 were primary school staff.
Some staff said cyberbullying and the desire to feel popular were among the most common causes of stress among their pupils.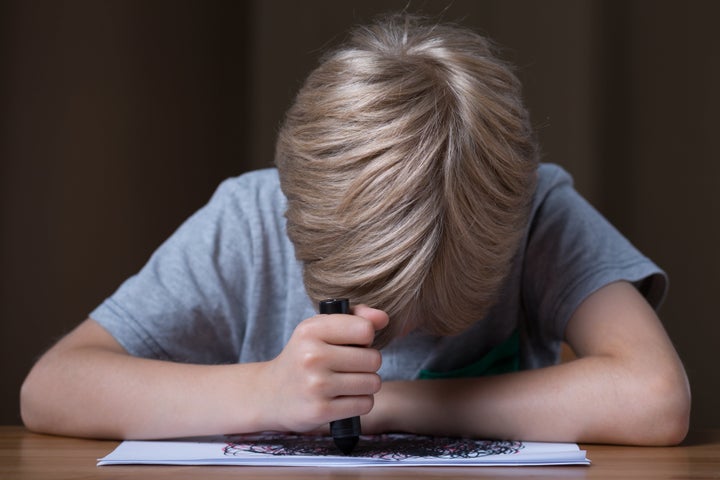 Anecdotal evidence from ATL union members, released to coincide with its annual conference in Liverpool which started on Monday, included testimony from staff at a London academy who said: "I have seen a huge increase in physical symptoms of stress and incidents of self-harm. Suicidal thoughts have escalated beyond control."
Samantha Barlow, a mentor at a Manchester primary school, told researchers: "The Government and authorities are solely interested in levels and grades, and have put a lot of pressure on children as young as six to become anxious about exams."
A head teacher in Norfolk described mental health issues as "the biggest barrier to academic progress", while a school councillor in Warwickshire said the assessment system and time spent in front of a computer meant it was "not surprising they're getting increasingly mentally ill".
A teacher at a primary school in Somerset said: "Teachers are not social workers, psychologists or therapists, but are increasingly expected to fulfil these roles."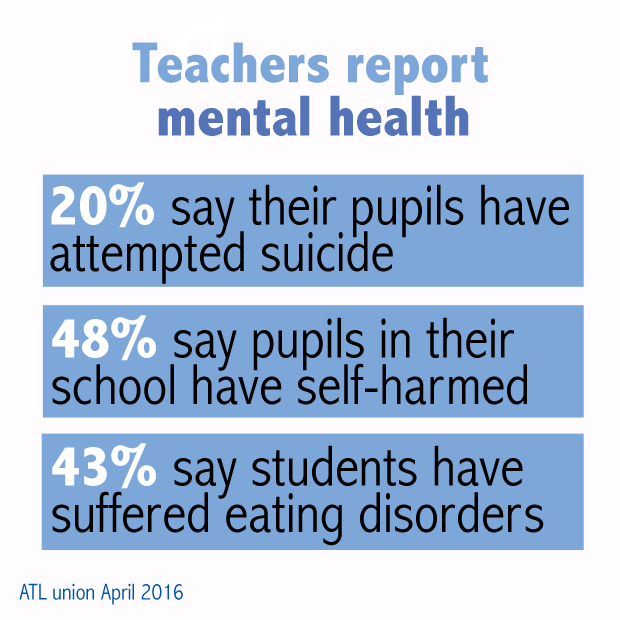 Sky News spoke with a student called Abigail who said she was nine when she began self-harming.
"There's a lot of pressure to perform," she said.
"Also fitting in socially... everyone's going through all sorts of changes... it's all very confusing."
Abigail's comments were backed up by the survey which found 89% of staff believed testing and exams contributed to stressed children.
Pressure to do well (70%), a fragmented home life (68%) and an overcrowded curriculum (59%) were also key contributors to negatively affecting a child's mental health, according to the study.
Pupils currently face a stream of assessments, such as the optional Baseline tests for four- and five-year-olds, as well as the Key Stage 1 and 2 exams for seven- and 11-year-olds, respectively.
"The Government and authorities are solely interested in levels and grades, and have put a lot of pressure on children as young as six to become anxious about exams""
ATL general secretary Dr Mary Bousted, who is expected to discuss the assessment system during her keynote speech at the conference on Tuesday, said: "It is horrifying that young people feel under so much pressure that many are self-harming and contemplating suicide.
"The Government bears responsibility for much of this stress, which appears to stem from a test-focused, overcrowded curriculum. ATL believes that the Government's one-size-fits-all approach to school and exams disengages and fails many students.
"ATL wants all schools to have access to trained professionals to support pupils, and an education system which motivates and engages learners, instead of one which causes many young people to feel under constant pressure."
A Department for Education spokesman said: "We are investing £1.5 million in peer support schemes to help children develop support networks in schools and trialling a scheme with NHS England to establish single points of contact for schools to make mental health support more joined up and readily available when it's needed.
"Tests are a key part of ensuring young people master the skills they need to reach their potential and succeed in life.
"But we have taken real steps to ensure they are not on a constant treadmill of revision and testing, including scrapping January modules, decoupling AS levels and removing resits from league tables."
Useful helplines and websites:
For confidential support and advice you can also contact the Papyrus charity's helpline on 0800 0684141
Samaritans offers a listening service which is open 24 hours a day, on 116 123(UK and ROI - this number is FREE to call and will not appear on your phone bill.)
Mind, open Monday to Friday, 9am-6pm on 0300 123 3393
Get Connected is a free advice service for people under 25. Call 0808 808 4994 or email: help@getconnected.org.uk
HopeLine runs a confidential advice helpline if you are a young person at risk of suicide or are worried about a young person at risk of suicide. Mon-Fri 10-5pm and 7pm-10pm. Weekends 2pm-5pm on 0800 068 41 41