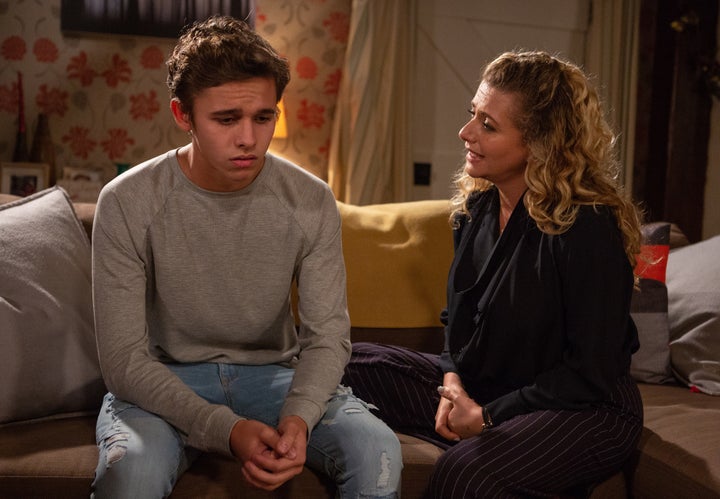 We tend to think of ourselves as pretty forward thinking these days. Things that were tolerated or accepted as societal norms years ago now outrage us.
This is especially true in today's post #metoo landscape in which high-profile and high-powered men have rightly been called out for long-abusing their positions and status to sexually harass and assault young women and men.
Of course, it is overwhelmingly men who are the perpetrators in these cases, and that's also true when we talk about the sexual abuse of children.
But grooming and child sexual abuse seems to have one final taboo. New research by Barnardo's has found that people have a more relaxed attitude to boys being groomed and abused by women, than they do to girls being groomed and abused by men. And this view is particularly strong amongst men.
In a survey conducted by YouGov, we found that more than a quarter (26%) of men who were presented with a variety of abusive scenarios involving an older female perpetrator and a teenage male victim said they would have found the abuse more concerning if the perpetrator had been male and the teenage victim female.
Overall, one-in-five UK adults (20%) had this view and, of these, nearly two-thirds (64%) said it was because they think teenage girls are more vulnerable than teenage boys. More than a quarter (28%) thought it was "every teenage boy's dream" to be with an older woman.
These stereotypes about abuse that still exist in our society are really concerning.
At Barnardo's we know that boys can be just as vulnerable as girls. Sexual abuse can have the same life-defining impact, regardless of your gender, or your background, or whether you are LGBTQ. Abuse causes trauma that can haunt young people into adulthood, harming their mental health, their ability to form healthy relationships, and their chance of a bright future.
But we know that many boys who have been abused aren't taken seriously by professionals. They're not listened to. Sometimes it's assumed they must have initiated the sexual contact – that they're more likely to be the predator than the victim. And as a result of all this, boys miss out on the support they need to recover and move on.
And just as we need to challenge our assumptions about victims, we need to challenge our assumptions about perpetrators too. Just like male abusers, female abusers don't fit into neat boxes. It's impossible to tell who is likely to be a sex offender simply by looking at them.
Women in trusted, professional roles, mothers, younger women and older women can all commit abuse. The thing that they all have in common is a motivation and opportunity to sexually abuse children.
And this is what's been playing out on our TV screens in Emmerdale's current disturbing grooming storyline.
Viewers of the long-running ITV soap have watched how teenage schoolboy Jacob has been groomed and abused by his 30-something teacher Maya and they've taken to Twitter to voice their reactions and strongly-held opinions.
While not an even split, the Emmerdale Twitterati does seem to be divided between people who are disgusted and outraged by Maya's grooming and abuse of her pupil and a significant and vocal minority - who seem to be men - who offer their congratulations to Jacob for 'bedding' his teacher.
This Twitter straw poll, along with our more robust research with YouGov, shows that even in 2019, many people don't recognise that sexual abuse of boys by women is just as serious as sexual abuse of girls by men.
But the fact is, boys can be groomed by older men or older women, who exploit their feelings of loneliness, their need for care and their desire to be loved before abusing them, just like Maya has done with Jacob in Emmerdale.
We've seen Maya, a teacher, use an array of classic grooming tactics to trick Jacob into believing he's in a real 'relationship' and he's even told Maya - who is actually the girlfriend of his father - that he loves her.
She's created emotional ties, manipulating Jacob into believing she is his girlfriend before exploiting his extreme feelings of guilt and his desire to be loyal to her, and trying to damage his relationships with his family and friends to create a sense of 'us and them'.
To help Emmerdale tell the abuse storyline authentically, Barnardo's arranged for the show's researchers, story team and actors - including Louisa Clein who plays Maya and Joe-Warren Plant who plays Jacob - to meet the charity's expert project workers and young men who have been supported by our Better Futures project.
The soap's writers seem to have struck a nerve with their storyline and Ofcom reported they have received complaints following a recent episode in which Maya has sex with Jacob for the first time.
But the vast majority of responses have been positive, with fans taking to social media to congratulate the soap for shining a light on an uncomfortable truth and telling a story that needs to be heard.
So the lesson I take from the public reaction is this: We need to get out of the 'Mrs Robinson' mind-set. Abuse is abuse whether it happens to a boy or a girl or whether it's committed by a man or a woman. Victims and survivors need support. And abusers must be stopped from harming others.
While it's absolutely undeniable that the vast majority of known child sexual abuse is carried out by men, we cannot close our minds to the fact that women are also capable of grooming and abusing children. We also need to face up to the fact that society's attitudes towards boys may be silencing them and stopping them coming forward for help.
Hats off to Emmerdale for challenging these outdated opinions that are putting children across the UK at risk.
Javed Khan is the CEO of Barnado's