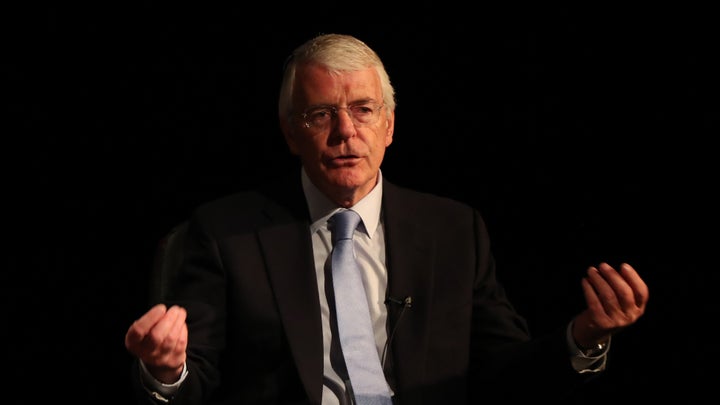 The public should be allowed to vote again on whether to leave the European Union because Leave presented a "fantasy case" at the 2016 referendum, Sir John Major has said.
The ex-Tory prime minister described the argument that a fresh vote was undemocratic was "a rather curious proposition" and he could not see an "intellectual argument" against rerunning the ballot.
He spoke as the guest speaker at an annual lecture organised by David Miliband in the former Labour minister's old constituency of South Shields in Tyneside on Friday.
Sir John has previously endorsed the idea of a second referendum, warning in February of a "terrible backlash" from the public if EU withdrawal left the UK poorer and weaker.
Speaking on Friday evening at Harton Academy, he told the audience: "The case that was made for Brexit was a fantasy case.
"Almost nothing that was said to be the case has turned out to be the case.
"So the 17.4 million people who voted for Brexit, they feel passionate about it for all sorts of reasons, but what is undeniable is that the reasons and the promises that were placed in front of them when they voted will not be the Brexit deal, whatever the Brexit deal is.
"It doesn't seem to me undemocratic when you have a deal, to place that deal with the details of what the deal is … in front of the nation again so that based on fact not fantasy they can re-endorse their position on the European Union or decide differently."
Miliband, who is part of the Best for Britain group backing a second referendum, said Major had set out the "intellectual, political case for the deal that Theresa May finally does with the EU to be put to the British people".
He told Sky News: "It's essential that the deal is finally done is put to them.
"The Brexit that was offered and 17 million people voted for two years ago is not on offer today.
"John Major described it as a fantasy Brexit, but the Brexit of £350 million for the NHS per week, the Brexit of trade deals the day after we leave the EU, the Brexit of frictionless trade with the EU once we have left, that is not on offer."