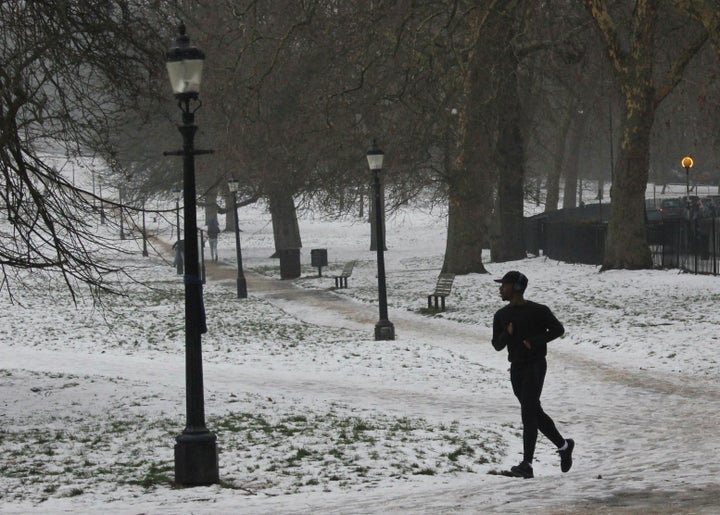 Parts of the UK are bracing for snow and freezing temperatures this week in what is expected to be a "shock to the system", forecasters have warned.
The cold snap will envelop parts of Scotland, Wales and northern England towards the end of this week – in the same month that saw the highest October temperatures in seven years.
The Met Office has advised people to get their winter gear at the ready.
Forecaster Bonnie Diamond told HuffPost UK: "We're expecting colder temperatures to arrive towards the end of the week, we're talking Thursday night into Friday before we start to get colder, northern air coming through."
Diamond continued: "For the northern half of the UK, through the start of the week it will be cloudier, [there will be] outbreaks of rain especially in the far north of Scotland, and a risk of very strong winds and gales in the far north of Scotland.
"It won't be until the end of this week, start of the weekend that we will see snow. It's most likely on high ground in the north of the country and also in the Welsh mountains too, perhaps some sleet or wet snow to lower levels in the northern half of the country.
"On Friday and Saturday, any heavy showers are likely to fall as sleet or fresh snow across Scotland."
Diamond added: "Temperatures overnight will fall below freezing quite widely."
There could be potential weather warnings for ice moving into the weekend although there are none in place yet.
The south will see a different story with settled weather, little rain and sunshine throughout the week.
"Temperatures by day for southern parts will be around 12 to 15C. By Friday, there could be maximum temperatures in the south at around 9-10C by daytime, and colder overnight," Diamond said.
"It will be quite a shock to the system for some, the overnight temperatures so check your heating this week, make sure it's working, get your winter jumper winters ready ready for the weekend."
Earlier this month, Anglesey in Wales recorded a high of 23.9C – making it the second highest October temperature on record after the mercury hit 29.9C in Gravesend, Kent in 2011.