Snow warnings have been issued across much of Scotland and the north of England for Wednesday, with a chance of the white stuff heading south on Thursday.
Several centimetres of snow could settle on higher ground in parts of Scotland, while lower areas will receive a dusting.
A Polar maritime airmass, with its origins over northern Canada, has moved into northern Scotland and will travel south across the whole of the UK.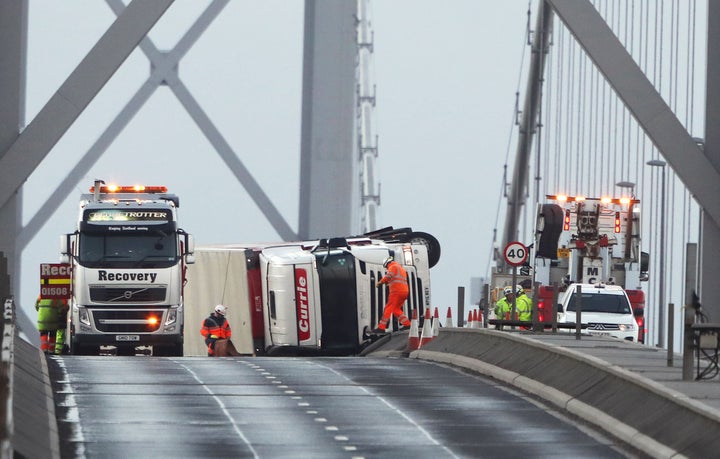 Forecaster Craig Snell said the snowfall and overnight frosts could lead to "dangerous conditions on the roads" and the strong winds could force bridge closures and cause lorry buffeting.
He said the winds would drop off during the afternoon but pick up again by Wednesday evening, leading to a combination of wind and snow.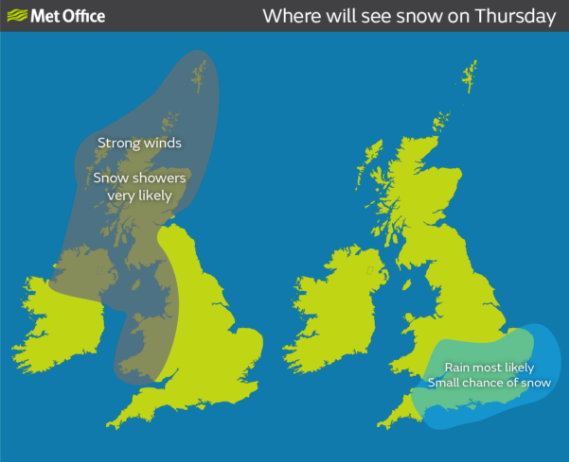 The mix could bring "blizzard-like conditions across parts of Scotland" leading to "some very tricky driving conditions".
There is also a chance of thunder and lightning, which could disrupt the power supply and bring so-called "thundersnow".
Snell added that it would be "a very unsettled and cold day across the northern half of the country".
Thundersnow
Temperatures may drop to minus 5C (23F) in parts of Scotland, but freezing conditions are possible elsewhere in England.
The forecaster said it might feel mild in the morning across the country, but people would "notice the chill" when they headed home after work.
By Thursday, the stream of cold air will spread further south, bringing hazardous conditions to much of the UK.
The Met Office's snow warning extends to parts of north-west England on Thursday - with a risk of wintry weather in southern England, while strong winds and wintry showers will continue to affect Scotland.
Around 2cm of snow is possible in low-lying areas, while 10cm could fall on high ground.
Snell said the next few days would be "distinctly colder", with bitter weather across all parts of the country by Thursday.
He added that it would remain "windy and cold on Friday, with potentially some large waves and coastal flooding going down the eastern side of the country".
Rod Dennis, of the RAC, said drivers should be prepared for "tricky driving conditions and significantly extended journey times".
He urged motorists to plan their trips carefully and "consider rearranging any non-essential journeys in the parts of the country most likely to be affected by the bad weather", as well as checking tyre tread and pressure, windscreen wipers and screenwash levels.