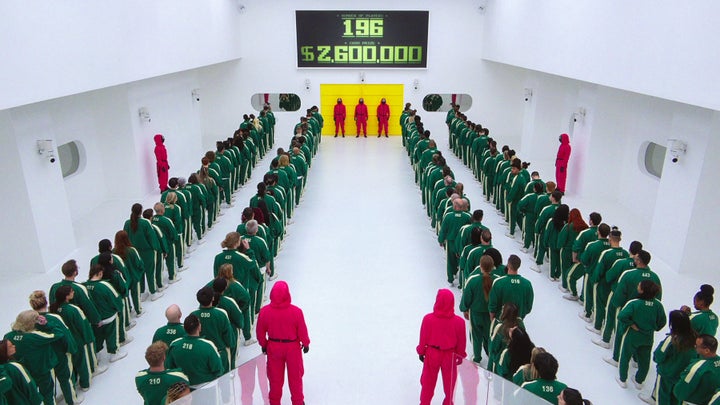 After captivating viewers the world over when it first started streaming in 2021, a follow-up to the hit Netflix drama Squid Game is finally almost upon us.
On Friday, Netflix will unveil Squid Game: The Challenge, a new competition series pitting participants against one another in grueling tasks similar to those featured in the original show, in a bid to nab an enormous cash prize.
Well, critics have now been able to watch Squid Game: The Challenge and judge for themselves – and the show seems to be still be dividing opinion.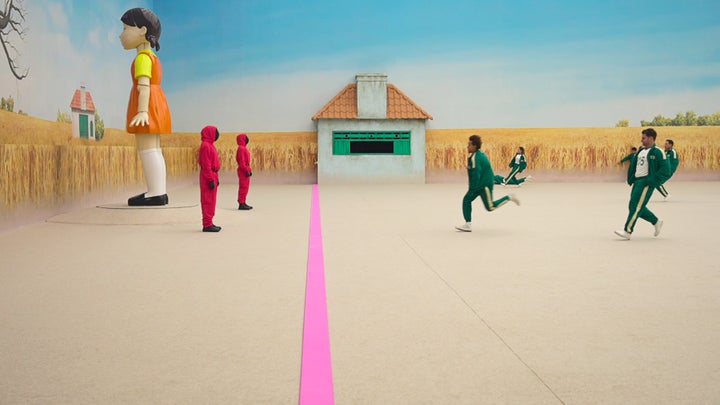 Some early reviews have hailed it as "epic" and the most "gripping" new reality show to come along since The Traitors, while others have blasted it as "boring" and low-stakes.
Here's a selection of what critics have had to say about Squid Game: The Challenge so far…
"I was sceptical as to whether Squid Game, the smash-hit Korean thriller about a fight to the death involving children's games, could work as a real-life TV show [...] yet Squid Game: The Challenge not only works, but may turn out to be the most gripping reality TV since The Traitors."
"Squid Game had no shortage of twists, yet this might be the biggest one of all: With its eclectic cast and inventive updates to the original, Squid Game: The Challenge manages to serve up palpable suspense and authentic human drama without murdering a single contestant [...] The stakes may not be life or death, but they are very real."
"The sadism structured into the concept – rewarding and/or punishing self-interest, sowing division, testing alliances – keeps things a-simmer. [...] With money at stake, rather than life itself, some of the cooped-up politicking in the middle episodes smacks wearily of Big Brother. Other passages of play lean too heavily on popularity contests. But by the final few episodes the tension, intrigue and antagonism are bubbling to the boil."
"Here I sit before you, convinced that not only does Squid Game: The Challenge qualify as damn good reality television, it even serves as an unexpectedly effective adaptation of the original K-drama.
"The game show uses the language of modern reality television to realize, in its own strange way, the themes in Dong-hyuk's parable of capitalism grinding human beings into dust. That reality television itself is an artifact of late-stage capitalism only underscores the point. It takes its time getting there, however."
"The fear of death and anti-capitalist themes may have been replaced by a rabid consumerism (an apt metaphor for modern America, if not an intentional one), but Squid Game: The Challenge is obviously an epic of its genre.
"Like most epics, it's overlong, overblown, and thinks it's much smarter than it really is. But as a showcase for human desperation, and an illustration of the random brutality of chance, it just about sticks the landing."
"The show tries its best to make you emotionally connected to the players and to root for your faves, but the sheer volume of contestants at the beginning, and the obvious issue that literally any single one of them could win, makes it hard to follow any one person's journey from the off.
"That being said, I was definitely engaged with some players, and was disappointed when the odds didn't fall in their favour."
"It has none of the charm of the original Korean story in which we followed desperate, cavalier but hugely likeable divorcee gambler Seong Gi-hun trying to get his life together and win custody of his daughter. Instead, The Challenge has recruited 456 English-speaking contestants (mostly from America) and, despite being 'real', their motivations are somehow less affecting."
"A lot of people will talk about this show's cruelty, and creating a gameshow based on a series about desperate people being murdered for money is indeed eye-raising [...]
"But this adaptation becomes more cruel when it moves away from its dystopian inspiration and devolves into every other reality game show, as ruthless contestants form gangs and grudges, revealing a more substantial, uncomfortable truth about this genre: why do we like watching people turn on each other? This show does not have an answer, but you'll likely binge it anyway."
"Squid Game was a global phenomenon that heavily criticized capitalism through the use of a fictional game show. The game wasn't broadcast to the entire world, like Netflix's show will be, but rather to a set of rich elites. These VIPs are the clear villains of the original series, but in making a reality series out of those same games, Netflix becomes the VIPs. As part of the audience, it's hard not to feel complicit in the contestant's pain, and that makes Squid Game: The Challenge a tough watch.
"[...] Say you can separate yourself from the contestants' pain, or you don't mind because they've signed on for this, the question still remains – is Squid Game: The Challenge any good as a competition reality series? The answer, as much as it pains me to say it, is yes."
"When this reality series was first announced, it already felt doomed to be a stain in comparison to an otherwise great show. What couldn't have been predicted is that Squid Game: The Challenge is more callous and cruel than even its many skeptics imagined."
Squid Game: The Challenge is available to stream from Wednesday 22 November on Netflix.