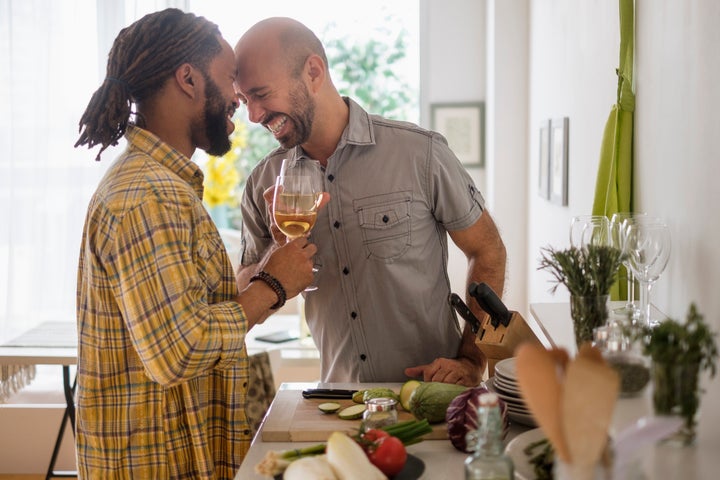 Valentine's dine-in meals have never felt more on menu, considering none of us can actually go out to eat on February 14. If you're fed up of cooking from scratch, an easy to make three-course dinner at a bargain price surely appeals (unless you opt for a takeaway of course.)
So, which romantic supermarket meal deal should you go for? The HuffPost UK Life team cosied up with their other halves or housemates to try the best value dine-in meals in the lead up to the big day.
We ranked them for taste, value and that all important romance factor. Here's our verdict from worst to best (rated with hearts, not stars, obvs).
Sainsbury's
The deal: Starter, main, side, dessert, plus a bottle of wine or chocolates for £20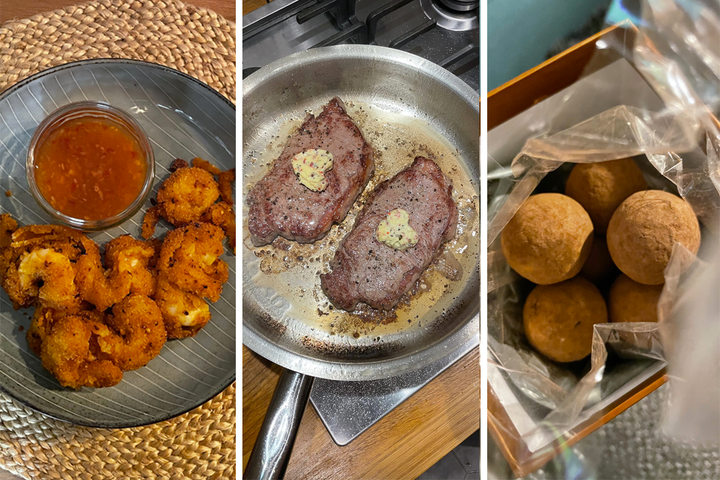 There are 30 dishes to choose from and, after plenty of deliberation, we opt for sweet chilli breaded prawns to start and Taste the Difference sirloin steaks with a heart butter for main (the only Valentine's-specific dish on the menu) with a side of triple-cooked chips. For some bizarre reason, I forget to pick up dessert (*sob*) and opt for the Cocoa & Co salted caramel truffles to finish.
The breaded prawns take nine minutes in the oven and require little prep: juicy and delicious, with a slight kick. They don't come with sauce so I'd recommend adding some sweet chilli. The one downside is the breadcrumb coating doesn't stick to the prawns once cooked, so as we romantically dip our prawns into a shared ramekin of sauce, we lose quite a bit of coating.
It's a bit weird having a main with just chips so we add our own corn on the cob. I'm excited for it, but it's underwhelming. The triple-cooked chips are soggy once fully cooked and the sirloin steak is nice, but average. The peppercorn butter doesn't add an awful lot of flavour or moisture, to the steak and – when arranged on the plate – it looks like your run of the mill midweek meal. We light a candle to try and up the romance factor.
We sit on the sofa after dinner and open the truffles, which we'd been looking forward to all day. They're described as salted caramel on paper, but they're encased in a bitter dark chocolate. We have one each, side-eye each other and get a trusty bar of Dairy Milk out instead. Tasha Hinde, Life reporter
Asda
The deal: One starter, one main, two sides, one dessert plus one drink or a box of chocolates for £15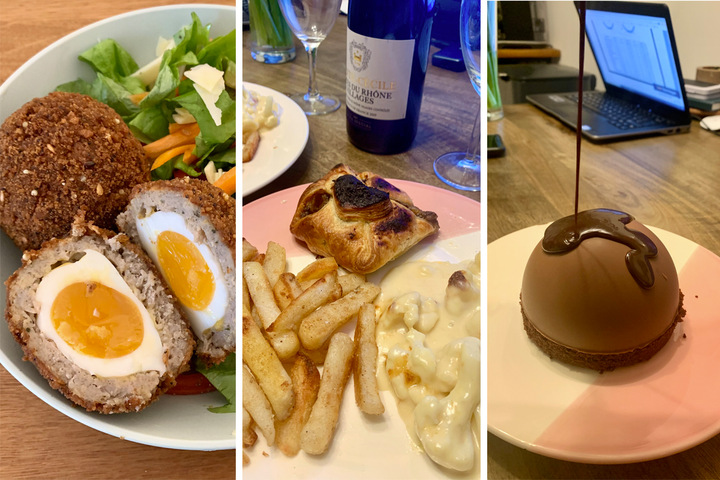 This is a bargain deal with plenty of choice. We have Scotch eggs to start, which we jazz up and serve with salad (credit to my partner there). Unconventional for a starter, but the Scotch egg is decent with a gooey centre and well-seasoned herby sausage meat, so I can't complain.
For mains, it's beef en croute which I somehow manage to burn (forgive me!). The raised heart shape pastry burns before the rest finishes cooking, but the non-black bits of pastry are light and flaky. A little more butter wouldn't go amiss. The beef itself is a little under-seasoned and bland, but moist with a juicy patty. This is essentially a beef pasty or a beef burger wrapped in pastry. Bonus points for the cute, loved-up hearts presentation, though.
For the sides, the crunchy, crispy triple-cooked chips taste better than bog standard oven chips. They're coated in a layer of fat and come with a separate packet of Cornish sea salt, which adds a nice touch. Sadly, the same can't be said for the runny and not very cheesey cauliflower cheese. Where's the subtle mustard note? The pepperiness?
The 'show-stopping' melting chocolate dome is a chocoholic's dream, but too sickly to end on and let down by the microwave mug of cake-like chocolate. However, as exciting lockdown activities go, I'll take melting and pouring chocolate over a slightly, gaudy heart-shaped cake. Angela Hui, Life reporter
M&S
The deal: Starter, main, size, dessert, bottle of fizz/wine and a small box of chocolates for £20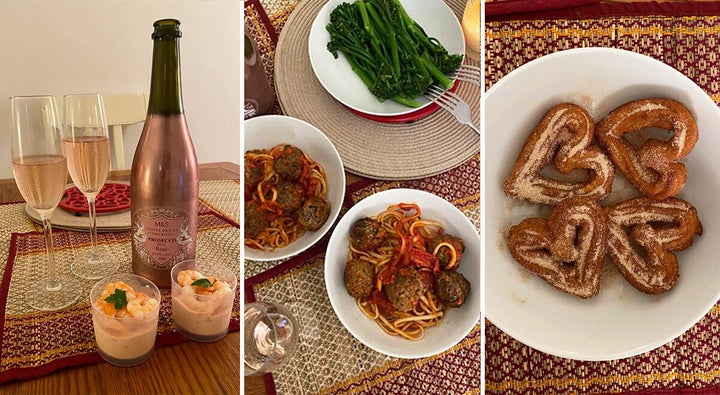 Nothing says romance like the ping of a microwave. This M&S meal is quick to prepare, but doesn't scream "I made an effort." Before we eat, I crack open our Conte Priuli Prosecco Rosé, which promises "strawberries, redcurrants and apple blossom". I fear an overly sweet teenage fizz, but I'm pleasantly surprised; it's deliciously dry.
There's a range of food options and we go for the new releases for 2021. The ready-to-eat prawn cocktail starter is rich and creamy, but the big Honduran prawns on top hide piddly Atlantic prawns underneath. Still, it's tasty.
The 'Love Linguine' is divisive. My fiancé can't stand the claggy microwaved texture, but it doesn't bother me as I'll eat pasta in any form. One thing we agree on, is that inserting the word 'love' in front of 'linguine' does not equal romance. The extra long strands are designed for a 'Lady and the Tramp moment' – but honestly, it's just awkward to serve.
The pork and beef meatballs are flavourful though, with a subtle aniseed note – although the parmesan all but disappears, so you'll need to add your own. The tenderstem broccoli is, well, broccoli, but things pick up with dessert. Churros with sugar, cinnamon and vegan chocolate sauce – it tastes like it's straight from a Spanish food truck. It's not restaurant quality, but in all we have a good, filling evening and make a mental note to buy the Prosecco again. Rachel Moss, Life reporter
Tesco
The deal: Starter, side, main, dessert and drink for £15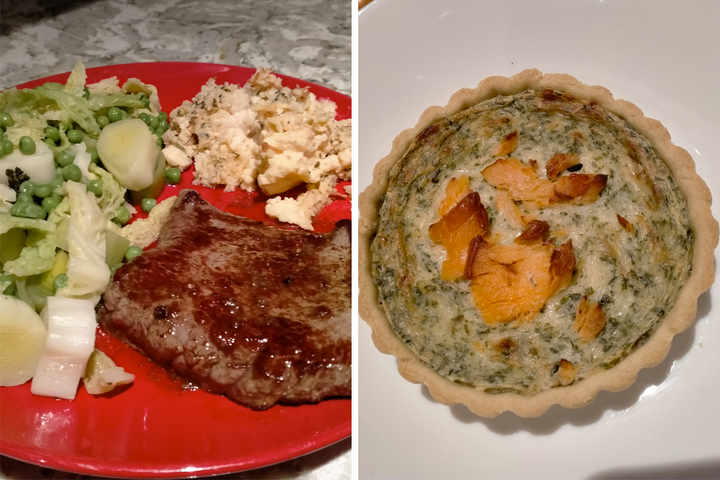 Given it's the best part of a tenner for a decent bottle of wine, and there's a decent bottle of wine included in this meal, and two very good steaks, for £15, I'd say this is a pay and leave the shop briskly situation, before anyone realises what an absolute steal it is.
The deal has options from vegan to meaty – I go for a bit of both, like a true flexitarian millennial. The salmon tart for starter is light and fresh with a boisterous kick. And the aforementioned rump steaks, accompanied by a heart-shaped peppercorn butter which is light and doesn't overpower the meat. I get lost in a deeply chewy and gooey vegan chocolate brownie – again, shaped like a heart, enough of this now – for dessert.
The rest is more standard Tesco Finest fare, but given the price, a steal. I'd go so far to say it's approaching restaurant quality. The sides of greens and three cheese and chive cauliflower cheese balance things out. Somewhat FML-y, I eat half of everything, alone. But Valentine's Day is a load of rubbish anyway and food cheers you up, so who's winning now? Adam Bloodworth, features writer
Morrisons
The deal: Starter, main, two sides, dessert, and drink or chocolates for £15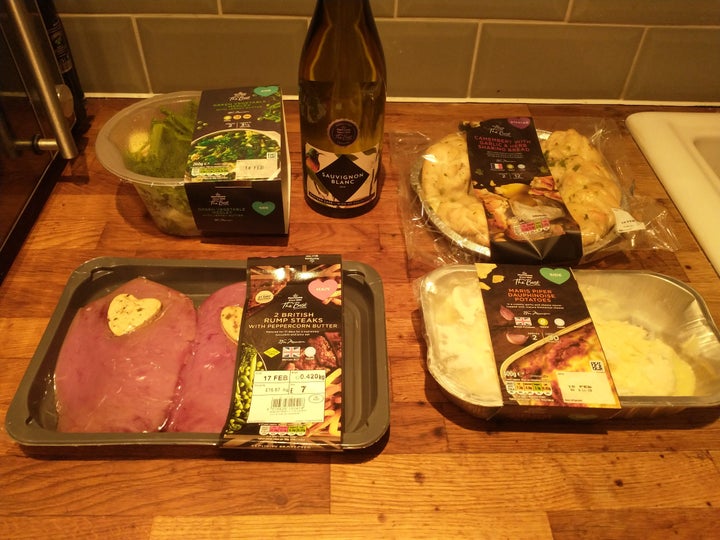 Morrison's The Best range already punches above its weight so it's great that all 34 meat, fish and vegan options from this Valentine's menu come from it. The appetisers each live up their name, but offer me baked camembert in a tear-and-share focaccia and I have eyes for nothing else. This oozy treat gets us off to a cheery start – even though we manage to over-toast the bread, it dips well.
What is it with heart-shaped patties of sauce? No self-respecting supermarket Valentine's meal is without, it seems – certainly, our two matured rump steaks come with the obligatory peppercorn butter to melt over the top. But for red meat at this value, it's really very good, surprisingly tender and unchewy.
The deal includes two sides, which feels generous. I lean towards chunky chips, but we go for the classier if no less carby Dauphinoise potatoes – made with British Maris Pipers but creamy and garlicky enough to fit their French billing – plus a veg medley of beans, petits pois, Tenderstem broccoli, cabbage and spring greens. If that sounds healthy, they come with Jersey butter, too. Yum.
I manage to miss the dessert option, but you'll get a great choice from tarte au citron, salted caramel and chocolate profiteroles, raspberry panna cotta, dulce du leche or, for the vegans, a duo of dairy and egg-free chocolate puds.
While it could be rather rich, we finish feeling full, but not too full – key on Valentine's, no? It's also super easy to prepare. The only mark down is for the wine. My partner calls the Sauvignon Blanc (there are also red, rosé, fizzy and non-alcoholic options) a "robust table wine", which I don't think he means as praise. But we still polish off the bottle. Cheers! Nancy Groves, head of life
Waitrose
The deal: Starter, main, two sides, dessert, and fizz or chocolates for £20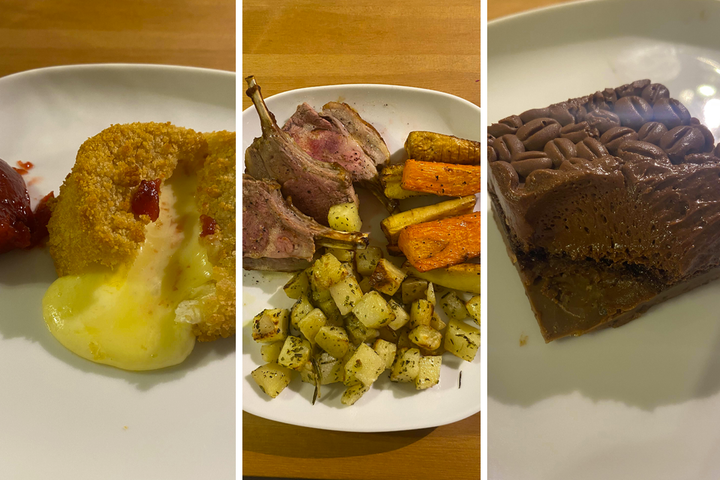 There are lots of options in this range: 11 starters and 13 mains, to be exact. We go for a baked camembert, followed by a rack of lamb, and espresso martini chocolate dessert. A bottle of sparkling wine – San Leo Nerello Mascalese Garganega – sweetens the deal. Initially, the starter seems small, but once I taste the delicious rich cheese, paired perfectly with redcurrant jam, I know why. We scoff it down in less than a minute.
For main, we have British lamb rack with roasted garlic and rosemary butters. It's a little more effort than your bog-standard ready meal, but makes us feel like we're doing something. We fry it slightly on each side before going in the oven –it's cooked perfectly to our liking by following the instructions, juicy and delicious. My boyfriend says he'd be chuffed if he had this in a restaurant.
The lamb is paired with maple roasted winter veg with maple butter, as well as parmentier potatoes with rosemary and garlic butter. In fact, everything has butter in it – and my belly is happy for it. If you can't be indulgent on Valentine's, when can you? The veg is non-eventful, but the potatoes are more-ish.
Espresso martini choc tortes with mousse, salted caramel, ganache and a crisp wafer base – thank you, Heston, you know how to do dessert. I would happily eat my boyfriend's portion as well as mine, but that's me being greedy.
Does it say 'romance'? Aside from the heart-shaped butter that comes with the main (again!), it's not specifically romantic. But the fact it's a rack of lamb and from Waitrose ups the Fancy Factor anyway (I don't know about you, but both are too spenny for us usually). This is a great deal, and I'd take good food over heart-shaped fancies any day. Amy Packham, Life editor