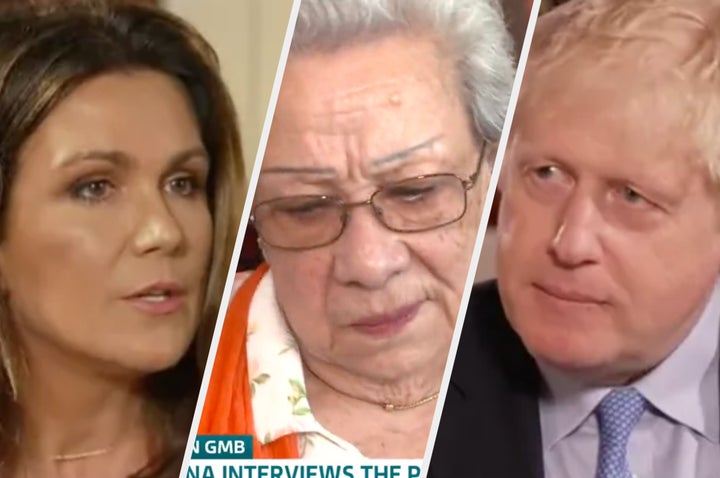 Susanna Reid has reacted to her headline-making interview with Boris Johnson, perfectly laying out how he should have dealt with one of her questions.
The prime minister's first sit-down on Good Morning Britain in five years sparked reaction in the press and on social media after Susanna told him about 77-year-old viewer Elsie, who rides the bus all day because she can't afford to heat her home.
Inexplicably, the prime minister attempted to make a virtue of her predicament by insisting – wrongly, as it turns out – that she could only do this because he had introduced the freedom pass for pensioners when he was mayor of London.
Discussing the reaction to the interview with co-host Richard Madeley on Wednesday's show, Susanna said: "I think in those situations when you are challenged by an individual case – rather than claiming credit for the fact she can travel on the bus in order not to have to switch on her heating, lighting, even kettle or television at home – I think leaders should say, 'That sounds desperate. I do not want to be in a country where someone like Elsie feels like she has to do that. Let me find out about that case, let me find out about Elsie, let me talk to her and we will see what help we can get her.'
"That seems, to me, the more human response to that sort of story," she said.
Richard was interested to know what the PM "was like", to which Susanna said: "It was interesting, because when I was researching for the interview I went back over a huge number of interviews that Boris Johnson has done, obviously, and also over a lot of the coverage that we've done on Good Morning Britain.
"We have so often interviewed commentators, experts, viewers about the prime minister. There've been so many moments where people have said, 'oh my goodness, after that gaffe he's got to go'. When he was foreign secretary he would make blunders, when he's been many other positions, but he is Teflon Boris. He's someone who survives."
Good Morning Britain airs weekdays at 6am on ITV.