Just 21,215 voters could hold the balance of the election in their hands if they vote tactically to deny the Tories in marginal seats they are currently expected to hold or gain.
The analysis, by the anti-Brexit Best for Britain campaign, is based on YouGov's constituency-by-constituency MRP poll, which predicted a hung parliament in 2017 and is seen as the most trustworthy.
The YouGov data has sparked jitters at Tory HQ after it cut the party's predicted majority from 68 two weeks ago to 28 last night.
Crucially, a hung parliament which could see Jeremy Corbyn become prime minister is within the range of possible outcomes predicted.
Tory "big beasts" also risk losing their seats to tactical voting, according to the Best for Britain analysis of YouGov's data.
For example, if 949 Liberal Democrat and Green voters backed Labour in Chingford and Woodford, former Tory leader Iain Duncan Smith would be ousted from parliament.
Similarly, it would take just 1,207 Labour and Green voters to back the Lib Dems in Esher and Walton to oust Dominic Raab, the foreign secretary.
Naomi Smith, CEO of Best for Britain said: "YouGov's latest MRP data shows that tactical voting will be decisive at this election, particularly given the shrinking Tory majority.
"In key battlegrounds, the biggest tactical voting websites are agreed on the best candidate to beat the Tories.
"In Dominic Raab's seat that means Labour voters backing the Lib Dems and it's the other way round to kick Ian Duncan Smith's out of British politics."
Here is a full list of the 30 seats which could swing the election through tactical voting: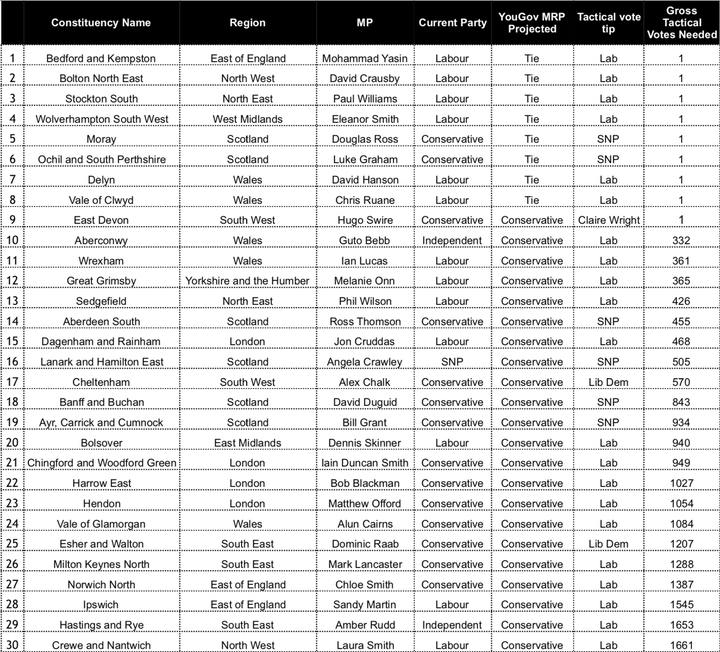 Best for Britain used 2017 turnout as its baseline for the analysis.
It based its estimates on the vote share percentages from YouGov's MRP poll using that turnout to understand how many votes are likely to be cast for each party
It then analysed how votes separated the Tory predicted to win the seat and the second place candidate.