It was only a matter of time, but some are claiming Ted Cruz and running mate Carly Fiorina might actually be alien lizards in human costumes.
That might all seem like a bit of social media japery, but let's take a look at the cold hard facts.
Exhibit A: This awkward moment where he can't figure out how to hold Carly Fiorina's hand
Exhibit C: He looks incredibly uncomfortable at all times
Exhibit D: He couldn't even properly hug his own human daughter
Exhibit E: He wants the human race to procreate as fast as possible
Judging by his policies on Planned Parenthood, contraception and other issues, he must want the human race to grow in number. PERHAPS FOR FUTURE ENSLAVEMENT??
Exhibit F: He struggles to comprehend human culture.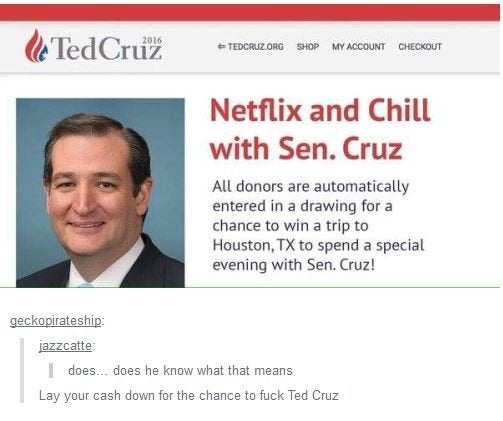 Exhibit G: He eats his own excretions for sustenance
Exhibit H: Even his own human family don't seem too keen on him.
Is Ted Cruz really a lizard in a human costume? Only time may tell.
Related