All 12 boys and a football coach, who had been left stranded in a flooded cave in Thailand, have been rescued.
"The 12 Wild Boars and coach have emerged from the cave and they are safe," the Thai navy SEAL unit said on its official Facebook page on Tuesday.
The boys – aged between 11 and 16 - and the 25-year-old coach, had been trapped in the cave for more than two weeks in an ordeal that riveted people around the world.
"We are not sure if this is a miracle, a science, or what. All the thirteen Wild Boars are now out of the cave," the SEAL unit added.
The Seals said they were still waiting for a medic and three navy Seals who stayed with the boys to emerge from the cave.
US President Donald Trump hailed the rescue.
"On behalf of the United States, congratulations to the Thai Navy SEALs and all on the successful rescue of the 12 boys and their coach from the treacherous cave in Thailand. Such a beautiful moment - all freed, great job!", he tweeted.
The news was also widely celebrated across Thailand with honking car horns, selfie videos and social media posts.
"This is an important event in my life. It is something I will remember," said a visibly emotional Rachapol Ngamgrabuan, an official at Chiang Rai's provincial press office.
"There were times when I cried," he added. "Happy. Very happy to see all Thai people love each other."
A Thai navy SEAL Facebook post confirming all 13 had been rescued on Tuesday had more than 200,000 likes and around 56,000 shares in the space of an hour, sparking comments such as: "You are ALL HEROES! Thank you on behalf of a grateful world!" and "On behalf of all mothers I thank you".
"Miracles may happen every day but this is one for the ages," said Cornell Brooks, chief executive of the NAACP civil rights group in the United States.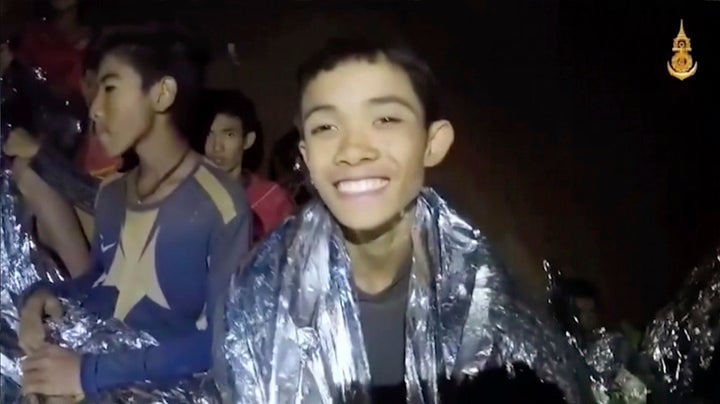 The first eight boys, who were rescued on Sunday and Monday, are in good health overall and have been demanding fried rice and chocolate bread since their rescue, Jesada Chokdamrongsuk, Thailand's health ministry permanent secretary, told reporters. There was no immediate news on the health of the further five people.
"At this moment (there are) no worrisome conditions, everyone is safe," Jesada said.
Two of the boys had suspected lung infections but the four boys from the first group rescued were all walking around their hospital beds.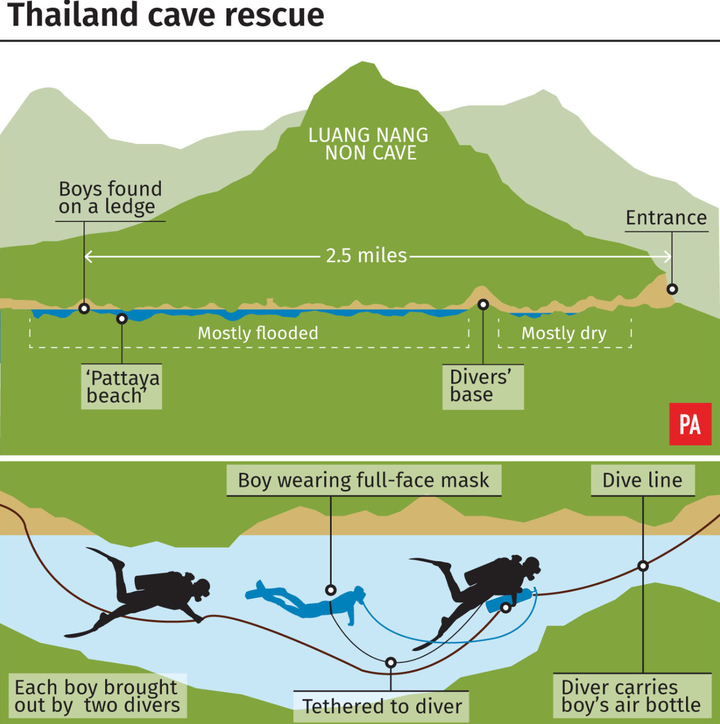 "The kids are footballers, are strong and have high immunity," Jesada said when asked how they survived so long.
Experienced cave rescue experts had considered an underwater escape a last resort, especially with people untrained in diving, as the boys are. The path out is considered especially complicated because of twists and turns in narrow flooded passages.
Samarn Poonan, 38, a former member of Thailand's elite navy SEAL unit, died last Thursday night as he worked underwater in the cave complex, laying oxygen tanks along a potential exit route.
The boys and their coach went missing after football practice on 23 June, setting out on an adventure to explore the cave complex near the border with Myanmar and celebrate a boy's birthday.
They became trapped after heavy rains caused flooding. British divers found the 13, huddled on a muddy bank in a partly flooded chamber several kilometers inside the complex, on Monday last week.