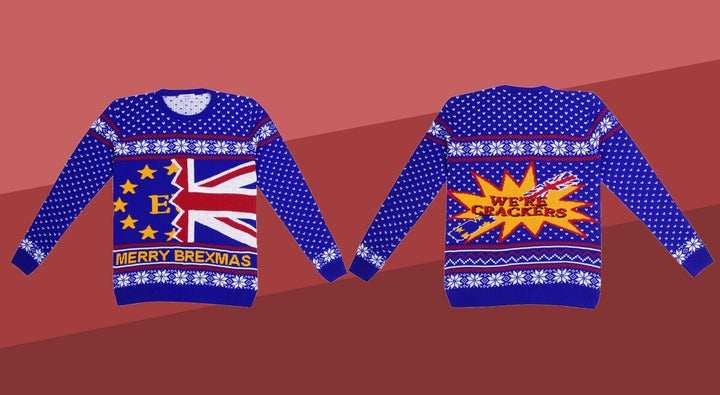 And this year? Considering the looming general election coincides with our 2019 festivities, it seems only obvious that Brexit jumpers are now on sale.
Knitwear company NotJust has created two jumpers – Leave and Remain – both with similar designs, but drastically different meanings.
Running what they call their own "People's Vote", NotJust will be tallying how many people buy each of the knits – revealing the results on 11 December, just one day before the election.
In what could shape up to be a divisive festive jumper day in the office, the Remain design has the words, "we're crackers!" emblazoned on the back, while the Leave one says, "Brexmas means Brexmas".
Mike Harding, founder of NotJust, said of the 'election collection': "The nation's leaders haven't put it to the people, so we're doing it for them – whether Brexmas means Brexmas, or you think we've gone crackers, get your votes in and have your voice heard ahead of the general election.
"We hope this knit creates a bit of healthy discussion around the Christmas table and inspires a few laughs along the way!"
The jumpers cost £34.99 each, and are available in in XS - XXL. 10% of all profits will be donated to a charity of the customer's choice – and they're also manufactured in the UK in ethical working conditions.
We all work hard to earn our money – so it shouldn't feel like hard work to spend it well. At HuffPost Finds we'll help you find the best stuff that deserves your cash, from the ultimate lipstick to a durable iron to replace the one that broke (RIP). All our choices are completely independent but we may earn a small commission if you click a link and make a purchase.