The queer community has left Donald Trump in no doubt about how they feel at his supporters being told to "ask the gays" whether he is an LGBT-friendly candidate.
The Republican US presidential candidate had attempted to tout himself as a more gay-friendly candidate than Hillary Clinton at a rally in the city of Atlanta on Wednesday.
He said after claims the Clinton campaign had received donations from countries with laws against homosexuality:
"Ask the gays what they think and what they do, in, not only Saudi Arabia, but many of these countries, and then you tell me - who's your friend Donald Trump or Hillary Clinton?"
But 'the gays', as The Donald referred to them as, hit back at being spoken for by the man attempting to position himself as the most queer-friendly US presidential candidate.
After Trump said at the same rally that LGBT people were "so much in favour of what I've been saying over the last few days", 'the gays' he called on to be asked for their opinion on him delivered a cutting verdict.
Clinton herself has since hit back at the dig at her, owning Trump on Twitter in just three simple characters.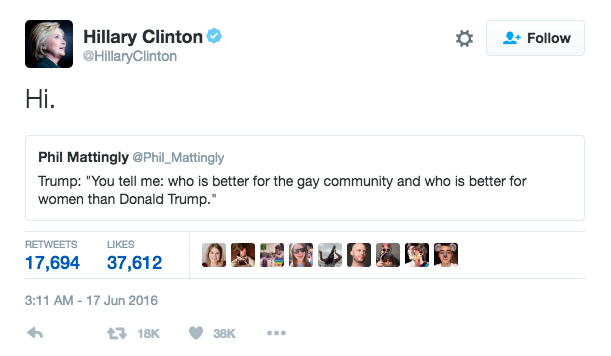 During the same rally Trump made his gay-friendly comments he also used the attack on an Orlando gay nightclub to push back against calls for gun control.
"If some of those great people that were in that club that night had guns strapped to their waist, and if the bullets were going in the other direction, aimed at this guy, who was just open target practice, you would have had a situation that would have been always horrible but nothing like the carnage that we all as a people suffered," he said
Trump added: "And a lot of people aren't realising this."
NOW READ:
Popular in the Community