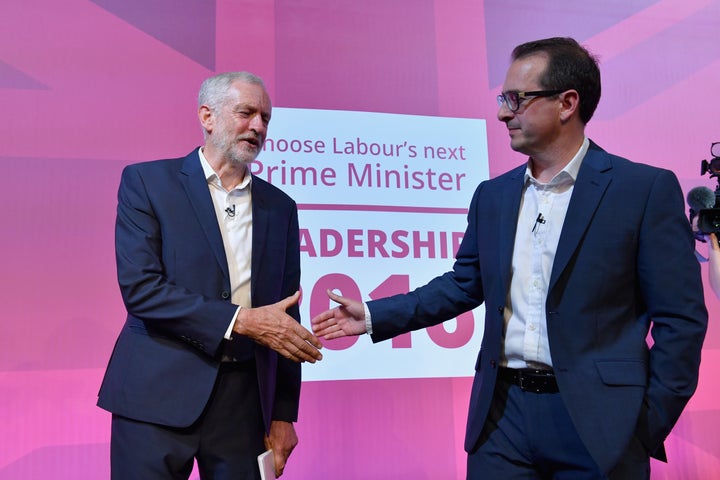 Today, as ballots closed for the Labour leadership election, voters got a chance to sit back and reflect on the latest bizarre instalment of 'Politics 2016'.
As if Brexit and a new prime minister weren't enough for the country to contend with, Her Majesty's Official Opposition has had a tough and turbulent time navigating court cases, expelling tens of thousands of members and witnessing open civil war among its MPs.
Below, we've detailed the highlights of what must be one of the busiest 12-week periods in Labour's history - for better or worse.
1. Shadow cabinet shambles
It all began with Labour MPs' mass resignation from the shadow cabinet, precipitated by then-shadow foreign secretary Hilary Benn's firing.
21 MPs resigned across three days, leaving Jeremy Corbyn to try to rebuild his team and plugging portfolio with the minority of those who backed him.
2. Media mix-up
With the new shadow cabinet firmly in place, apart from a minor blip involving another resignation, Corbyn decided to invite the media in to film them all getting stuck in.
But it wasn't until the television cameras all crammed into the room to record their every word that he turned against this idea, uttering the now immortal words...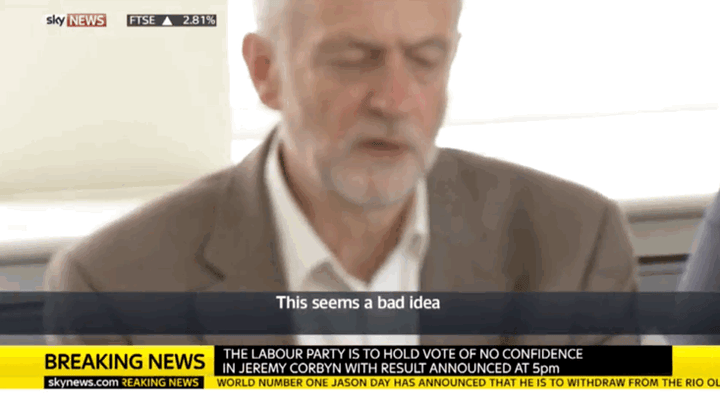 It wasn't long before camera crews were ordered out of the room and the MPs positioned around Corbyn, including deputy Labour leader Tom Watson, were quite literally reshuffled and replaced.
3. Court kerfuffles
Things only got worse when law suit after law suit dragged Labour through the courts. First it was a millionaire donor challenging Corbyn's right to automatically appear on the leadership ballot paper, then it was members challenging their exclusion from the election, before the High Court got involved and gave the all-clear to wiping 130,000 from Labour's selectorate.
Senior judges spent days hearing arguments from the Labour party and Labour members fighting against one another.
4. 'Fucking useless'
Next followed an outburst by Corbyn's right-hand-man and shadow chancellor, John McDonnell, who let slip that he believed those "plotting" to oust their leader were "fucking useless".
"It was a stand up comedy event. I know I promised Jeremy Corbyn I wouldn't do any more jokes - I broke my promise to him," he told the BBC.
"I'm an ordinary bloke. I used some bad language. If my mother was still alive today she'd be coming down and telling me she was going to wash my mouth out with soap.
5. Fathers For Justice
Next in the bizarre series of events, Corbyn himself became the target of protest - as two 'Fathers For Justice' campaigners stormed and occupied his roof.
Activists Bobby Smith and Martin Matthews scaled the Islington MP's home to protest his failing to engage with them over access rights for dads.
They came down six hours later, saying: "Point made. Thank you for all the support."
6. Traingate
Perhaps the strangest and most unlikely of scandals to rock Westminster came when Richard Branson personally intervened to censure Corbyn, releasing CCTV images of the Labour leader ignoring free seats as he walked through a train he claimed was "ram-packed".
Leaving the Liberal Democrats' press office to do as it so often does and use the subject to mock its political opponents with a cutting 404 page.
To remind yourself of just how many times Corbyn changed the story behind how he came to be sitting on the floor of a Virgin service filming, check out our timeline.
7. Smith's schlong comment
Corbyn's leadership contender Owen Smith gave quite the spate of "colourful" comments this summer, many of which were labelled sexist.
But that reached a peak when Smith was forced to deny claims he had made a joke about his "29-inch penis" at a campaign rally.
His campaign spokesperson told The Huffington Post UK Smith had been making a "self-depreciating joke about his height", a claim that failed to win over his detractors.
8. 1980s throwback
It prompted much commentary, and even this comment from Simply Red's Mick Hucknall.
The other UB40 band (those who split but insisted they had the rights to the name) were even tracked down and asked for their feelings on Corbyn.
"Ali, Astro & Mickey have always been great supporters of the Labour Party, and they look forward to the new leader taking the Labour party back into government at the earliest opportunity," a spokesperson told the Mirror.
NOW READ:
Related