A Scottish newspaper is being berated for its front page that vilifies Theresa May by depicting the new prime minister as 101 Dalmations villain Cruella De Vil.
The spectacle sparked accusations of sexism, with several Scottish MPs who republished the image on social media embroiled in a row with constituents.
Uproar was sparked when The National featured a picture of May mocked up as fictional villain De Vil, headlined: "The De Vil is in the detail."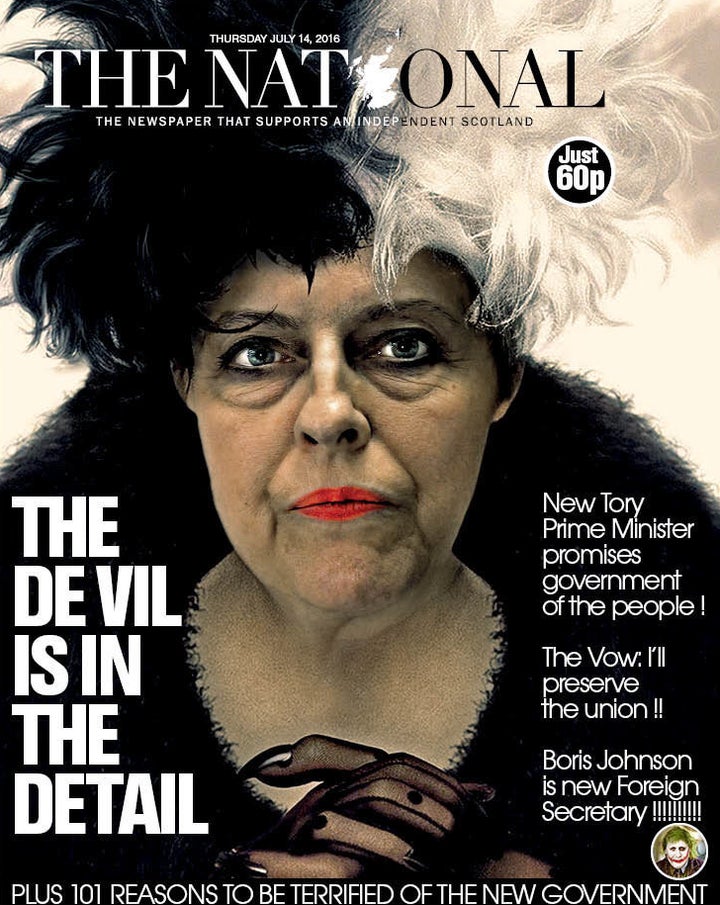 The paper used an increasing number of exclamation marks to air its grievances with several of May's announcements. Her vow to preserve the United Kingdom earned two, while news of Boris Johnson's appointment as foreign secretary was succeeded by 10.
The brutish front page also promised readers "101 reasons to be terrified of the new government". The feature sparked amusement from one social media user who ridiculed it for contradicting pro-independence campaigners' insistence that "nationalism is positive".
But the depiction of May as De Vil was more seriously derided by many for being "sexist".
"Because whatever her politics, every woman is just a woman after all," one enraged commenter wrote.
Others reacted with disbelief that a newspaper claiming to be a serious publication had carried the front page.
While even some of the paper's frequent readers said they had been put off by the "purile" and "poor taste" front cover.
Anger grew when two SNP MPs re-posted the front page on their Twitter accounts.
Margaret Ferrier and Angus MacNeil both came under fire from commenters for being representatives of a party that claimed to champion equality.
One constituent of Ferrier's claimed she was "ashamed" of her MP's decision.
Others also took aim at the Rutherglen and Hamilton West MP, saying that while they expected the "disgusting" content from The National, they expected Ferrier to "rise above this nonsense".
MacNeil was criticised too for re-posting what one commenter rubbished as "one of the most sexist front pages I have ever seen". They accused the Scot MP of having a "total lack of awareness".
Ferrier had not responded to a request for comment at the time this story went live. MacNeil could not be reached for a reply.
READ MORE:
Related