Dads, it's Fathers' Day. For one day you get cards, you get presents, you get to choose what you do and when and lord it over your whole family for an entire day.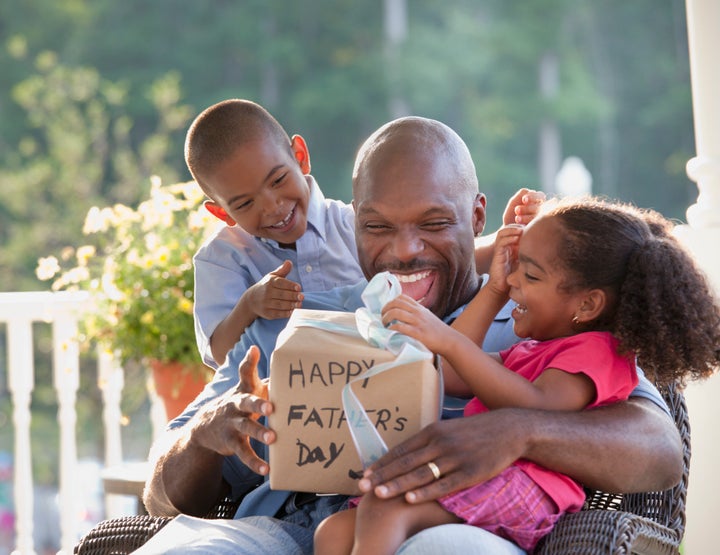 Presents
And you thought socks, ties and car gadgetry were the pits. Some lucky dads get these gifts...
"Tile polish to finish the hall (apparently I had been promising to do for months!). My wife says I'm impossible to buy for so she tends to use the opportunity to get stuff we need (or that she wants, like a miniature Daschund). My Fathers' Day presents over the year include salt and pepper pots, a frying pan, a sausage dog and... tile polish." Keith
"This year I'm giving my other half the new book by Tim Dowling called Dad, You Suck. For our anniversary a couple of years ago, I got him TD's previous book, How To Be A Husband. I do love Tim Dowling." Victoria
"A foot spa. Why would you ever think mixing water and electricity was a good idea? I used it once. I was bloody terrified. She said she thought I'd like it because I'm always asking her to massage my feet. That's just me desperate for attention." Jake
"I got a Superdad mug two years in a row. The exact same one cos I'm so super." Jamie
"I dream of my wife surprising me with a table booked at a Michelin-starred restaurant. Last year we went to McDonalds with the kids." Alex
"A penis-shaped key ring." Chris
"I've always wanted to drive a Ferrari on a race track. My wife booked a family go-karting session." Richard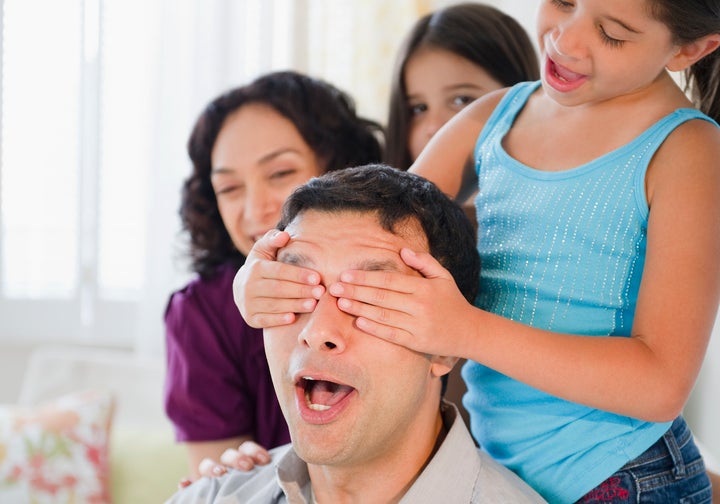 Cards
Heartfelt messages of love and effusive praise from your children?
"My son wrote: 'I'm glad you're my dad, from James'." Owen
"My wife insists our kids sit down and make home-made cards, which was sweet when they were young and put some thought and love into their messages. But now they are 19,17 and 15 and they clearly can't be arsed. I got three pieces of A4 folded in half with capital letters HAPPY FATHER'S DAY in biro." Alan
"I got these cards last year. Basically, I smell." Jigson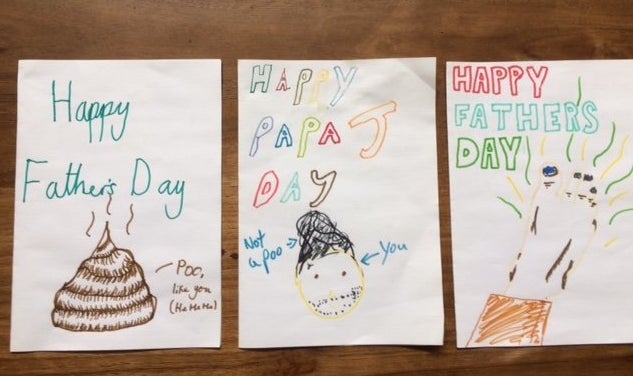 'It's your day.'
"I told my wife all I really wanted for Fathers' Day was to watch sport with a beer in peace and quiet. But seeing me flat on my back during the day must have been too much for her. She said she just had to nip out. For the record, there is no way you can keep an eye on two-year-old twins and the football. No way. She came back THREE HOURS later after an impromptu shopping trip with her sister." Will
"I took my husband Ben to Germany to celebrate Starlight Express 25 years and on the Sunday (Fathers' Day) he and the kids watched me roller skate for three hours! (Awesome for me, sooooo boring for him). And it was also his birthday." Kelly
"Fathers' Day is the one guilt-free day of the year I get to just bugger off and do whatever I want. That's the theory. In reality, I will pay for my selfishness for a long, long time." Mo
"We go to my in-laws' every Fathers' Day 'because you're not my dad'. I'm waiting for the kids to hurry up and get older and take my side." Jermaine
"All I want is one evening without Love Island on. I want the controls back!" Jim