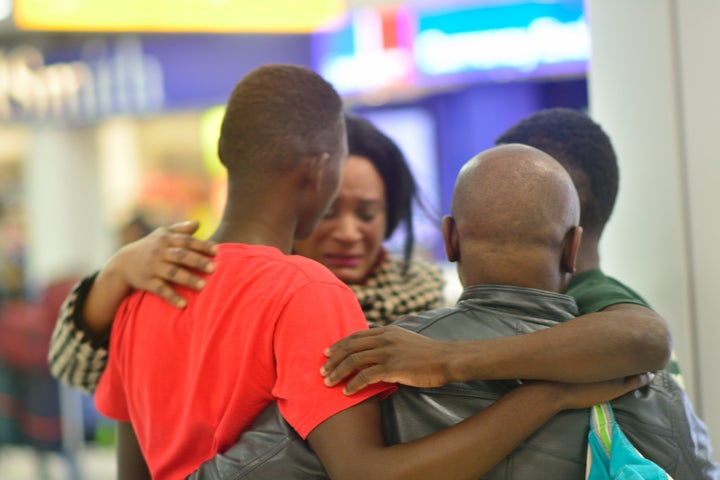 Ask people all over the world what's most important to them and you're likely to get a similar answer time and time again: family. Whether it's our child, mother, father, husband or wife, we all have an inherent longing to be close to our loved ones.
Last year the British Red Cross helped to reunite over 2,000 refugees in the UK, over half of which were children. We are privileged to witness those precious moments when a mother first embraces her children after years of separation; we see the tears of immense joy and relief that being together again gives them. However, we also see the pain and hurt suffered by families who have been separated due to conflict or persecution, but who cannot be with their loved ones again. Many of their loved ones are displaced and living in extremely vulnerable or dangerous situations. Every day that passes, these people continue to be at risk.
The refugee family reunion process is far from straightforward; it is expensive and restrictive, leaving families torn apart. Under current rules, child refugees living in the UK are not allowed to sponsor their parents to join them. They are left in the care of local authorities at a time when they need their parents the most. Parents living in the UK are not able to be united with any children over the age of 18, leaving vulnerable young people living alone in dangerous parts of the world. While there is the option of a visa being granted on compassionate or exceptional grounds, we know the reality of these being issued is unlikely. Only 49 were granted in 2016.
Those who are lucky enough to qualify for family reunion enter into an incredibly complex legal process with very little support. Since legal aid provision was withdrawn in 2012, people are forced to sacrifice everything to try and fund the necessary legal support to give them the chance to be with their family again.
I recently heard a story about a man we were helping who was living off packets of 10p noodles. He was rationing himself to try and afford the legal support he needed to bring his children to join him. Many of the people we support face the same financial strain; they are forced to turn to food banks, they haven't been able to pay for electric to light or heat their homes, or have gone for weeks without being able to afford a phone call to their husband. This is the real impact on people when legal aid is not available.
That's why later this week we'll be in parliament to support Angus MacNeil MP, whose Private Members Bill on Friday 16th March could change these rules and enable more refugees to be reunited in the UK.
At its heart, the bill is about keeping loved ones together, but it's also about providing a safe and legal route to protection that could prevent refugees from taking dangerous journeys in order to reach their family members in the UK.
The families the British Red Cross supports did not become separated through choice, but though terrible circumstances - because of war, because of persecution, torn apart by things that few of us I hope will ever have to experience. Every day that these families are separated is a day they will not get back, and a day that they continue to be at risk.
Denying people the chance to restore their family ties commits them to a future of suffering, preventing them from moving on from the trauma they have already experienced.
We urge MPs to turn up on the 16th March and vote for the Government to amend the restrictive rules that prevent families from being reunited just when they need each other the most. It's simple, families belong together.