The full fall-out from the Carillion collapse is only just beginning to emerge. Politically, one of the most toxic elements is the idea that the firm's 'fat cat' bosses will still continue to get massive payouts even though many of them quit after last year's profits warning. Labour's Rachel Reeves asked the most pointed question on this yesterday, highlighting that former CEO Richard Howson was still getting £660,000 a year.
The Institute of Directors was also appalled at the 'highly inappropriate' pay packets. Though No.10 was caught cold early on (in morning Lobby), David Lidington (whose unflappability and eye for detail show why May promoted him to the Cabinet Office post) told Reeves and other MPs that the Official Receiver and the pensions regulator could investigate the fat cat payoffs and impose 'severe penalties'.
Away from the heat of the main chamber, there was more light in the Public Administration and Constitutional Affairs Committee as Cabinet Secretary Jeremy Heywood and Cabinet office chief John Manzoni were grilled by MPs. I was struck by how remarkably relaxed Manzoni seemed about the collapse, saying firms came and went but the system was robust. He even said the civil servant with responsibility for Carillion had 'played a blinder' since last July, getting in place hundreds of contingency plans and sorting joint venture contracts. Labour's Paul Flynn wondered if 'played a blinder' was shorthand for 'had their eyes closed'.
There's no 'bailout' for Carillion but there are plenty of people suggesting the taxpayer will face hundreds of millions in extra costs thanks to its failure. It's worth noting that Manzoni said that the Government had told the official receiver that "our main aim is the continuity of public services". He stressed that continued payment for employees was a priority and there could be an extra cost as a result. "There will be a pace versus price debate," he said.
As for the wider politics, Jeremy Corbyn was clear in his video last night that this was a 'watershed moment' for the whole idea of public-private partnerships and outsourcing to the lowest bidder (though the Times reports Labour's Leeds City Council had agreed a Carillion road project only a week ago). And in the Sun, Theresa May's former chief of staff Nick Timothy has a pop at her for the first time, saying the Government has 'not done very much' about "companies that exploit broken markets and rip off customers in sectors like energy, universities and the railways". He even lays into the £110m bonus of the boss of housing developer Persimmon. Tory MPs who remember Timothy's social care manifesto meltdown may take advice from elsewhere, however.
The Guardian has a nice piece on the four projects that finished off Carillion (overstretching itself on two new hospitals, a Scottish road scheme and dispute on a Dubai project). Yet it seems the real nub of this issue is indeed the structure of public-private partnerships. Firms submit low bids to beat the competition, work on wafer-thin margins and yet do so because they are rewarded with a large chunk of cash up-front by the state. That up-front cash allows a 'Ponzi' system where overexposed companies use taxpayers' money to repay other debts. Lidington said yesterday a review of public procurement was now likely. And it looks overdue.
So, Boris Johnson has doubled down (or 'quartered down') on his infamous Vote Leave battlebus claim that the UK pays £350m to the EU every week and that it should be spent instead on the NHS. In his Guardian interview, the Foreign Secretary says forecasts are the figure will go up by £88m to £438m by the end of the 2021 transition period. And he insists the gross figure is better than a net one because Britain will 'take back control' of the money overall.
It looks like Boris has decided to own the famous claim rather than run away from it. And, ahead of three crucial Cabinet meetings that will discuss the 'end state' plans for the UK this month, it may be his marker that he won't back anything resembling a Norway option. The FT's George Parker has an early fill that Hammond, Rudd and Clark want a 'top down' approach that assumes the UK will align with most EU rules. Boris, Gove and Fox want a 'bottom-up' approach that assumes we will start from scratch and diverge on most things, then agree how to align in some areas. Ironically, the Brexiteer approach mirrors that of Michel Barnier, who has said the starting point is a Canada-dry model.
Jean-Claude Juncker and Donald Tusk are in Strasbourg and Brexit is a key topic, as Euro Parliament point man Guy Verhofstadt is due to give a press conference this morning. Leaked Brussels documents suggest the EU wants free movement to continue even during the two-year transition, despite last December's deal that it would end in March 2019. There's also a suggestion that the transition deal won't be done by this March and could slip to 'the summer'. In good news for Brexiteers, Sweden and Luxembourg are the latest states who want a deal to include financial services. In bad news, Norway is warning Brussels not to give the UK too good a deal. Note too that in yesterday's Carillion evidence session, Whitehall chiefs pointed out it would be simply 'illegal' under EU procurement rules to have barred the firm from future contracts after its profits warning. Yet state aid rules may well continue in a transition.
Meanwhile, the EU Withdrawal Bill is back today. We reveal that Shadow Brexit Secretary last night told the Parliamentary Labour Party that it was time to stop thinking it could 'rub out' the 2016 referendum result. Some backbench MPs felt he hardened the line against a second referendum, as he pointed to practical difficulties with a final deal unlikely to be clear by 2021 at the earliest. But Starmer also made the principled case against a fresh vote: "If we sit here as a party aspiring to govern then we have got to recognise that if we spend all that time looking back in grief about what many of us didn't want to happen, thinking 'how do we rub it out?' then we are unable to do what we need to do - which is to fight for the [final deal] that reflects what we stand for and that is right for Britain in the 21st century."
The election of three new Momentum-backed members of Labour's ruling NEC yesterday was a big moment indeed for the party. So far, the Left are playing it slow, accusing their critics of hysteria amid fears that mandatory reselection for MPs is on its way. There's talk of rule changes that would force MPs to face a selection race if just 33% of members (rather than 50% at present) vote for one. Jon Lansman has said in the past that he sees no reason why MPs aren't automatically up for reselection (like councillors), but Jeremy Corbyn has been so far reluctant to back a move that many in the PLP would see as provocative.
Today, Lucy Fisher in the Times reports unnamed 'centrist' MPs warning they will quit and sit as independents if Corbyn backs reselection changes. One points out that with a wafer-thin Government majority, the party would be shooting itself in the foot if it reduced the number of MPs. "There's no reason to wait it out [in Labour] for years when we disagree with the direction of the party if we're deselected. We would have no interest in toeing the line." Another adds: "Corbyn has a lot to lose from going down this route…If you want to look like a united government in waiting, the last thing you want is a whole load of bitter selection rows."
Still, the Indy has a fascinating story about moves to unseat veteran NEC disputes panel chair Ann Black. I'm old enough to remember when Black was seen as one of the few leftwingers on the NEC, but some in Momentum blame her for various decisions to suspend members and local parties. One Left NEC source denied there was a plot against her, but said they would "not be at all surprised" if she was replaced.
Given the disciplinary panel is meant to be neutral, some worry this would be "all out war". I'm told there's lots of support for Ann in the vote due today, including union support, and plenty of respect for her impartiality and expertise on party rules. But "the votes would be tight," one NEC source tells me. Normally sub-committee chairs are re-elected unopposed every year unless they want to voluntarily quit.
BECAUSE YOU'VE READ THIS FAR...
Watch chef 'Riva Godfree' show you how to make turkey stuffing…with your mouth. A warped version of Nigella cookery progs, it's gone viral in the US (with many viewers repulsed).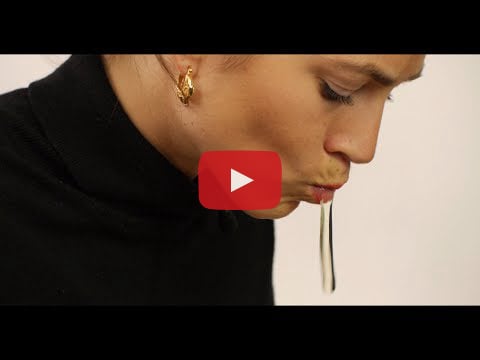 No one has yet explained to me, in this enlightened age, why UKIP leader Henry Bolton should be held accountable for the views of his girlfriend, Jo Marney. Still, following the former glamour model's disgusting racist messages about Meghan Markle, the backlash against him has been swift. Our Kipper expert Owen Bennett reports the party's NEC will meet this weekend and expects to oust him. "I hope he bloody resigns," a source said. When asked what Bolton has achieved during his stint as leader, they added: "He hasn't done anything."
While there is as yet no evidence that Bolton shares the appalling views of his now ex-partner, the Sun has a story that he tried cover up her messages/'jokes' about child sex abuse. The UKIP leader messaged Marney's former boyfriend (who is accused of leaking her views) to warn: "You are so far out of your depth here. You are playing with Fire". Well, we know who's been burned now.
5. TRIPPING THE LIGHT, BAN PLASTIC
The Daily Mail splashes on supermarket Iceland becoming the first in the UK to pledge to remove all plastics from its own-brand packaging. Greenpeace and others have welcomed its promise to use paper and pulp trays and paper bags instead. Iceland was the first to switch its frozen foods to organic, and took a cost hit in the process, so it will be worth seeing if others follow its lead on plastic.
Michael Gove says Brexit will make it easier for the UK to be a worldbeater on such issues and today in Brussels he may have a point. The European Commission publishes its draft plastics strategy this afternoon and Politico's Ryan Heath suggests it will contain little action or funding, partly because member states can't agree. One Commissioner floated the idea of a single-use plastics tax to fill the Brexit-shaped holes in the EU budget after 2020, but it was shot down. There's muttering this proves the single market itself is far from functional.