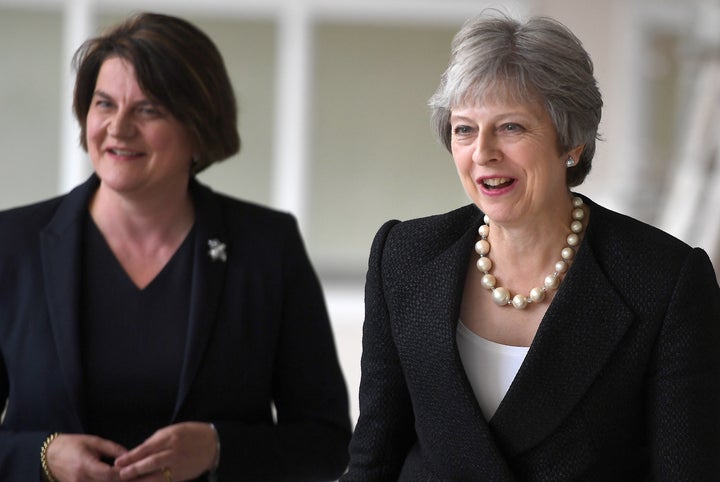 Theresa May offered the Democratic Unionist Party (DUP) a full-blown Government coalition in the days after last year's snap election disaster, a new book has claimed.
The controversial move, which would have seen the appointment of DUP ministers in Cabinet, was turned down by the Northern Irish party because it preferred the freedom of a looser alliance to help the Prime Minister to stay in power.
'The British General Election 2017', written by academics Philip Cowley and Dennis Kavanagh, details how May and a clutch of her Cabinet colleagues agreed to the option of coalition as part of a panicked attempt to stop Jeremy Corbyn from getting into No.10.
The DUP is currently playing a central role in the PM's Brexit plans, with leader Arlene Foster warning her this week not to compromise on any moves to create new regulatory checks on goods passing between Northern Ireland and mainland Britain.
Extracts of the new book passed to HuffPost UK reveal for the first time just how close May came to putting DUP ministers in her Cabinet.
Following opposition among her own MPs at being so closely aligned with the DUP's social conservatism on issues like abortion rights and homosexuality, sources told professors Cowley and Kavanagh that May tried to withdraw the offer.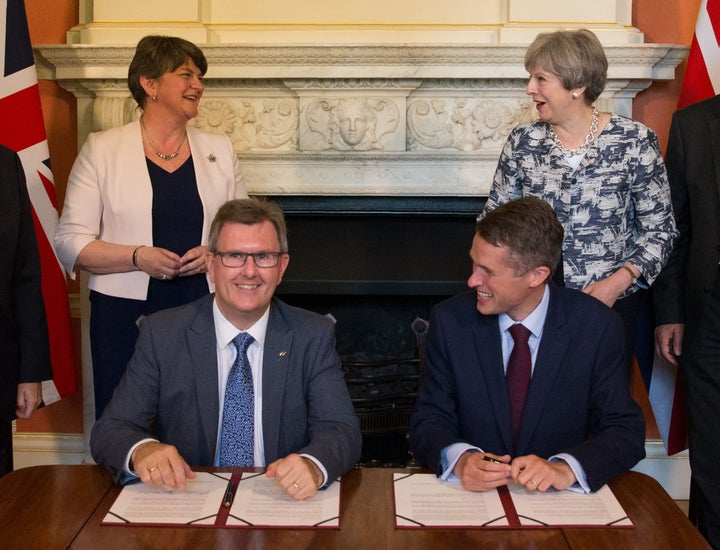 But her then Chief Whip Gavin Williamson is said to have told her that to do so would be counterproductive in sensitive talks he was holding to secure the numbers needed for a Government majority.
In the end, the issue became academic as Foster's party preferred to lend the Tories her 10 MPs to enable the passage of Budgets and the Queen's speech, which sets out coming legislation for the year.
The subsequent alliance between the Tories and the DUP has still led to sharp criticism, with the Ulster party gaining more than £1bn for the province following its support.
HuffPost has been told by separate sources that May and a small number of Cabinet ministers had indeed authorised Williamson to make the offer of a formal coalition.
It is also understood that Cabinet Secretary Sir Jeremy Heywood was closely involved in the negotiations as May tried to find the best way to stabilise her government after Jeremy Corbyn's Labour deprived her of her Commons majority.
"Far from resiling, they [May and her team] were ardent for it," one source said.
Talks with the DUP took nearly a fortnight, delaying the date of the Queen's Speech before a carefully worded agreement was struck and signed by DUP Chief Whip Sir Jeffrey Donaldson and Williamson, in front of May and Foster.
The British General Election books first started in 1945 and have provided authoritative accounts of every contest since then.
The Cowley and Kavanagh book reveals there was a long meeting in the Cabinet room the day after the election, with an 'exhausted' Prime Minister and her allies trying to find a way through.
"Eventually, it was agreed that the DUP could be offered a confidence-and-supply arrangement, by which they would support the Government on key votes, or a full coalition, in which they would also sit in the government as ministers.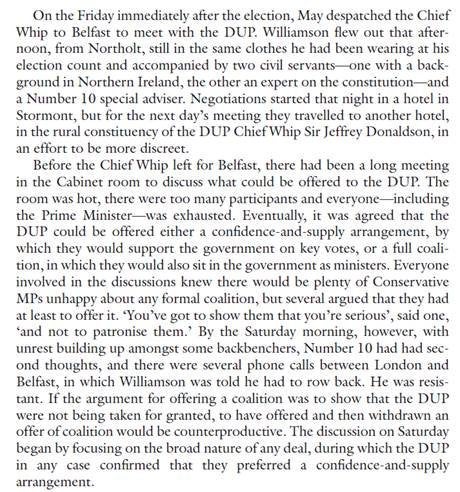 "Everyone involved in the discussions knew there would be plenty of Conservative MPs unhappy about any formal coalition, but several argued that they had at least to offer it.
"'You've got to show them that you're serious,' said one, 'and not to patronise them'."
Until now, Williamson, since promoted to Defence Secretary, has been accused of going beyond his mandate in making the offer.
However, sources say that he was fully authorised by the PM and other ministers present at No.10 for the emergency meeting the day after the election.
DUP leader Foster was at the Tory conference this week in Birmingham and she and Westminster leader Nigel Dodds made plain they would not accept any caving in to Brussels over future trade links with the EU.
Foster told BBC Radio 4 on Wednesday that her 'red line' on not dividing Northern Ireland from mainland Britain was "blood red".
HuffPost has approached Williamson's office but he is travelling overseas.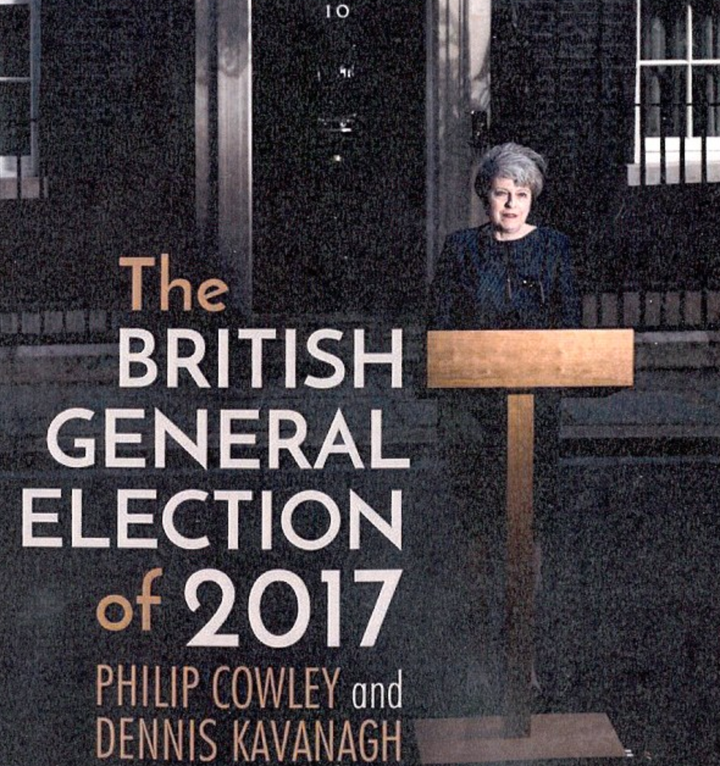 'The British General Election 2017', by Professors Philip Cowley and Dennis Kavanagh, is published by Palgrave Macmillan this week.