Theresa May has appeared to ditch a Tory manifesto pledge to cut net migration to below 100,000 a year by 2020.
At the end of her first Prime Minister's Question time as premier, she said that "it will take some time" to bring net migration to the UK down to the "tens of thousands".
The figure currently stands at 333,000 a year, and the uncertainty of an actual date for 'Brexit' has prompted speculation that the Government is preparing to warn the public that the 2015 manifesto promise may not be met.
Immediately after PMQs, a No.10 spokeswoman insisted that "the manifesto stands" but stressed that it hadn't actually included a specific deadline for the migration pledge.
"We will keep our ambition of delivering annual net migration in the tens of thousands, not the hundreds of thousands".
Tory MPs, as well as many Tory supporters, assumed that because the manifesto pledge covers this Parliament, the deadline for the target was 2020.
But the PM's spokeswoman said: "It's worth looking at the manifesto, it talks about being a priority for the Government for the next five years.
"The Prime Minister has been absolutely clear that it is a priority and when she talks there about this will take time, it's pretty consistent with that."
She said that May was also "committed to getting immigration down to a sustainable level; in our view that means tens of thousands rather than hundreds of thousands."
A No.10 aide added that "exact datelines" were not clear because of the Brexit vote, explaining "those negotiations are just starting".
The policy was further subject to confusion when Downing Street later used various terms for it, from 'target' to 'core objective' to 'commitment' to 'ambition'.
In a press conference with Angela Merkel, May repeated her pledge but added, pointedly, that there were 'new factors' to take into account.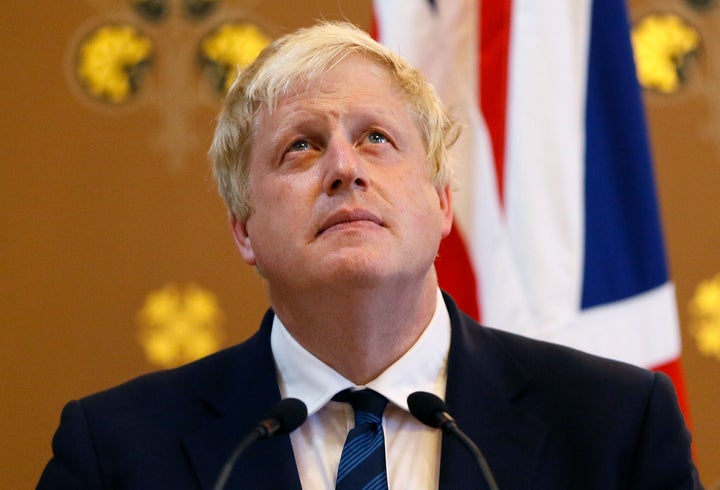 Boris Johnson appeared to water down the pledge on Tuesday, when he said that ministers should be "careful about committing to numbers because one doesn't want to be in a position where you are disappointing people again."
He was reacting after new Home Secretary Amber Rudd refused to endorse the 100,000 a year target, stating only that she wanted "sustainable" levels of migration to the UK.
David Cameron had come under fire from Tory MPs when he appeared to stress that the migration target - one of May's biggest failures as Home Secretary - was a mere "ambition" rather than a specific target.
The Liberal Democrats had complained during their Coalition with the Tories that the target was misguided.
Net migration had appeared to fall to 2012 but soared after the eurozone crisis and is now at a record high, with many migrants coming from the EU.