Theresa May has refused to guarantee the right of EU citizens to remain in the UK if she fails to secure a Brexit deal with Brussels.
Speaking on LBC radio on Tuesday afternoon, the prime minister admitted "we don't know what's going to happen" to British citizens living in Europe in a no deal scenario.
May also refused to reveal which way she would vote if another EU referendum was held today. "I voted 'Remain' for good reasons at the time," May said.
"I could sit here and I could say I'd still vote 'Remain' or I'd vote 'Leave' just to give you an answer," May added. "But we are not having another referendum."
The prime minister's decision to tell MPs yesterday that the country should be prepared for the talks to collapse was interpreted as a no deal outcome becoming more likely than previously believed.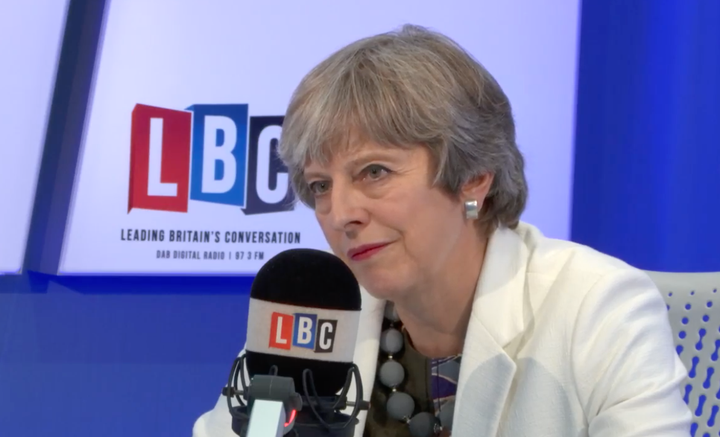 May said she wanted to ensure EU citizens currently living in the UK could remain after Brexit in 2019.
"We want you to say. We want to ensure you can stay in the UK," she said. "We are not going to be throwing EU citizens who are currently in the UK out of the UK in the future."
However she refused to confirm that EU nationals could remain with the same rights they currently enjoy if the Brexit negotiations failed.
Asked by presenter Iain Dale what would happen to the millions of British citizens living in the EU if there was no exit deal, May said that was out of her control.
"We don't know what would happen to them. The EU members states would have to consider what their approach would be to the UK citizens," she said. "This is one of the reasons we want to get a deal."
The prime minister added: "We don't know what's going to happen. We are working to get a good deal. We don't know what's going to happen. If there is no deal then we have to be prepared for it.
"If there isn't a deal then we won't have been able to agree with the EU what happens with UK citizens currently living in countries like Spain, Italy and other members of the EU."
May insisted the British government was "very close to an agreement on citizens rights" with the EU.
Labour MP Chris Bryant, a supporter of the pro-EU Open Britain group, said May must immediately guarantee the rights of all EU citizens living legally in the UK.
"Her refusal to guarantee the rights of 3 million EU citizens living in the UK has again exposed the cruelty at the heart of this Government's destructive Brexit policy. These are people who contribute to our country and who are vital to the survival of our NHS," he said.
In the interview, May said she felt like having a "stiff drink" after her conference speech disaster that saw her handed a P45 form by a comedian and struggle with a cough as the stage collapsed behind her.