The row over Theresa May's £995 leather trousers intensified today after vocal critic Nicky Morgan was herself attacked for owning a similarly expensive handbag.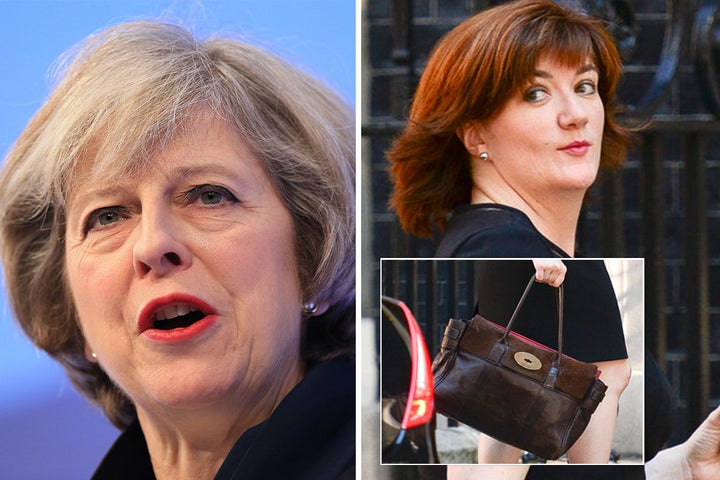 But last night pictures emerged showing the former education secretary holding a £950 Mulberry Bayswater handbag on Downing Street.
The Daily Mail devoted four whole pages and a third of its front page to the saga, including a searing take from sketch writer Quentin Letts and a full banner headline dubbing Morgan "Ms U-Turn".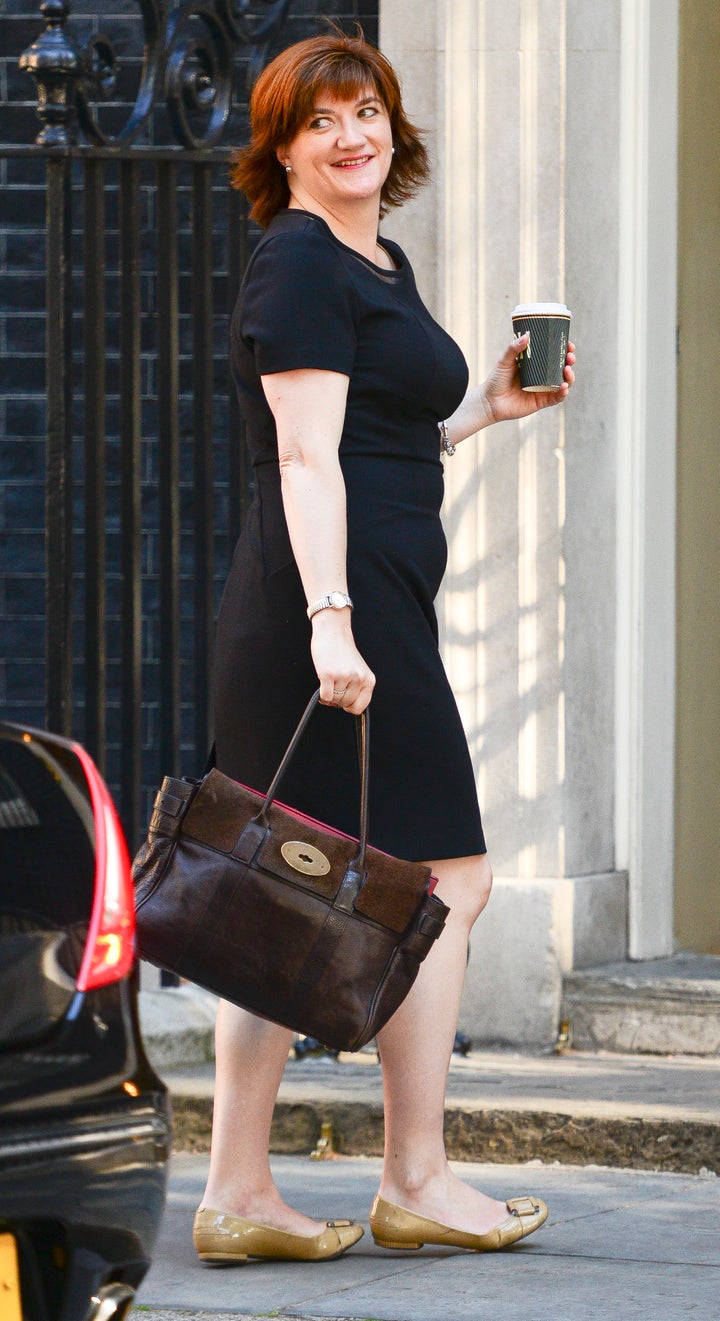 The paper cited a source "close to Morgan" claiming the bag was 12 years old and had been a gift.
Nevertheless, the revelation led to Morgan being described as a hypocrite.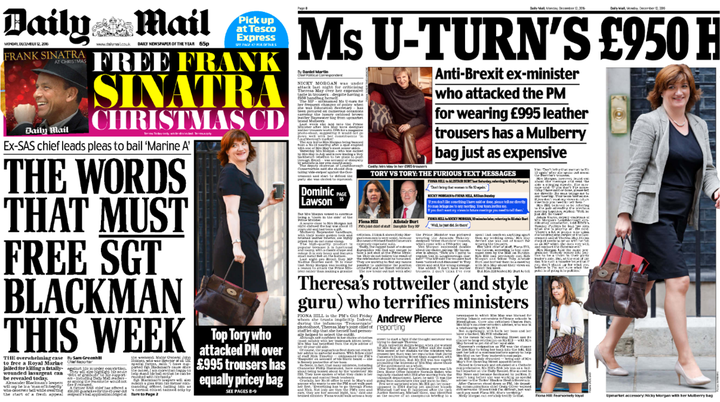 But reaction to the newly-escalated row pointed out the distraction of fashion choices and the apparent lack of criticism of David Cameron's clothes.
A string of text messages between a top aide to the prime minister and a colleague of Morgan's in the Commons were revealed on Sunday.
In one message Fiona Hill, May's chief of staff, told another MP "don't bring that woman to No 10 again" after Morgan spoke out about the premier's decision to pose in Amanda Wakeley-designed "bitter chocolate" trousers.
Morgan, however, found out about the message and sent the aide a fierce response directly: "If you don't like something I have said or done, please tell me directly. No man brings me to any meeting. Your team invites me. If you don't want my views in future meetings you need to tell them."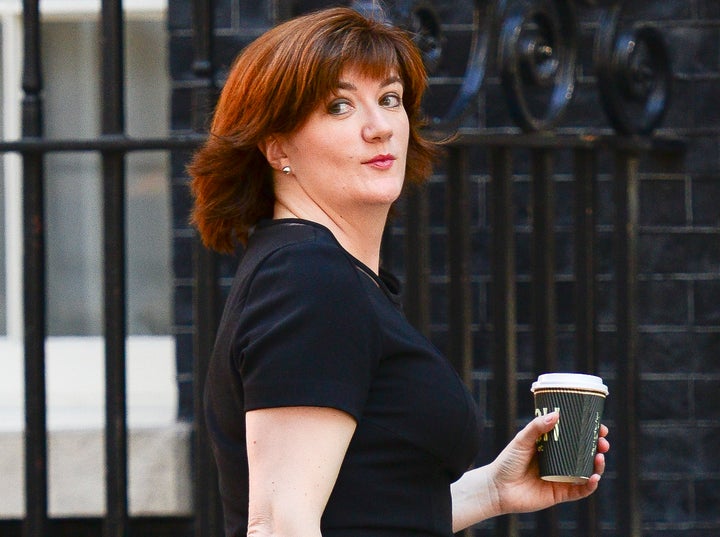 Morgan, a staunch Remainer, has said she will continue to speak out against the government over Brexit, despite having been disinvited from a meeting about the EU by No 10.
Meanwhile Tory grandees have pleaded with May and Morgan to end their astonishing public feud over the PM's brown leather trousers, The Sun reported.
The Times's leading article today said the prime minister should take the opportunity to develop a thicker skin and show "who really wears the trousers".
"No 10 could have stopped Trousergate in its tracks by floating above it. Instead, Mrs May let her gatekeeper rise to the bait in a manner all too reminiscent of Gordon Brown, the last prime minister to occupy the post without winning an election. That ended badly," the paper wrote.
Earlier this week May insisted she was not out of touch with ordinary people because she opted to wear costly clothing.
Speaking during trip to Bahrain, the PM said: ''Look, I stood on the steps of Downing Street and said what I did about the importance of a country that works for everyone because that is what I have heard from people as I have gone around the country, as I have met people in a whole variety of circumstances.
"I believe it is important for politicians to get out and about and that's exactly what I continue to do. It is important that we have a country that works for everyone."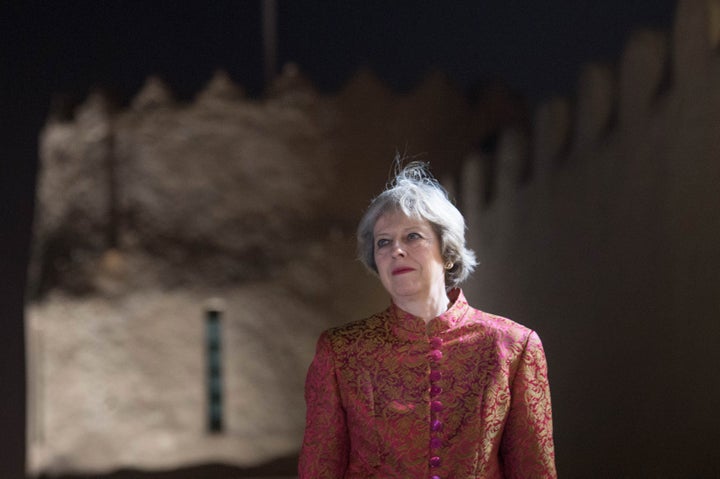 On Sunday, Conservative MP Sir Desmond Swayne told Radio 4's Westminster Hour that Morgan's comment was "impertinent" and that Morgan will "get over" the row.
He said: "I daresay that Nicky will get over it and will find ways of conveying her views to the PM, but I think it was impertinent to have made such a remark. I'm afraid I come from a background where it was always rude to talk about money and certainly to talk about what people's clothes cost."
Popular in the Community