The snack promises to replicate the original pie through its "meaty" taste, crumbly pastry texture and classic appearance – however its vegan contents are apparently a "closely-guarded secret", known by only six Morrisons staff.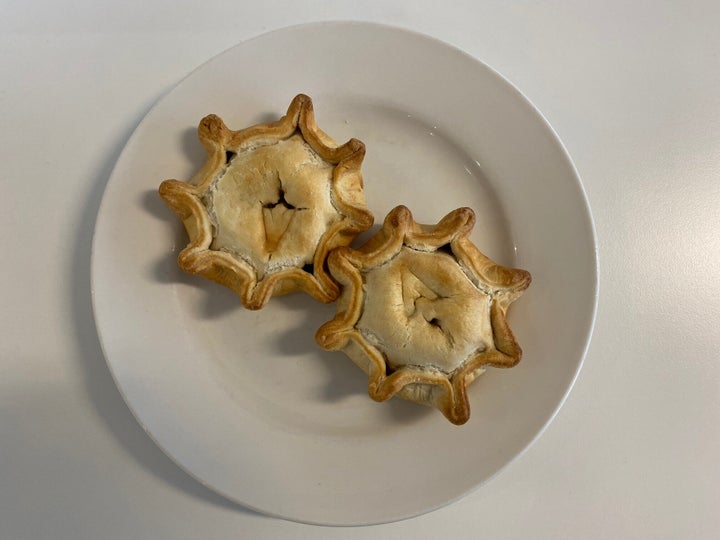 Available in stores now, the 'No Pork Pie' costs £1.75 for one or £3 for two – but how does it taste? Members of the HuffPost UK team put it to the test, and while one simply said, "It tastes like a pig fed solely on sand", others had slightly more generous reviews.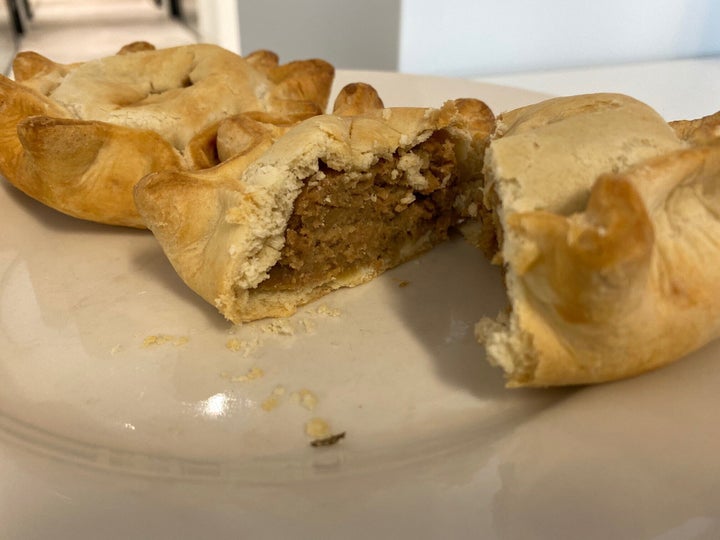 "The dryness of the pastry couldn't be overlooked."
Tasha Hinde, life reporter
"I wanted to love this pie, but sadly the dryness of the pastry couldn't be overlooked. The 'meaty' middle is pretty inoffensive, possibly bordering on bland. One definite positive is that it doesn't have that horrendous gelatin bit around the edges like a usual pork pie (I can't stand the stuff). It definitely looks and smells the part, but sadly it just doesn't cut the mustard in terms of texture and taste."
"I ended up eating the filling on its own."
Amy Packham, assistant life editor
"I'm a big fan of the filling of this fake pork pie – it has an onion-y taste and is quite moist, but the major letdown is how dry the pastry is. I ended up eating the filling on its own because the pastry was that bad, which is a shame. I think it would be nicer heated up a bit."
"The meat substitute is surprisingly nice."
Rachel Moss, life reporter
"The vegan pork pie needs a decent dollop of mustard. Or chutney. Or mayo. Anything to make the pastry less dry! The inner meat substitute is surprisingly nice, though. The best part of the product? I could eat it and not miss meat at all. One downside: there's an onion-y aftertaste, so buy mints if you're scoffing it at lunchtime."
HuffPost UK has contacted Morrisons regarding the reviews and will update this piece if the supermarket responds.
We all work hard to earn our money – so it shouldn't feel like hard work to spend it well. At HuffPost Finds we'll help you find the best stuff that deserves your cash, from the ultimate lipstick to a durable iron to replace the one that broke (RIP). All our choices are completely independent but we may earn a small commission if you click a link and make a purchase.