Shaving rash, ingrown hairs, the agony of a Brazilian or the expense of laser removal: anyone who has tried to remove their body hair will know it can be far more hassle and pain than it's worth.
And now a razor brand is encouraging customers to only get rid of the hair you want to (rather than feeling compelled to be a hairless dolphin from head to toe).
The US company, Billie, released a new 37-second advert featuring models with visible pubic hair and armpit hair, and the slogan, 'Red, White and You Do You'.
Some of the models have pubic hair that reaches beyond the edges of their swimsuits (hardly a stretch given the current trend for ever-higher cuts), and some have none. Some have shaved armpits and others don't.
The point is, it is up to you and your personal preference.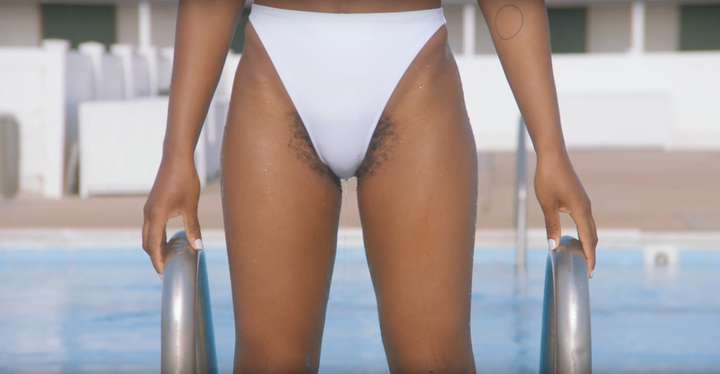 For a razor brand to showcase women proudly rocking the 'au naturel' look might be detrimental to sales, you could argue.
But actually any woman will know that just because you want to shave your legs or your arms, or your pits or your pubes, doesn't mean you're going to remove hair from 100% of your body. We all have preferences and priorities when it comes to hair removal – and they might still require the purchase of a razor.
Ashley Armitage, the campaign's director and photographer, told Refinery29. "Body hair on cisgender men is seen as attractive. Body hair on cisgender women, transgender women, and nonbinary individuals is seen as unattractive, unhygienic, and unacceptable. I want people to feel free to do what they want with their bodies this summer and every summer."
This isn't the first time Billie has been involved in envelope-pushing campaigns: last year it broke an unspoken rule of razor advertising when it dared to show a woman with hairy legs using one its razor – unlike mainstream brands that tend to show a gleaming hairless leg being glossed over with a blade (like that's how you'd choose to polish your pins).
Hairy legs makes sense in an ad – how will you know the product is going to be effective if it's being used on an already-smooth surface? And the brains behind Billie are no fools – women have come out in vocal support of its stance on body hair.
More of this please brands.