The President Elect was on the shortlist that also included Turkish President Recep Tayyip Erdogan and showed how good a year the Populist Right had.
True to form, Trump gave the game away by tweeting he was due to be interviewed at 7.30am on The Today Show, the exact time the show was meant to be announcing who had won.
The magazine wrote that the US was divided on whether Trump had influenced 2016 "better or worse".
It said his election had brought "an America of renewed hope and paralyzing fear, a country few expected less than a year ago. Because of Donald John Trump, whatever happens next, it will never be like it was before".
Editor-in-Chief Nancy Gibbs wrote: "This is the 90th time we have named the person who had the greatest influence, for better or worse, on the events of the year. So which is it this year: better or worse?
"The challenge for Donald Trump is how profoundly the country disagrees about the answer.... 2016 was the year of his rise; 2017 will be the year of his rule, and like all newly elected leaders, he has a chance to fulfill promises and defy expectations....
"For reminding America that demagoguery feeds on despair and that truth is only as powerful as the trust in those who speak it, for empowering a hidden electorate by mainstreaming its furies and live-streaming its fears, and for framing tomorrow's political culture by demolishing yesterday's, Donald Trump is TIME's 2016 Person of the Year."
The magazine's cover called him President Of The Divided States.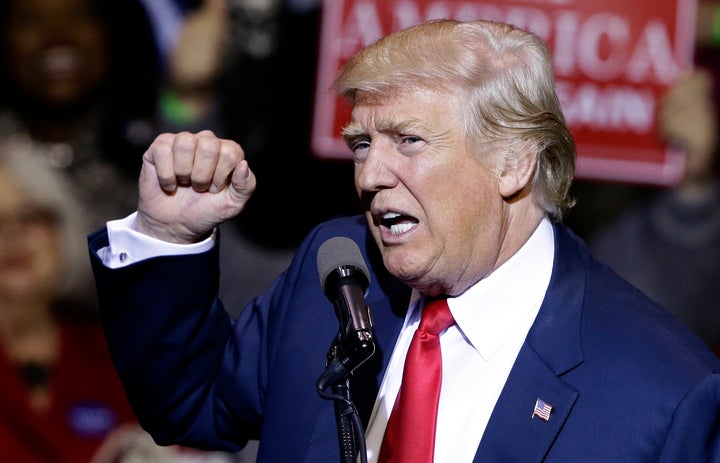 Appearing on The Today Show, Trump said it was a "great honour", though it is not meant to be one.
The magazine specifies it is given to the person with the greatest influence, for good or ill.
"There's a lot of division. We're going to put it back together," Trump said.
He then began attacking Saturday Night Live, the weekly comedy show that has lampooned him.
He said actor Alec Baldwin's impression of him was "mean-spirited and not very good".
Time said Farage was on the shortlist because he was "a face of the successful campaign for Britain to leave the European Union, positioning the referendum as the start of a global populist wave against the political establishment".
Hillary Clinton, whom Trump defeated in the US presidential election, was also nominated.
Also on the shortlist were Facebook founder Mark Zuckerberg, Indian Prime Minister Narendra Modi, American Olympic gymnast Simone Biles, the residents of Flint, Michigan who blew the whistle on lead-poisoned water and the Russian scientists who developed technology that can edit DNA.