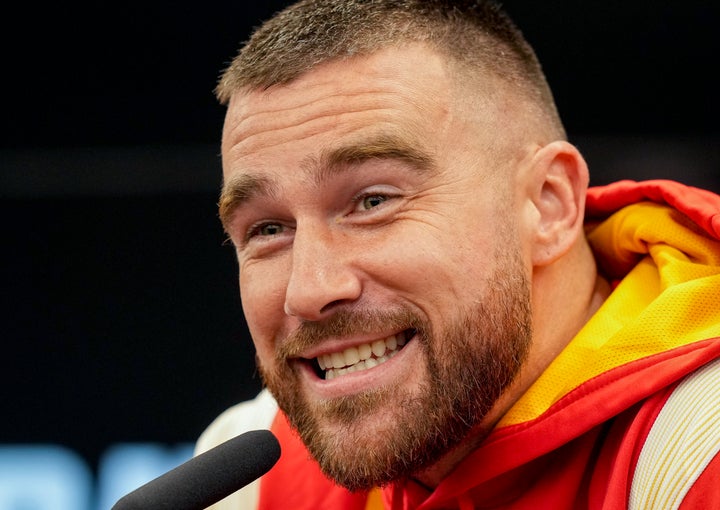 Taylor Swift fans have dug up old social media posts from her rumoured boyfriend, Kansas City Chiefs tight end Travis Kelce, and are enjoying how unproblematic he seems, as well as his spelling mistakes.
"I just gave a squirle a peice of bread and it straight smashed all of it!!!! I had no idea they ate bread like that!! Haha #crazy," Kelce posted on X, formerly Twitter, in 2011.
Swifties were quick to point out the contrast between Kelce and Swift, who has won dozens awards for her music and poetic lyricism.
Kelce also has several tweets about the food chain Chipotle, but he spelled it "Chipolte."
"I'm fr i'm tears over his commitment to this spelling," one X user posted.
"Its such a nice day out..... as I stair from my math class.... smh #mustbenice," Kelce posted in 2011. Fans were quick to poke fun at the wrong use of "stair."
To fans, Kelce seems like a departure from Swift's past taste in men.
During a behind-the-scenes video for her music video End Game, Swift played Scrabble with, presumably, her then-boyfriend Joe Alwyn. Swift also reportedly dated John Mayer and Matty Healy, two musicians known for their lyricism.
Screenshots of other old social media posts from Kelce have also resurfaced, including one where he says he was "judging every person ... whether they were ugly, fat, funny looking, sexy." They are from 2010, when he was about 20 or 21 years old, and he has deleted them.
According to ET, Kelce also deleted a tweet where he denied cheating on his ex-girlfriend.
Despite any embarrassing old tweets, Kelce and Swift seem to be going strong.
Over the weekend, Swift changed the lyrics of her song Karma to shout out Kelce, singing "Karma is the guy on the Chiefs, coming straight home to me" during her concert in Argentina. After the show, fans also caught Swift running into Kelce's arms and giving him a kiss.
During Wednesday's episode of New Heights, Kelce's podcast with his brother, Jason Kelce, the Chiefs player said he had a "little bit of a clue" that Swift would change the lyrics, but it "still shocked" him.