It's the season for mince pies, and while we spent November munching on them for our annual taste test, we still want to try and make them at home, too.
Plus, it's all the more satisfying scoffing down a warm pie with cream when you know you've made them all by yourself (or with a little helping hand).
This year, we're taking inspiration from Gordon Ramsay with his cranberry mince pie recipe – all the usuals, plus some dried cranberries for fun. In five steps, Ramsay teaches us how to make the delicious festive creations.
The recipe below makes 24 mince pies.

Ingredients:
250g plain flour, plus extra to dust

25g icing sugar

125g chilled unsalted butter, diced finely

grated zest of 1 orange

1 medium egg, lightly beaten

1–3 tsp ice-cold water (if needed)
400g jar good-quality mincemeat (or use home-made, see below)

150g dried cranberries
1 egg yolk, beaten with 1 tsp water (eggwash), to glaze

icing sugar or caster sugar, to dust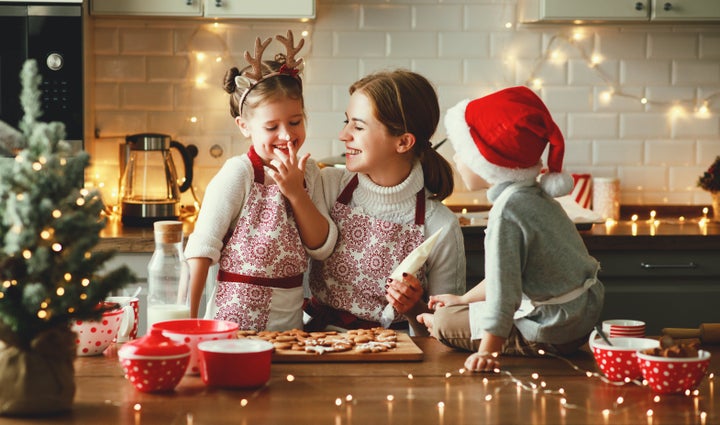 Method:
1. For the pastry, put the flour, icing sugar, butter and orange zest into a food processor and whizz to fine crumbs. With the motor running, add the egg and whizz for a few seconds until the mixture forms clumps and you can press it together into a ball. (If necessary, add 1–3 tsp ice-cold water to bring the dough together.)
2. Turn onto a very lightly floured surface and knead briefly until smooth. Wrap in cling film and chill for at least 30 minutes, or until firm. (The pastry can be made up to 3 days ahead or frozen for up to a month.)
3. For the filling, turn the mincemeat into a bowl and stir in the dried cranberries (there's a recipe for homemade mincemeat below if you fancy). Roll out the pastry on a lightly floured surface to the thickness of a £1 coin. Using an 8cm fluted cutter, cut out 24 rounds and use to line two 12-hole non-stick mince pie tins.
4. Re-roll the trimmings to the same thickness and stamp out 24 stars or Christmas trees, with an appropriate cutter, for the tops. Put a dessert spoonful (2 tsp) filling into each pastry case, then press the tops in position. Chill for at least 20 minutes. Meanwhile, preheat the oven to 180°C/Gas 4.
5. Brush the tops with the eggwash, then bake the mince pies for 15–20 minutes until the pastry is golden and crisp. Let cool for a few minutes before removing from the tins and transferring to a wire rack to cool. Store an airtight container for up to 1 week. Warm slightly before serving, with a dusting of sugar.
If you want to make homemade mincemeat...

1. Peel and grate a large dessert apple into a big bowl.

2. Add the grated zest and juice of 1 lemon and 1 orange, then 110g suet, 240g raisins, 110g diced dried apricots, 175g soft dark brown sugar, 50g flaked almonds, 11⁄2 tsp ground allspice, 1 tsp ground cinnamon, 3⁄4 tsp ground nutmeg, 50ml brandy and 50ml dark rum.

3. Stir well, then cover and chill for 30 minutes.

4. If not using immediately, transfer to clean sterilised jars and store in the fridge. The mincemeat improves the longer you let it mature, but should be used within 6 months. makes about 1.25kg (enough for 3 batches of mince pies).