Thousands of travellers faced mounting delays and cancellations after weather caused chaos on the rail network and at airports.
Despite signs that this week's heatwave had begun to dissipate on Friday, commuters and holidaymakers experienced waves of disruption.
Eurostar passengers were told not to travel after problems with overhead power cables in Paris – which on Thursday experienced its hottest ever day on record – prompted cancellations.
Hundreds were left stranded at major trains stations across the UK as rail services struggled to combat power and track failures.
Network Rail said its teams had been "working flat out to fix heat-related problems" but that disruption was likely to continue.
One passenger posted a video aboard a stationary LNER service showing sweat-soaked commuters, including a man with a baby, desperately fanning themselves.
Another image showed a collapsed man being treated by medical staff outside the train.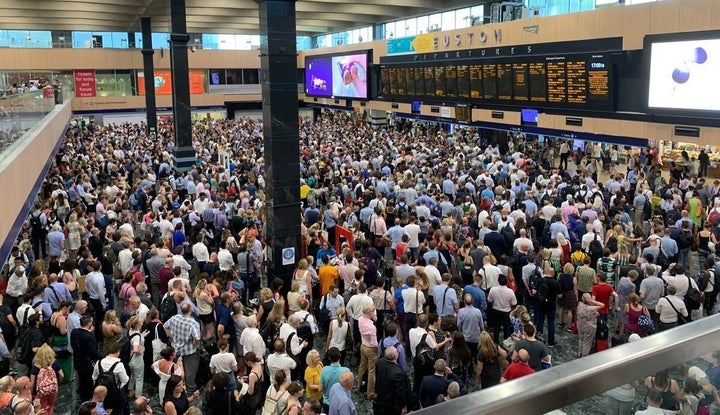 Despite fresher conditions forecast for Friday, "disruption is likely to continue into the morning", said Network Rail's network services director Nick King.
Heathrow Airport has apologised after "extreme weather conditions across Europe" caused flight cancellations and delays.
Airport officials have asked travellers to "please check with your airline before travelling".
"We're sorry for the disruption & are working with our airline partners to keep passengers travelling," the airport's Twitter account said.
Gatwick Airport has warned passengers to check with their airlines as "bad weather may cause some delays".
Numerous travellers at Stansted also reported delays and cancellations, with the airport telling one passenger on social media that air traffic control restrictions over the south-east of England prompted the problems.
On Twitter this morning, British Airways said flights in and and out of London are facing "significant delays and cancellations".

Latest updates – UK train services
East Midland Trains
Thameslink
Thameslink urged people not to use the service due to damage to overhead wires on Thursday.
Birmingham
All services in and out of Birmingham are subject to delays.
Greater Anglia and Stansted Express
Greater Anglia and Stansted Express cancelled a number of services with disruption expected until later on Friday. Rail replacement buses were being laid on.
Eurostar
Passengers for Paris-bound services have been advised not to travel and to contact Eurostar for further information.
London North Eastern Railway
LNER cancelled a number of services and said disruption would continue.
The train firm later said that those hoping to travel on services should ensure they hold valid seat reservations due to expected demand.

A yellow warning for thunderstorms has been issued for most of England except the South West, and parts of Scotland until 4am BST on Friday.
Much of the country is forecast to experience more balmy temperatures of around 23C to 25C (73.4F-77F) throughout the day, according to the Met Office.
Chief meteorologist Steve Willington said: "We'll continue to see thunderstorms breaking out this evening and overnight across wide areas of the UK.
"Also tonight it's going to be very warm across central, eastern and south-eastern parts in particular as temperatures fall no lower than 23C to 24C in places, which could see further temperature records broken."
The dangers of cooling off in lakes, rivers and the sea were highlighted by emergency services after the bodies of three people were pulled from water after they reportedly got into difficulty swimming during the week's heatwave.