A Ukip MEP was slammed for the party's "appalling" EU referendum campaign, which "divided" the country and caused a spike in hate crimes, according to a Labour MP.
Jack Dromey told Ukip's Bill Etheridge "I don't know how you sleep at night" as tensions mounted during a live broadcast following last month's referendum result.
The Labour MP for Birmingham lambasted the Leave campaign's tactics in the run up to the vote, which saw 52% of voters back Brexit.
On BBC One's Sunday Politics West Midlands, Dromey said: "This campaign did a disreputable playing of the race and immigration card by Bill... and Ukip has divided this country and as a consequence we are seeing a shameful rise in racial violence.
"I don't know how you sleep at night."
In the days following the vote, hate crimes reported to police increased by 57%.
Nigel Farage, who resigned as Ukip leader on Monday, was also heavily criticised for the party's 'breaking point' poster, which was compared to Nazi propaganda.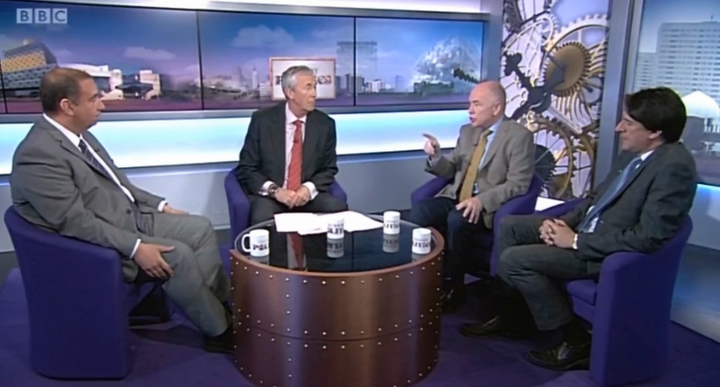 Etheridge responded by saying: "That's absolute nonsense and the kind of thing that I would expect from you and the Labour Party."
He added: "When you accuse Ukip of stoking racial hatred you a reaccusing four million voters out there of being racist when all they have done is vote to get their country back and to be patriotic."
Dromey said it was "not racist to have concerns about immigration", but Ukip's "appalling" 'breaking point' poster was.
More than 300 hate crime incidents were reported to a national online portal in the week following the vote - compared to a weekly average of 63, figures from the National Police Chiefs' Council showed.
Examples of the racist behaviour documented included a taxi driver telling a Muslim woman that he voted to leave the EU "to get rid of people like you".
Other people report being called a "p***" and physical abuse.
Related