A United passenger, who said he was a doctor, was pulled from his seat and dragged away with a bloodied lip after being randomly selected to be ejected from the overbooked flight.
At one point he managed to run back on board the plane with his face covered in blood, saying "just kill me" and "I need to go home", according to witnesses.
The incident has led many on social media to mock the airline.
But this isn't the first PR fail for United. Here are eight other times they found themselves in the news for all the wrong reasons.
1. Two girls were banned from boarding a plane because they were wearing leggings
Three girls, one of whom was described as being just 10 years old, were reportedly stopped by gate agents from catching a flight to Minneapolis at Denver International Airport.
United Airlines pointed to its rule in its Contract Carriage that gives it the right to refuse transport to passengers "who are barefoot or not properly clothed."
The company later explained the rules did not apply to "regular customers", but to "pass riders" who are friends and family of employees who receive free or heavily discounted air travel.
The move mass outrage and even prompted criticism from celebrities including Patricia Arquette, Chrissy Teigen and Sarah Silverman.
Read the full story here.
2. The airline was boycotted after a woman was reduced to tears by an alleged 'Islamophobic' incident on a flight
Tahera Ahmad, a Muslim US university chaplain, says that a United Airlines flight attendant refused to give her a drink in an unopened can in case she used it "as a weapon".
Her request was refused, she says, because the attendant claimed Ahmad - who wears a Hijab in her Facebook profile picture - may have used it "as a weapon on the plane."
Opening drinks cans before serving them is common practice for staff on many airlines, yet, Ahmad said in a Facebook post, the attendant then immediately proceeded to hand the male passenger sitting next to her an unopened can of beer.
Read the full story here.
3. A disabled US veteran said his service dog was kicked and he was asked if he was 'retarded'
Jim Stanek, a disabled veteran, claimed United Airlines staff physically abused his service dog, Sarge, and verbally abused him during an unexpected three-day layover at Dulles International Airport outside of Washington, D.C.
In a video, Stanek said: "Some United Airlines employees were moving by and one of them was startled, turned, and kicked my service dog. Didn't kick her hard, but ... they kicked her."
The Daily Mail reported Stanek has post traumatic stress disorder (PTSD) as well as traumatic brain injury (TBI) following three tours in Iraq, which makes standing in loud crowds and reading difficult. In the video, Stanek stated the most traumatic part of the ordeal occurred when, while trying to get a hotel voucher after his flight was cancelled for a second day in a row, the man at the ticket counter asked if he was "retarded" — referring to his inability to stand in the line with everyone else, and read the paperwork.
4. A family claimed a pilot refused to fly with their autistic daughter on board
After returning home to Portland from a family holiday to Disney World in Orlando on Tuesday, Dr Donna Beegle was escorted off the plane along with her husband and their 15-year-old daughter Juliette and her brother.
Beegle said she asked if she could buy a hot meal from the first class menu to calm down her daughter, who was becoming agitated.
Staff initially refused but when they were warned she could get to "meltdown point" and potentially scratch, a meal was delivered and she calmed down.
But 30 minutes later the plane was forced to make an emergency landing in Utah and police arrived to remove the family.
Beegle said they were given little explanation, other than that the captain did not feel comfortable flying with Juliette onboard.
An airlines spokesperson told KOIN: "After working to accommodate Dr Beegle and her daughter during the flight, the crew made the best decision for the safety and comfort of all of our customers and elected to divert to Salt Lake City after the situation became disruptive.
"We rebooked the customers on a different carrier and the flight continued to Portland."
5. Passengers were left without toilet roll on a 10 hour flight
Passengers on a 10-hour flight from San Francisco to London were left without toilet paper, after United Airlines decided against stopping to stock their supply.
Angry travellers were forced to improvise after stocks ran low and cabin crew told passengers to use other means.
Supplies of toilet roll were forfeited as the airline decided stopping to restock would have delayed the flight.
United later apologised for the incident, releasing the following statement: "We apologize to our customers on this flight for the inconvenience and would like the opportunity to welcome them back."
6. Thousands of passengers suffered delays thanks to a computer meltdown
United Airlines suffered a major "systems issue" which caused a huge number of flights to be delayed and thousands of passengers sat waiting in airports around the world.
This was reportedly caused by an error with the computer's weight management system.
Just one major malfunction in any of these systems can have a catastrophic knock-on effect to the smooth running of an airport or airline.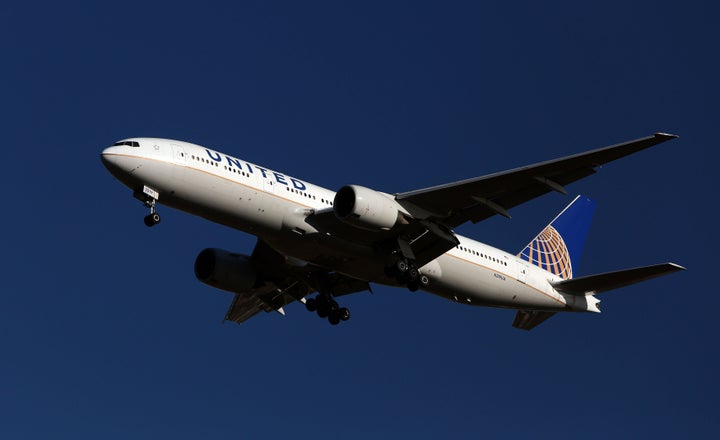 7. The company was forced to apologise after a breastfeeding mother was told to cover up
New mom Kristen Hilderman was breastfeeding her five-month-old son Caleb aboard a United Airlines flight from Houston to Vancouver when a male flight attendant approached her row.
As she recounted in a tweet about the incident, the flight attendant asked Hilderman's husband if they were together, and after he said yes, she says Keith "tossed a blanket at him ... and said tersely, 'Then HERE, help her out.'"
Humiliated, the mom says she asked the flight attendant multiple times, "Help me out with what?'" But she claims he persistently ignored her. Another passenger called out: "Because you're breastfeeding … he wants you to cover up. That is so offensive."
The airline later apologised.
8. A band wrote a string of songs accusing the airline of breaking guitars
Canadian musician Dave Carroll said his guitar was broken while in the care of United Airlines but he was told he was ineligible for compensation because he made the claim too late.
As a result Carroll and his band Sons of Maxwell recorded a trio of songs titled "United Breaks Guitars".
The songs included lyrics such as "I should have flown with someone else, or gone by car, 'cause United breaks guitars."
United tried to put a positive spin on the incident, saying the songs were "excellent" and promising to improve its policy.